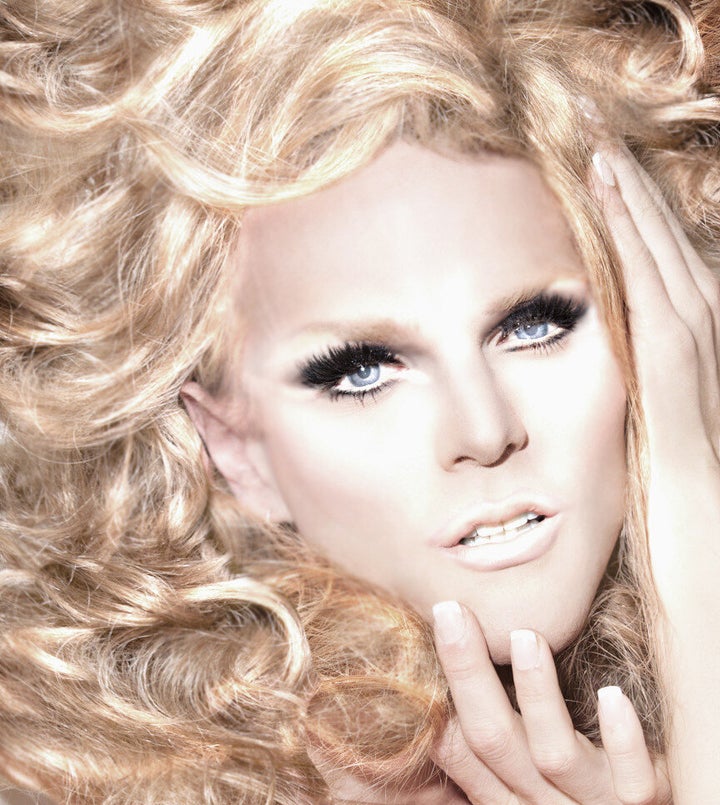 A few weeks ago, someone forwarded me a photo of a Chick-fil-A billboard on which the company bragged, in their familiar lettering, that they'd donated over $2 million to anti-gay groups. I have no idea if the billboard was real or not, but when president Dan Cathy verified the donations and proudly went on record saying "[w]e are inviting God's judgment on our nation when we shake our fist at Him and say, 'We know better than you as to what constitutes a marriage,'" it got the point across. A grease fire erupted in the gay blogosphere, with calls for a boycott of the national chain that shunned us so openly. Now there's a petition to shut down Manhattan's only Chick-fil-A location, and Boston's mayor has vowed to make it harder for the fast-food chain to obtain licenses for their franchises in his area.
Willam Belli, the controversial contestant on the most recent season of RuPaul's Drag Race, who was kicked off the show due to forbidden "conjugal visits" during the taping, first made me aware of Chick-fil-A's hateful stance with his clever, viral video "Chow Down (at Chick-fil-A)," which parodies Wilson Phillips' smash "Hold On":
Willam will perform this song at Hot Mess on Aug. 8 at XL nightclub in NYC. He's never at a loss for words, so I was eager to hear the latest on the uproar that he definitely helped create.
Tell me how the idea for your hit parody came about.
My co-stars/co-writers Detox and Vicky Vox were all excited about this chicken joint opening in the heart of Hollywood, and they took me once, and then we went back, and they were closed, because Sunday is church day. I was kinda miffed I couldn't get my nuggets, but also that I'd given them my funds. So we decided to make peace with our nihilistic ways by writing this song and voicing our concern over the hate meat.
I understand you've even gotten positive feedback from Wilson Phillips, the original singers of "Hold On."
We are lucky enough (legally and literally) to have Carnie and Chynna's blessing and approval on this. Chynna tweeted me saying that we nailed the harmonies but my wig could've been better. Carnie has been a RuPaul's Drag Race judge, too, so she instantly loved us.
Post Drag Race, you're touring the country non-stop -- including the Bible Belt. Have you gotten any negative responses from either religious nuts or Chick-fil-A enthusiasts?
Every Chick-fil-A-related comment I've received on the road has been positive, and many have come directly from the mouths of gay Chick-fil-A employees. They steal stuff for us, and then Vicky usually steals it from me, and I let her, because she's bigger than me.
When I perform at gay clubs, I'm often put up in Marriott hotels, run by a Mormon hotelier whose whopping donations in support of Prop 8 helped outlaw gay marriage in California. No one, not even the gay clubs that house me there, seems aware of this. Do you think the gay community needs to be more aware of who spends a fortune to squash our quest for equality? It often seems like we're handing our enemies the guns to shoot us with.
"Put your money where you mouth is" could very well be my slogan. Complaining is draining. If you just complain about a business' unfair practices without doing anything about it, it's useless. If proactivity in the gay community were as prevalent as Diesel jeans, the world would be better. I wish I was around in the '80s, when gays got shit done, like making Burroughs Wellcome lower the AZT prices, by actually going out and protesting and telling stockholders to sell their interests in the company. It was real damn punk back then.
Drag Race winner Sharon Needles is fond of chanting "Hail Satan." And while I haven't heard you go that far, you have responded to Chick-fil-A president and COO Dan Cathy, asserting that "structuring your life and your company's moral standards around the past millennium's bestselling work of fiction and using it to justify your intolerance is lame." I'm also sick of people using the Bible as a weapon to attack gays when God is supposed to be love and the creator of everything -- including homos. Many gays really struggle to reconcile their own Christian faith with negative messages about them from their spiritual leaders. What are your personal religious views?
My dad has a master's degree in religion and spent time in a seminary, so I come from a deeply religious background. But he was also a lifeguard, so he's very go-with-the-flow. I believe in a greater good that I can't see, and that my dead relatives were granted avian powers to hover above me, protecting and watching me, except when I'm having butt sex.
Chick-fil-A's president also bragged in his statement that his company's heads were all married to their "first wives." So in their world, perhaps heterosexual divorce is also a sin? And their restaurants are closed on Sundays to observe the Lord's day. I don't think everyone realizes how radical many evangelicals are -- and this is stuff they say on record. From YouTube comments on your video or elsewhere, what are some of the nuttier Christian viewpoints you've heard?
I learned from "Chow Down" video comments that Leviticus was the section of the Bible where all the fun stuff went down. I was called a "dick-riding demon" and learned that straight men watch this on mute and think about Detox's pillowy lips.
There's a Mormon running for president. Of course, Mitt Romney has flip-flopped on so many core GOP issues that his own party doesn't totally trust him. But if he did win and ever stuck to his positions or religion, it wouldn't bode well for gays. Care to weigh in on candidate Romney?
Romney, once upon a time, was actually more pro-gay than Ted Kennedy and did many great things for Massachusetts. Ignorance isn't illegal, so if he sticks around to lose without dropping out, it's fine. At least his sons are hot.
Joking aside, you're in a long-term relationship. Would you like to marry, have kids, and all that? If so, what's the way around the obstacles you face?
I've been married for four-plus years and have tried for kids three times via artificial insemination and in-vitro fertilization. It's kind of something I don't want to talk about again, because everyone asks me about it, and when attempts fail, it's like a tiny little miscarriage to me. I look forward to being a parent, though, with my dude.
Your video is very well-made, and it doesn't beat its audience over the head. Subtle political commentary is not usually expected from drag queens. Hell, subtle anything isn't expected from us. Do you have any new homophobic targets planned?
Thank you! Michael Serrato, Logo's Big Gay Sketch Show alum and current writer on Neil Patrick Harris' Neil's Puppet Dream, really helped edit my ideas for the video, and without him, it would've been much more rudimentary. I haven't made any money off selling the song or video yet and am hoping to break even, so until I can pay for my next protest song, I'm just focusing on things I can do for free, like volunteering at the L.A. Gay and Lesbian Center. A MAC Viva Glam spokesperson gig would be lovely, though.
Of course, you also do comedy. When someone books you to perform, what else does your show consist of? We all know that you're great on a microphone.
If you've got a check, I've got a talent. I do it all, much like you. I have original songs and parody songs and kind of tailor my act to whatever audience I'm working with. My album comes out Aug. 25 and covers a varied range of topics, from chicken ("Chow Down" and "Love You Like a Big Schlong") to fish ("The Vagina Song") to club bangers ("Starfucker"), and an ode to the movie Showgirls.
You're also known for your up-to-the-minute designer duds, and I can't wait to see what you're wearing when you take the stage at Hot Mess in NYC on Aug. 8. What are some of your current fashion faves?
I'm currently rotating some Mary Katrantzou, Balmain, Versace, vintage Mackie, and latex by Syren. My only caveat is I don't wear black much. I like color. I think of myself as kind of a whore clown with no red nose, so I like to be bright.
Sharon Needles recently drank your urine on camera after the Hot 100 party in L.A. Why were you carrying a urine sample around in the first place -- or was it all a publicity stunt? Maybe I'm the only freak out there who wants details, but give us the dirt on that insanity.
Viacom is taking after MGM and has instated pee tests on their starlets. I'm flattered they consider me someone they like to work with and will point my prick in any direction they tell me to. Plus I'm a real piss pig. We all tinkle; why not make it funny, too? I shot a yellow river coming out of Jujubee's open lips on the RuPaul's Drag U poster for a YouTube video, and many say it was the funniest thing to ever come out of her mouth.
Many were disappointed by your early exit from Drag Race. Where can we expect to see Willam popping up next?
You can go to theaters this weekend and catch me opposite Ben Stiller and Billy Crudrup in The Watch. Also, Househunters International -- I'm replacing that bitch Suzanne Whang.
Come see Lady Bunny and Willam at the Hot Mess party on Aug. 8 at XL nightclub in NYC. For more details, head here.
Calling all HuffPost superfans!
Sign up for membership to become a founding member and help shape HuffPost's next chapter