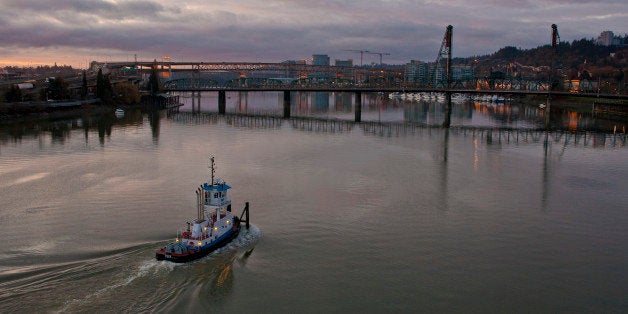 PORTLAND, Ore., Oct 2 (Reuters) - The dangerously toxic blue-green algae that for two weeks halted recreation on the Willamette River as it flows through Oregon's largest city has dissipated and a health advisory for the river has been lifted, Oregon public health officials said on Thursday.
But swimmers and boaters should still be cautious as they return to the river, as algae could be present in high levels in areas far from where test samples were collected, the Oregon Health Authority said.
An oil-slick-like green sheen of algae was first detected on Sept. 16, prompting Oregon health officials to warn river users away from a 10-mile stretch of the Willamette, which bisects Portland and is a hub of industry, housing and recreation.
A rowing regatta and the swimming portion of a triathlon were canceled during the advisory, and residents of riverbank homeless encampments were warned to steer clear of the water.
Several rowing groups said they would immediately return to the water after the warning was lifted, although the DragonSports paddling club warned its several hundred members to steer clear of the river through the weekend.
The algae can cause rashes and breathing difficulties in humans and can be fatal to dogs.
Before the advisory was issued in September, cyanobacteria had never before been detected in the Willamette River at dangerous levels. Scientists say warmer-than-normal weather and agricultural runoff may have contributed to this year's algae bloom. (Editing by Cynthia Johnston and Eric Walsh)
REAL LIFE. REAL NEWS. REAL VOICES.
Help us tell more of the stories that matter from voices that too often remain unheard.
BEFORE YOU GO
PHOTO GALLERY
America's Most Endangered Waterways (2013)