Shirlyn Wong really felt like she was living someone else's life when she found herself poking Willem Dafoe's face. And not by choice. A conversation about the musculature of dimples (Wong has a pair of distinctive ones, tiny commas set on either side of her chin) led Dafoe, the Oscar-nominated actor, to twist his famously expressive face into a frown and insist she "check out these muscles!" Wong, a film student at NYU who happened to be directing Dafoe, fretted about overstepping boundaries, but she couldn't say no to her talented star. "He kept telling me to poke it," she says. And? "He's got an incredibly muscular facial structure." Other notable Dafoe-isms, according to Wong, include a surprisingly playful sense of humor for a guy who's played both the Devil and Nosferatu, and a tendency to always be "hopping and skipping."
Wong was living every MFA student's dream. The 30-year-old former computer programmer is the U.S. winner of this year's Jameson First Shot, a script contest sponsored by Jameson, the whiskey company, in collaboration with Kevin Spacey. The prize is meant to be transformative: each winner gets to direct an A-list actor in the role they wrote, backed by Spacey's Trigger Street Productions (which also produced "The Social Network"). Watch Wong's film, "Love's Routine," above.
Spacey, the face of the campaign, says the idea for it comes from advice he got from Jack Lemmon: "send the elevator back down." "I always thought that was such a succinct and beautiful way to say it," Spacey told the Huffington Post at the Wednesday night premiere of Wong's film, "Love's Routine." "I wouldn't have a career if it weren't for first time director and writers and producers giving me an opportunity."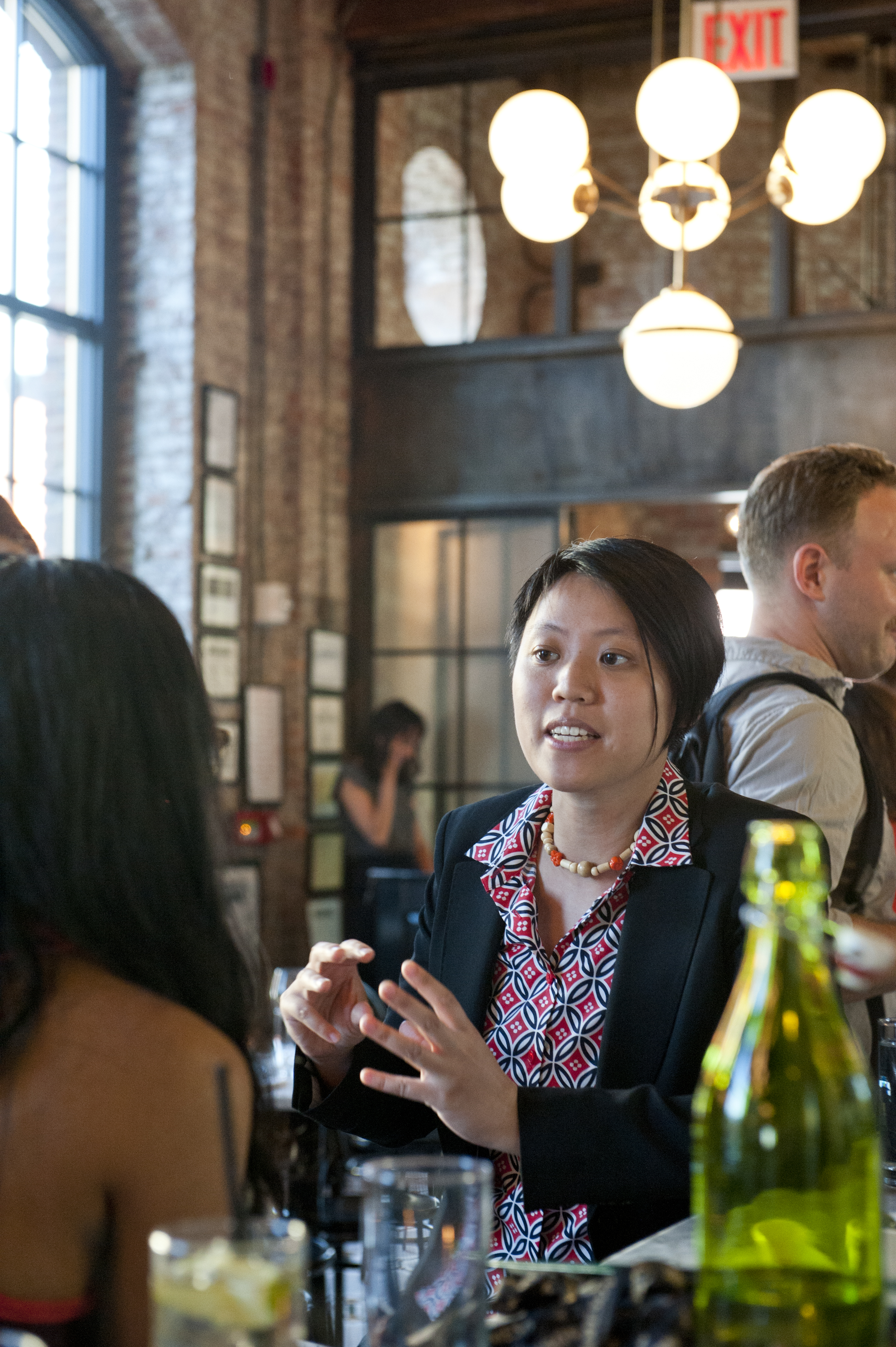 Shirlyn Wong, the U.S. winner of the Jameson First Shot competition. Photo by Wendy George.

Last year, Spacey starred in the three winning films; this year, he passed the baton to Dafoe to give the project more credibility, he says.
"Every time you make anything, you go back to square one," Dafoe told The Huffington Post. "When you're doing it with people that aren't jaded, and are excited to have an opportunity, it's exciting."
Each short is filmed over two days, and production costs are fully funded. Winning scripts tend to be quiet and story-driven -- "we gotta make sure there's no car explosions," explains Spacey's Trigger Street partner, Dana Brunetti. The rules discourage writing flashy scenes that would be hard to film (or Jameson whiskey) into the plot. Wong's film, a futuristic dark comedy about a loving but odd couple, takes place in and around one house.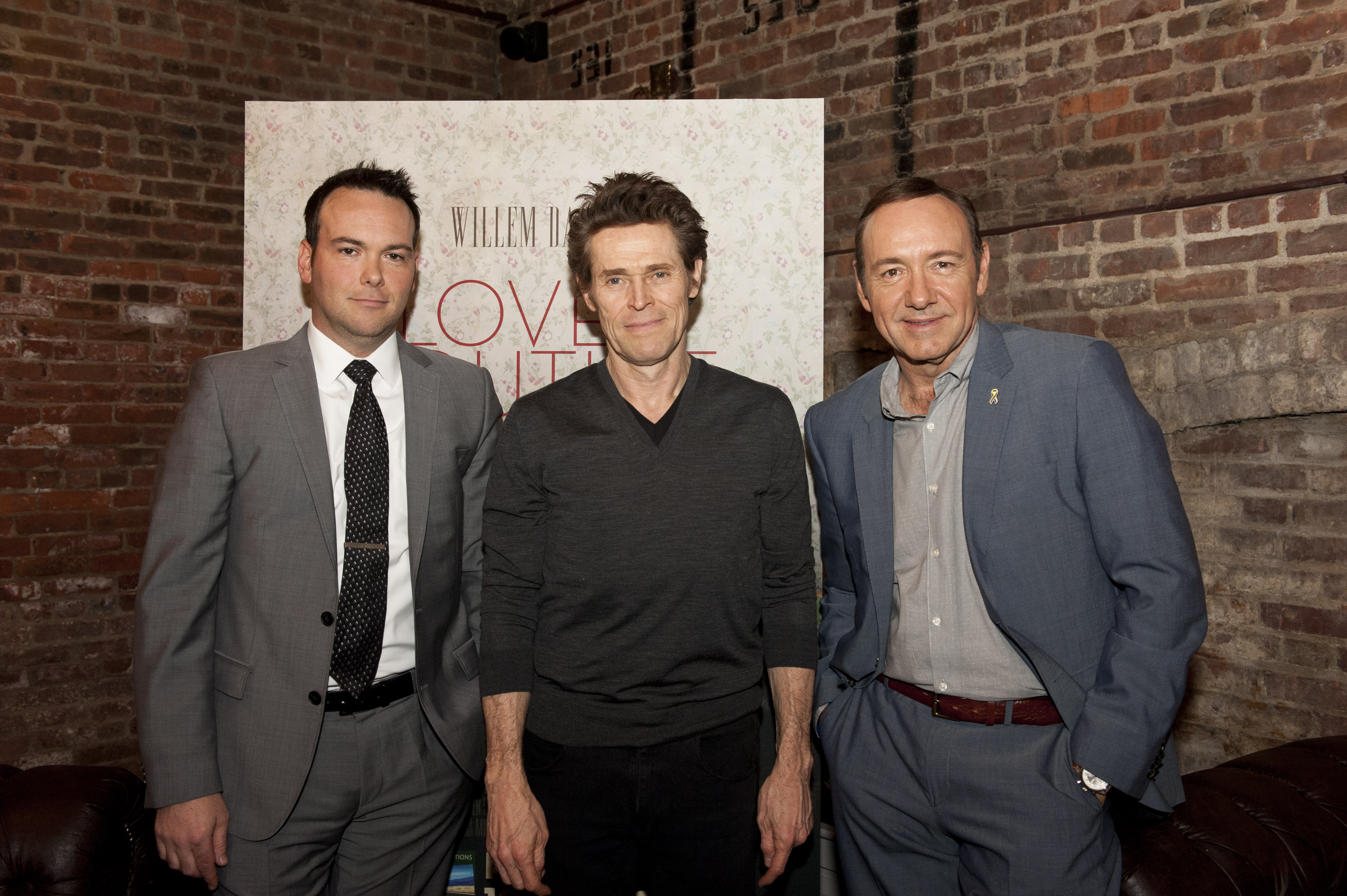 From L to R: Dana Brunetti, Willem Dafoe and Kevin Spacey at the New York premiere of "Love's Routine." Photo by Wendy George.
Maybe inevitably, some Youtube commenters are mistaking "Love's Routine" for a really good commercial. "I watched the entire ad," writes one, "something I never do on Youtube." First Shot films have to either depict a "tall tale," a legend, or be humorous -- themes inspired by the company's John Jameson mythology campaign. And for now, only competitors from the company's top three markets, South Africa, the U.S. and Russia, are eligible to enter.
Wong is now onto her next film: the story of a stripper who drives her pink RV to a small town to satisfy a dying man's wish (if she could pick another A-list star for this one, it'd be Charlize Theron, Wong says). But life is more or less back to normal. She's raising funds for "The Mobile Stripper" on Indiegogo.
The winning films from South Africa and Russia, also starring Defoe, are available to watch at the First Shot site.

Support HuffPost
The Stakes Have Never Been Higher
Related
Popular in the Community