Willem Dafoe never set out to be a famous actor; he wasn't a child who dreamed of a place in Hollywood. In fact, growing up, he didn't really have an answer for those who asked him what he wanted to be when he grew up. "I never had a picture in mind, I just kind of drifted from situation to situation" he explained for NEWSWIRE.FM's ONE WORLD series. "I never had that moment that you hear a lot of actors have where they say 'oh I want to be an actor.'" For Willem, it was more of a progression from one project to another without a clear desire to turn it into a larger career. But a career is precisely what it became. He recently sat down with Deepak Chopra to discuss his work, the art of acting and how he approaches each new role.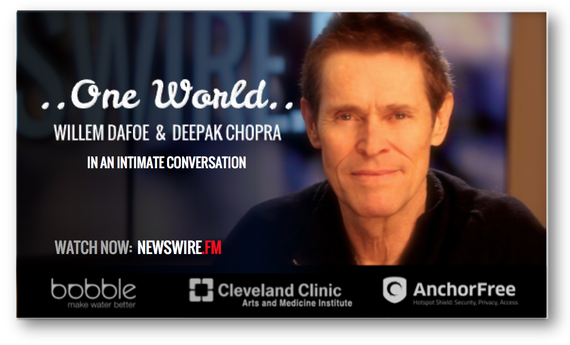 Regardless of his intention at the outset, Dafoe's career took off and since his start with Theater X in Milwaukee, Wisconsin, Willem has been acting in a variety of films and theater productions many of them receiving critical acclaim. He has brought to life a broad range of characters in his long career and yet he insists that he identifies with every role he plays. "It becomes an opportunity to take on a new way of seeing and new way of being," he said.
Dafoe has played the hero, the villain and everyone in between and he sees these differing roles not as challenges but as "beautiful opportunities to take on the other." The goal is to disappear into a role and allow the rest of the world to temporarily fall away. The deeper an understanding of any given character, the more successful he is likely to be in transmitting that understanding to his audience.
He doesn't have very much formal training himself and is not entirely sure that formal training can work for all actors, rather Dafoe advises aspiring actors to gravitate towards what they like and surrounding themselves with people who have experience in that area. "I believe very much in apprenticeship; I believe very much in being around people that are doing the things that you want to do and learning from them." It is sound advice for any career and if Dafoe's illustrious career is any indication; it works.
This is a blog series produced in partnership with One World, a video series with Deepak Chopra and NEWSWIRE.FM.  To view the full video and subscribe to all the episodes click here.