The House appropriations subcommittee hearing was Barr's first appearance before a congressional panel since the special counsel's office completed its report on March 22.
Though the hearing's announced purpose was to explore the Trump administration's $29 billion fiscal 2020 budget request for the Justice Department, Democrats used much of their allotted time to grill Barr about his handling of the Mueller report.
"Before getting into your budget request, I want to address a serious oversight matter ― your unacceptable handling of special counsel Robert Mueller's report," Rep. Nita Lowey (D-N.Y.), chairwoman of the House Appropriations Committee, told Barr during the hearing.
Barr, two days after Mueller submitted his report, sent a letter to the House Judiciary Committee outlining what he called the key findings from the special counsel's investigation.
"All we have is your four-page summary, which seems to cherry-pick from the report to draw the most favorable conclusion possible for the president."
In his letter to the committee, Barr said Mueller's report did not determine that Trump's campaign colluded with Russia. He also noted that with respect to obstruction of justice, Mueller's report neither concluded Trump committed a crime nor exonerated him.
Barr wrote that he and Deputy Attorney General Rod Rosenstein ultimately decided that the evidence established during the investigation was not enough to demonstrate that the president committed obstruction of justice.
Lowey, like several of her fellow Democratic lawmakers, took issue on Tuesday with Barr's haste in declaring key findings of the vast report.
"It's been reported that the report is 300 to 400 pages ― and I use the term 'reported' because we have no idea how long it actually is," Lowey said. "All we have is your four-page summary, which seems to cherry-pick from the report to draw the most favorable conclusion possible for the president. And, in many ways, your letter raises more questions than it answers."
Barr told Lowey that he was able to publish his key findings so quickly because he had a "preliminary discussion" with Mueller and his team on March 5.
"The thinking of the special counsel was not a mystery to the people at the Department of Justice prior to his submission of the report," Barr said.
He said he expects to release a redacted version of Mueller's report to Congress and the public "within a week."
"People can then read the report," he said. "I'm not going to discuss it any further until after the report is out."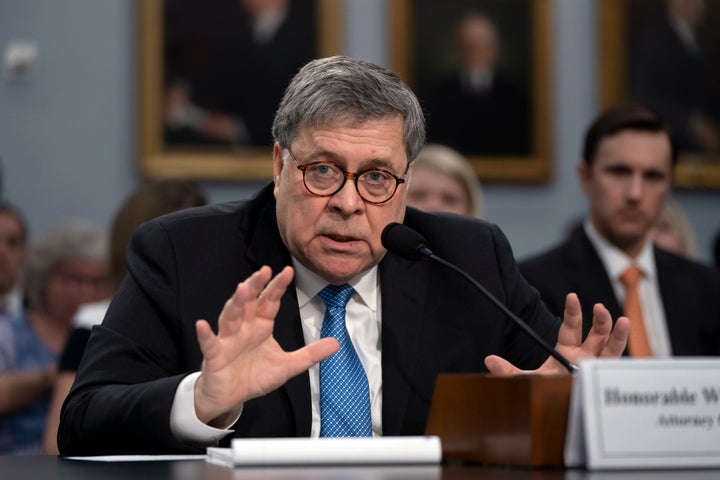 Barr said he's blacking out parts of the report based on four categories, including information about grand jury testimony, intelligence sources, items related to ongoing prosecutions and information about people who were not ultimately charged.
Both Democrats and Republicans have called on Barr to grant Congress full access to the Mueller report. Barr, however, said: "I don't expect to send the full unredacted report" to lawmakers.
Asked if he believes there's any circumstance in which Congress could see the complete, unredacted report, Barr said he would consider requests from leaders of the congressional judiciary committees.
"Once that [redacted version of the] report is ready for release, I would not only give it to the chairmen on the judiciary committees, but I would talk to them and engage with them about what additional information they feel they require," Barr said.
Rep. Ed Case (D-Hawaii) questioned why congressional committees should have to ask for more information instead of simply receiving the full report. Barr, however, stood by his decision.
"I can envision a situation where under appropriate safeguards that information would be shared," Barr said.
The "6(e)" section of the Federal Rules of Criminal Procedure largely prohibits the public release of information obtained through grand jury testimony. Barr said members of Congress would have to show him what in the grand jury secrecy rule permits the release of information he believes should be redacted.
"Congress doesn't get 6(e) unless there is a provision," he said.
Barr's appointment to lead the Trump Justice Department and his subsequent letter to Congress about the Mueller report have drawn scrutiny from Democratic lawmakers, given his previous comments about the investigation.
In June, Barr criticized Mueller's focus on obstruction of justice in an unsolicited 19-page memo to Justice Department officials.
"The practical implications of Mueller's approach, especially in light of its 'shapeless' concept of obstruction, are astounding," Barr wrote.
Ryan J. Reilly contributed reporting.
Popular in the Community