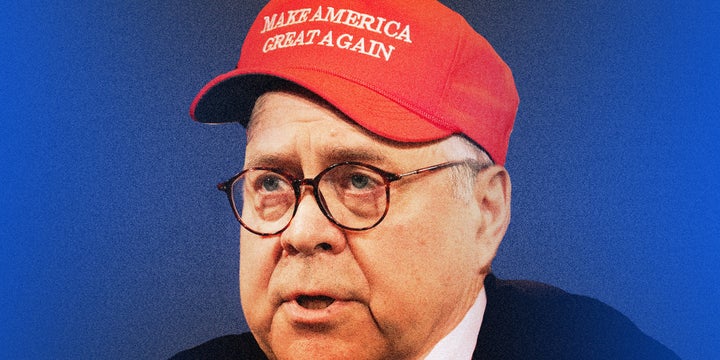 Attorney General William Barr shed all appearance of impartiality in a stunning press conference on Thursday, sounding more like Donald Trump's personal lawyer than the head of the Justice Department as he castigated the president's political opponents for making Trump's life so difficult.
Barr briefed reporters on special counsel Robert Mueller's conclusions on Russia's role in the 2016 U.S. election. He did so before reporters and members of Congress saw the report.
Barr did say, however, that he shared a copy with the White House so that the president could decide whether he wanted to exert executive privilege over any sections of it. (Trump declined to do so.) Jay Sekulow, the president's personal lawyer, said he saw the report on Tuesday.
Barr's comments Thursday sounded like something more at home at a Trump campaign rally than a Justice Department press conference. He went after the media and the president's "political opponents," railed against "illegal leaks" and went out of his way to praise how cooperative the White House was in Mueller's investigation ― even though the president refused to sit down for an interview with the special counsel.
From a key portion of Barr's remarks:
In assessing the president's actions discussed in the report, it is important to bear in mind the context. President Trump faced an unprecedented situation. As he entered into office, and sought to perform his responsibilities as president, federal agents and prosecutors were scrutinizing his conduct before and after taking office, and the conduct of some of his associates.

At the same time, there was relentless speculation in the news media about the president's personal culpability. Yet, as he said from the beginning, there was in fact no collusion.

And as the special counsel's report acknowledges, there is substantial evidence to show that the president was frustrated and angered by a sincere belief that the investigation was undermining his presidency, propelled by his political opponents, and fueled by illegal leaks.

Nonetheless, the White House fully cooperated with the special counsel's investigation, providing unfettered access to campaign and White House documents, directing senior aides to testify freely, and asserting no privilege claims.
In other words, the president faced a really really tough job because everyone was so mean to him, so it's understandable that his feelings were hurt and he lashed out a bit. The fact that he cooperated with the special counsel's investigation at all shows what an admirable man he is.
"The attorney general seemed almost to be acting as the counselor for the defense, the counselor for the president, rather than the attorney general, talking about his motives, his emotions. ... Really, as I say, making a case for the president," said Fox News host Chris Wallace immediately following Barr's press conference.
Saying there was "no collusion" between the Trump campaign and Russia in the 2016 campaign is a favorite phrase of Trump and his allies. Trump, in fact, has tweeted it 84 times. Barr said it four times in his 18-minute remarks:
Put another way, the special counsel found no "collusion" by any Americans in the IRA's illegal activity.

But again, the special counsel's report did not find any evidence that members of the Trump campaign or anyone associated with the campaign conspired or coordinated with the Russian government in its hacking operations. In other words, there was no evidence of Trump campaign "collusion" with the Russian government's hacking.

After finding no underlying collusion with Russia, the special counsel's report goes on to consider whether certain actions of the president could amount to obstruction of the special counsel's investigation.

At the same time, there was relentless speculation in the news media about the president's personal culpability. Yet, as he said from the beginning, there was, in fact, no collusion.
Barr's decision to use "no collusion" is telling. While it's a common refrain from Trump, it is not the terminology used in the Mueller report. Mueller, in fact, specifically details why he doesn't use that term, and the only times it appears in the report are as part of this explanation or in quoting someone else.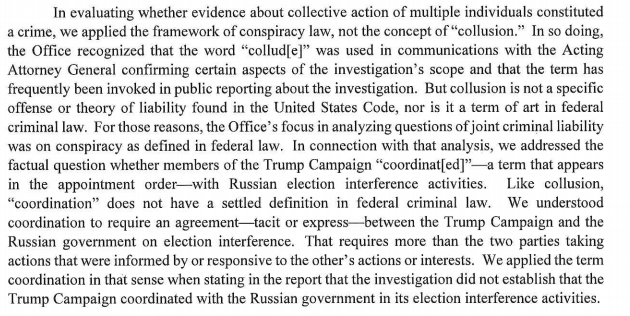 The attorney general took issue with a reporter at the press conference who asked him whether his remarks were overly kind to the president, replying, "I'm not sure what your basis is for saying that I'm being generous to the president."
Barr replaced Trump's first attorney general, Jeff Sessions, who angered the president when he recused himself from any investigation into the 2016 election. That decision led to the appointment of Mueller. Trump reportedly believed the attorney general's job was to protect the president from legal trouble and carry out his agenda.
"Where's my Roy Cohn?" Trump allegedly said in 2017, as he was lobbying Sessions not to recuse himself. Cohn was Trump's former fixer, who was also Sen. Joseph McCarthy's top aide during the investigations into communist activity in the 1950s.
So Barr's conduct is not entirely surprising since Trump was specifically looking for an attorney general in this mold.
Since Trump nominated him as attorney general in December, Barr has engendered skepticism from Democrats, who worried that he would simply be a defender of the president. But Barr did have his defenders. One of them was Chuck Rosenberg, who served as counsel to Mueller when he was FBI director. On Thursday, he said that he no longer had faith in Barr.
"I started off believing that Bill Barr was a principled institutionalist," he said on MSNBC. "Over the past several weeks, I've seen data coming over the transom that suggest that he is not what I thought him to be. ... Barr has gone too far into the tank for the president of the United States."
Popular in the Community