Energy Department spokeswoman Shaylyn Hynes confirmed his departure in an email to HuffPost on Friday, stating that Bradford "tendered his resignation yesterday."
"[He] is no longer with the Department of Energy," Hynes said.
Bradford denied being linked to the account and told CNN that he was the victim of "cyber attacks and Internet crimes," despite posts by the account encouraging other users to contact the user at Bradford's email address and phone number.
Bradford told HuffPost in an email Friday that he resigned because he felt "the best way to serve the President, the USA, and Indian Country would be from a position beyond the constraints" he said he experienced during his brief tenure at the Energy Department.
"I look forward to helping make America great again in another role," Bradford wrote.
The CNN report is only the latest social media scandal to haunt Bradford. In June, the then-senior Energy Department official came under fire after The Washington Post published a trove of deleted tweets written in 2016.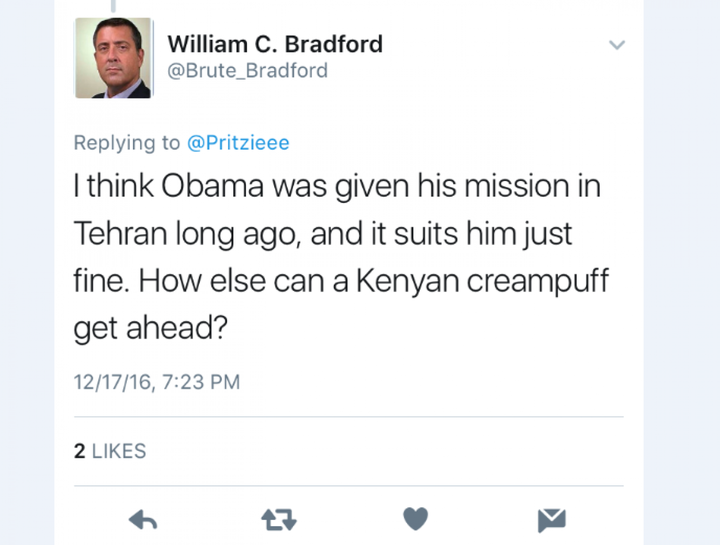 In one tweet, Bradford described Obama as a "Kenyan creampuff." In February 2016, Bradford went on anti-Semitic Twitter rant against Facebook co-founder Mark Zuckerberg, calling him an "arrogant self-hating Jew."
A few weeks later, Bradford said it was "necessary" to incarcerate nearly 120,000 people of Japanese descent in the U.S. during World War II.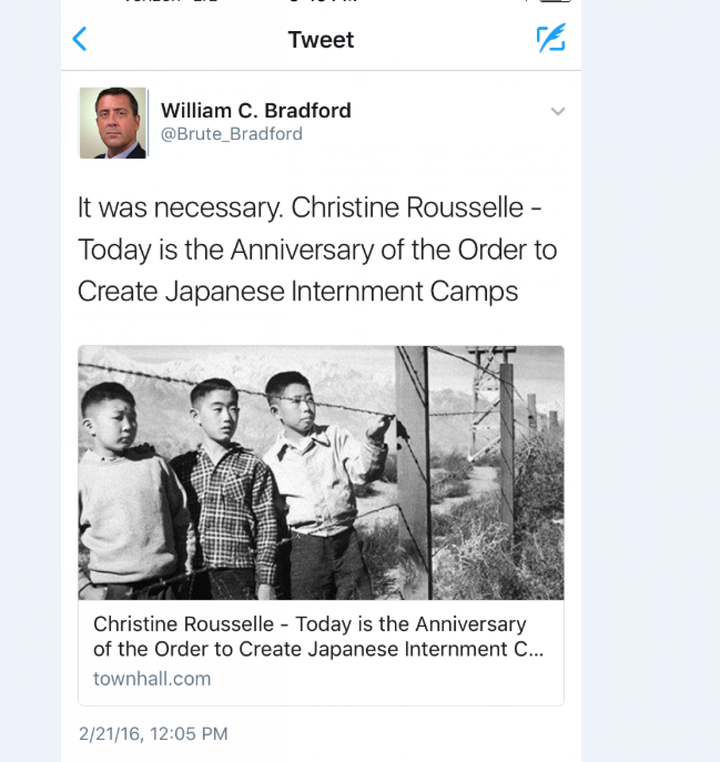 Bradford quickly acknowledged the deleted tweets and apologized for his "disrespectful and offensive" comments.
"As a minority and member of the Jewish faith, I sincerely apologize," wrote Bradford, who is also a member of the Chiricahua Apache Nation, in an email to The Washington Post.
Bradford also made headlines in 2015 when he resigned from his position as a West Point law professor amid backlash over an article he published that urged attacks on Islamic holy sites. A month earlier, The Guardian reported that he had inflated his military and academic credentials.
REAL LIFE. REAL NEWS. REAL VOICES.
Help us tell more of the stories that matter from voices that too often remain unheard.
BEFORE YOU GO
PHOTO GALLERY
#NewWhiteHouseJobRequirements Might Make This Administration More Efficient