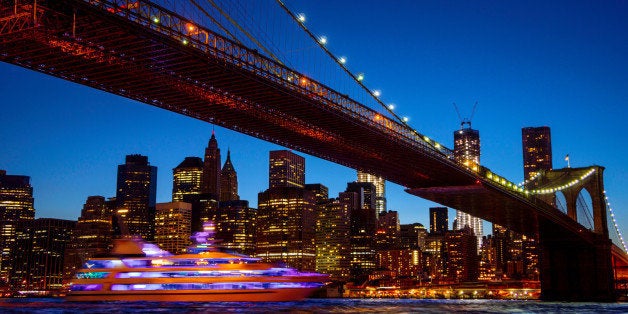 William Bryk lives in Brooklyn and has never been much farther west than Buffalo. But that's not stopping him from running for U.S. Senate this year in Alaska -- and Idaho and Oregon.
"I'm just making myself available to the people of more than one state," Bryk told The Spokesman-Review. "The voters have not yet taken advantage of the opportunity to retain my services, but one lives in hope."
Bryk told The Spokesman-Review that if he wins the Idaho Democratic primary on May 20, he and his wife -- and their cats -- will move to the state.
When asked what he would do if he were to win in multiple states, Byrk replied, "To be candid, I do not believe that will happen. If it did happen, I would probably have to sit down with the party leadership in the two states and make some fast calculations and pick whichever state … I would most likely be able to be of service to."
Bryk doesn't do any campaigning for the positions he hopes to hold, and it doesn't appear that he's very up on the issues. While discussing Idaho with The Spokesman Review-Tribune, he referred to the "Iowa state Democratic chairman" and never corrected his error, noted the paper.
But in 2013, he told The Daily Beast that what he's really trying to do some of the time is urge political parties to put up credible challengers to incumbents. In other words, if they don't want some guy from Brooklyn to be their nominee, the parties should get someone better to run.
"I think it is a public service, and it is really fun," he said. "To me, it is a harmless and painless way of getting the party system to do its job. The job of an opposition party is to oppose. The whole purpose of an adversarial political system is to gain power by defeating the other guy, and when you don't run candidates you are not doing that."
In Idaho, Byrk is hoping to take on Sen. Jim Risch (R). He is also mounting primary challenges to Sens. Mark Begich (D-Alaska) and Jeff Merkley (D-Oregon), who are also being targeted by Republicans.
REAL LIFE. REAL NEWS. REAL VOICES.
Help us tell more of the stories that matter from voices that too often remain unheard.
BEFORE YOU GO
PHOTO GALLERY
Senate Seats Up For Grabs In 2014