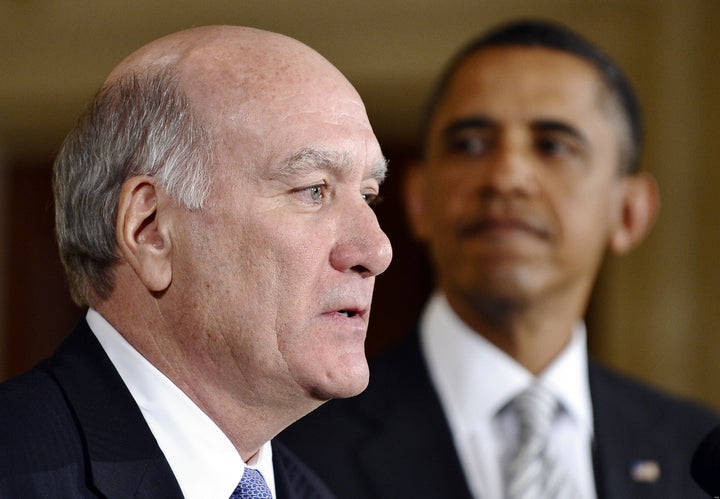 President Barack Obama's next chief of staff holds more than $7.6 million worth of stock in JPMorgan Chase, according to a regulatory filing.
William M. Daley, vice chairman at JPMorgan Chase, holds 175,678 shares in the $2.1 trillion behemoth, the nation's second-largest bank by assets. Daley headed the firm's Corporate Responsibility division, which included oversight of the firm's lobbyists and relations with government officials.
Daley exercised his holdings on Thursday, the same day Obama announced he was bringing in the former banker to run the White House. Daley acquired 201,913 shares to bring his total to 316,327, but sold 140,649 of those shares to cover tax liabilities, according to the filing with the Securities and Exchange Commission. JPMorgan shares closed at $43.40 on Monday.
A White House official said Daley will sell his stake in his former employer.
The administration has come under fire since Obama's announcement that he would name a former banker to the pivotal role, which many experts describe as one of the most powerful positions in government. While business groups and various elected officials have hailed the choice as a move to repair the White House's apparently fractured relationship with corporate America, those wary of Wall Street's growing influence in Washington have denounced it as yet another sop to the nation's largest banks.
Daley's holdings could present a conflict of interest, experts warn.
But Daley doesn't have to. Though his holdings would likely forbid him from participating in matters directly involving JPMorgan Chase, if he were to maintain his shares he'd simply need to recuse himself from those specific issues involving his former employer, or he could obtain a waiver, according to federal rules. Daley could also place his holdings in a blind trust over which he'd have no control.
As White House chief of staff, Daley wouldn't be directly involved in writing the new rules that will govern Wall Street. Dodd-Frank, the 2010 law overhauling financial regulation, calls for more than 200 of them.
But that shouldn't even matter, said Mark Blyth, a member of the Warwick Commission on International Financial Reform and a professor of international political economy at Brown University.
"Do you expect people not to have shares? That anybody working in government should immediately divest themselves of all interests?" asked Blyth.
Arguing that those with knowledge of finance would make for better regulators, Blyth said it's natural for them to have stock holdings. "If you start forcing people to divest themselves of their investments to take on government work, you are seriously restricting your talent pool."
Blyth added that for Daley, so long as he either sells his stake or relinquishes control of it, his ownership of bank shares shouldn't preclude him from the White House position.
"It's not like he's going to be directly writing financial regulations," said Blyth. "So, are we really going to make the case that the chief of staff, because he wants the share price of JPMorgan to stay high, is going to write the rules of government such that they're benefitting?" he asked.
Blyth said he was "shocked" that Daley had so few shares, given his top position at JPMorgan and the exorbitant compensation showered on bankers over the years.
"Also, there's a long chain of causation you have to walk through to make that story stick," Blyth added. Independent federal agencies, with Senate-confirmed chiefs, write and interpret federal regulations.
Daley is expected to formally begin in his new position this week.
*************************
Related
Popular in the Community