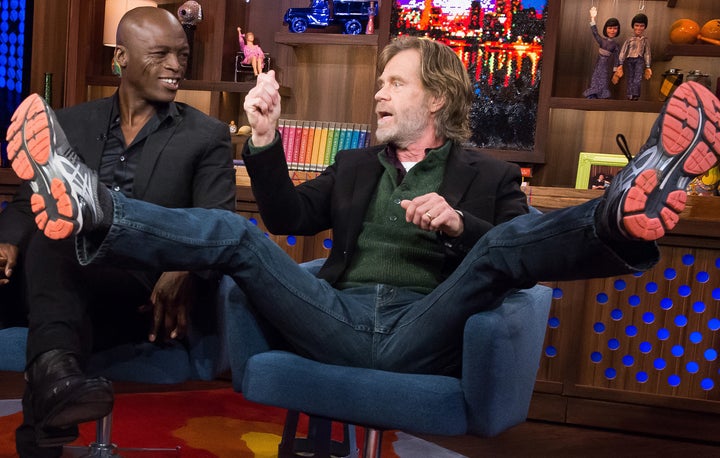 While talking to William H. Macy about his recently received third Emmy nomination for the role of Frank Gallagher on the show "Shameless," I was surprised that I couldn't stop laughing. Honestly, I often laugh along during interviews to elicit better responses, as many reporters do, but this wasn't that. It was real.
In our conversation, Macy was often self-deprecating ― discussing the ways he's messed up on the "Shameless" set and how he thinks "it's important as an actor [to] support Jeffrey Tambor as he collects the Emmy." (Macy is up against Tambor of "Transparent" for Outstanding Lead Actor in a Comedy Series.) The actor also made fun of his age relative to the cast, speaking of his bewildered surprise when his co-stars invited him to a late-night party. "I've been asleep for two hours at 10 o'clock. They're starting at 10 o'clock?!"
Story after story would end with surprising punch lines. At one point, Macy went on at length about filming "Shameless" during the polar vortex with a wind chill of 27 below in Chicago. The anecdote was all to set up a joke about the physical detriment his stunt double had to endure during a nude streaking scene near Lake Michigan.
"[The stunt double] did it twice, butt naked," Macy said with a laugh. "Twenty-seven degrees below zero, running down the beach. That poor guy, they still haven't found his dick. He's going to have to go to the hospital to have it surgically ..." ― you get it.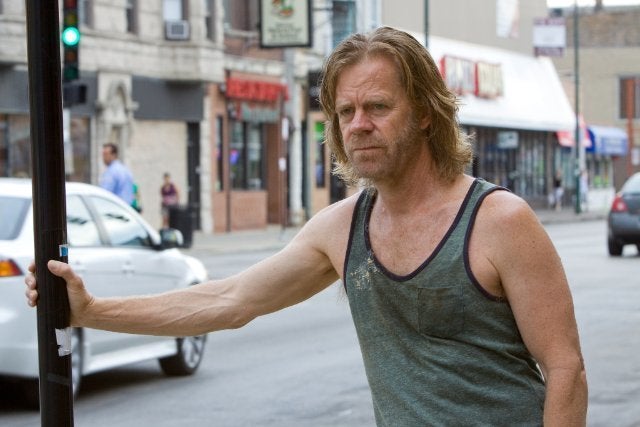 Macy is already a celebrated actor with two Emmys and an Academy Award nomination under his belt. The 66-year-old, who was in last year's Oscar-nominated movie "Room," is famous and beloved for roles in "Boogie Nights," "The Cooler" and "Fargo." He said people would stop him on the street to talk about "Fargo" and his character, Jerry Lundegaard, "for a long time" after the movie debuted.
But it's this "Shameless" role that's seeped noticeably into his actual life and the one he can't shake. "I think the delight I take in playing Frank is evident," said Macy. "I think you can see it on screen and people share in that."
After years of playing the despicable yet lovable Frank, the actor seems to have a new unfiltered charm. When talking about shows that came before this "second golden age" of television, Macy didn't spare disdain. "You got this watered down trash for years and years and years," he said.
"I've always been relatively blunt; it's just my way," claimed the actor. Still, he believes his friends would say that Frank has changed him. "I think a lot of my humor is more drug- and alcohol-based than it used to be," said Macy. "I've probably got a bit of the Frank in me." 
It's a role that Macy is clearly ultra proud of, as well. In our conversation, he would boast impressive "facts" about the show, which he knows are exaggerated. "We shoot more pages in less time for less money than any other show on TV," claimed Macy, then adding, "I don't know that that's true, but I'm pretty sure. It's close to true."
Trying to relate the experience of being Frank to another boastful pop culture equivalent, the actor explained, "I don't know, it's like I get to play Donald Trump, just unfiltered, whatever you think comes out."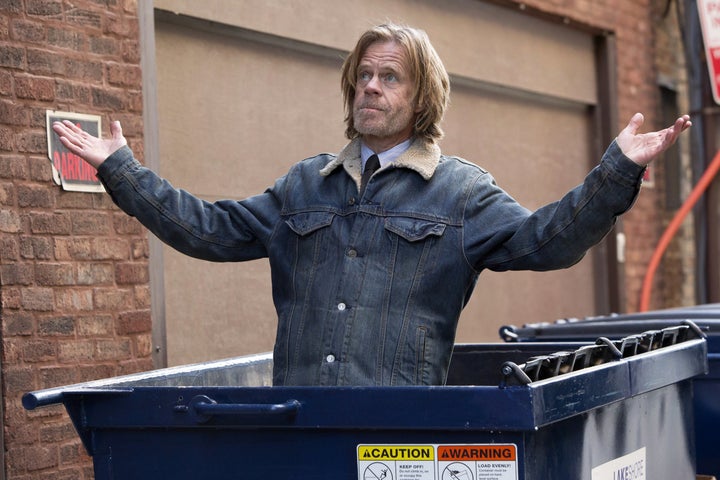 "Shameless" is set in Chicago, Illinois, and the actors actually film many of their exteriors in the city. "Chicago was the perfect choice," said Macy. "It's the middle of the country, literally. It's the heart of the country ... it ain't New York and it ain't LA, it's the third coast."
Macy lived in Wrigleyville, Chicago, while coming up as an actor, so getting to return there is somewhat of a spiritual centering for him. "I'm a [Chicago] Cubs fan, and I probably always will be," he told Sports Illustrated in a 2006 story of the MLB team that played next to his home. "I think there's something about all the losers I've played in my career that makes me believe that the Cubs sooner or later will win the Series."
As Macy told the sports magazine, both him and the Cubs are famous for losing. The baseball team hasn't won a World Series since 1908 and, just last year, The Huffington Post deemed Macy "Cinema's Number One Loser" in a video tribute of moments from his career.
But in 2016, after years of frequently shooting "Shameless" in Chicago and finding a character that channels a part of him he always felt to be there, Macy seems to be in his peak element. And the Cubs happen to have the best record in the league right now.
"This year, for reasons I don't fully understand, I'm thrilled," Macy said of his Emmy nomination. "I'm really, really thrilled and secretly delighted."
The Emmys gave both Macy and his wife, Felicity Huffman, nominations this year ― the second year in a row for the pair. Huffman is nominated for her role in "American Crime." The two have been married since 1997.
So, with his local Cubs doing so well and Emmys noms for him and his wife, maybe everything's finally coming up Macy. 
Calling all HuffPost superfans!
Sign up for membership to become a founding member and help shape HuffPost's next chapter
BEFORE YOU GO
PHOTO GALLERY
Celebrity News & Photos