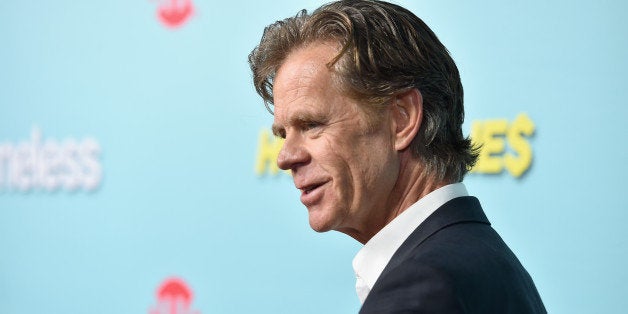 I sat down with actor William H. Macy recently while he was in Chicago filming the last bits of Season Five of Shameless for Showtime. Executive chef of Sable Kitchen and Bar, Heather Terhune, joined us for our mini dinner party as we dished on the new season of Shameless, the similarities of being an executive chef and a movie director (Macy's directorial debut Rudderless came out in November), and the Chicago work ethic.
It was great to have Macy back in Chicago because, despite his illustrious career that has taken him to New York, Los Angeles and beyond, I think of Chicago as the city that launched him. After all, he started the infamous St. Nicholas Theatre Company in 1974 with David Mamet, Patty Cox, Rocco Jans, Linda Kimbrough, and Steve Schacter. Their second season began with a new play by Mamet titled American Buffalo, and history was made, establishing a national reputation for St. Nicholas, a career for Mamet and Macy's big start.
In the podcast below, I talked to Macy about what it is like to be working in Chicago again. The cast of Shameless is not from Chicago, but, as you will hear, the local crew is and Macy (wanting to be called Bill in the interview) was impressed with the determination they brought to the set, even in the outside scenes that landed during one of our many Polar Vortexes.
While Macy has literally nothing in common with his on-screen character, Frank in Shameless, in the interview he displayed incredible compassion for his character, explaining that Frank and all the Gallaghers are only inches away from falling into irreversible turmoil and devastation. It is this compassion, I believe, that has made Macy's portrayal of generally unsympathetic characters over the years indelible people in our memory. While he has played many roles over the decades, it is the sheepish and pathetic Jerry Lundegaard from Fargo and distraught "Little" Bill Thompson from Boogie Nights that stay with us.
Shameless' Frank Gallagher is becoming one of these etched-in-our-mind kind of roles for Macy. Catch the funny, off-the-cuff and very sweet William H. Macy in our Dinner Party interview below. The new season of Shameless began January 11 on Showtime at 8 p.m. CST.
Calling all HuffPost superfans!
Sign up for membership to become a founding member and help shape HuffPost's next chapter