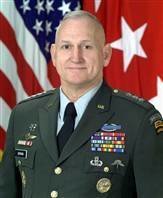 (RNS) The conservative Family Research Council has named a former top Delta Force commando and outspoken culture warrior, retired Army Lt. Gen. William G. "Jerry" Boykin, to run its day-to-day operations.
Boykin's appointment as executive vice president of the FRC, a mainstay of the Christian right, is designed in part to highlight conservative opposition to President Obama's military policies, particularly his decision last year to repeal the Pentagon's ban against gays and lesbians serving openly in the armed forces.
"The Obama administration has undermined our nation's security and increased the risk to those who serve by systematically using our nation's military to advance a liberal social agenda," FRC President Tony Perkins said in announcing Boykin's appointment on Monday (July 16).
"There is no one better equipped to speak on behalf of those who serve our nation in uniform and advocate for policies that uphold our national security than General Boykin."
Boykin's presence at the FRC is also likely to spotlight his many controversial statements about Islam.
Boykin first came to national attention in 2003 when it was revealed that the decorated battlefield veteran then serving as a top adviser at the Pentagon under President George W. Bush regularly told church audiences that the post-9/11 "war on terror" was a spiritual battle between Muslims and "Christian America."
In one talk, Boykin recounted how he pursued a Muslim warrior in Somalia who claimed he had Allah on his side. "I knew that my God was bigger than his," Boykin told the church in Daytona Beach, Fla., in 2002. "I knew that my God was a real God and his was an idol."
Bush -- who Boykin once claimed was "appointed by God" -- and top military leaders distanced themselves from Boykin's remarks. A subsequent investigation found that Boykin had violated three minor Pentagon rules but he was allowed to stay on, retiring in 2007. Boykin stressed that he was expressing his own views as a born-again Christian and not administration policy.
Since his retirement from the military, Boykin has toured churches around the country. He is now an ordained minister and preaches from a different pulpit almost every Sunday -- and he has ramped up his rhetoric against Islam and its perceived influence in the U.S.
In 2009, for example, Boykin told a conference of political and religious conservatives that "there is no greater threat to America than Islam," and he co-authored a book decrying a "stealth jihad" in America by Muslims. Last year, Boykin wrote an essay arguing that Islam does not deserve the same constitutional protections as other religions because it "is a totalitarian way of life with aggressive political goals."
In June Boykin said on a radio show that if you walk down the streets of Dearborn, Mich., which has a strong Arab and Muslim population, "you would think you were in Beirut or Damascus."
Perkins and the Family Research Council have made religious freedom a centerpiece of their criticism of the Obama administration, which they say has curtailed the liberty of believers. Boykin's comments on restricting some rights for Muslims could complicate that message.
In announcing the move, the FRC and conservative news outlets focused on Boykin's conservative Christian bona fides and his military experience as assets in the coming political battles.
"As the culture war in America intensifies, I think we need some strategy," Boykin, 65, told CNSNews. "So, long-term strategy is the first issue."
Boykin also told The Christian Post that Perkins also "needs a grizzled old veteran" who has "been around the block a few times" to help the FRC weather the criticism that he predicts will increase as the election season wears on.
"Is it going to be our generation that gives their future away?" Boykin said. "Or is it going to be our generation that preserves their future"?
Popular in the Community