Addicted, the steamy sex saga based on Urban Erotica Queen Zane's bestselling novel, is not hitting the screens until Oct. 10, but a panel at the Urbanworld Film Festival this past weekend was already celebrating the release. With Zane, director Bille Woodruff, and three muscular, gay-friendly stars Boris (Soul Food) Kodjoe, supermodel Tyson Beckford, and actor/Dancing with the Stars sensation William Levy in attendance, the audience was never less than frenzied.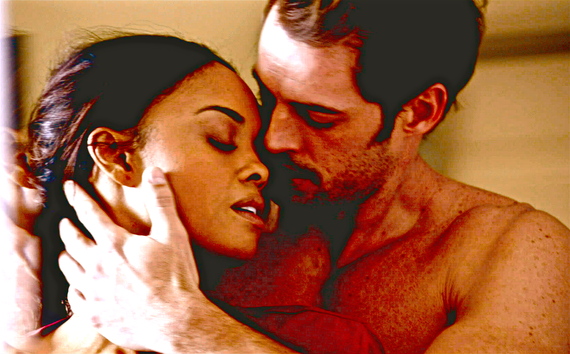 "Take off your shirt, William" was a frequent scream.
If you are not familiar with Zane's oeuvre, and you should be -- she's sold over 5 million books with at least 14 New York Times bestsellers -- her Addicted tells the tale of a happily wed African-American mother of three who discovers that adultery with numerous well-hung partners can feel good physically yet can cause a bit of emotional stress -- and that's not counting a few deaths.
A highlight of the book is the nacho cheese scene that did not make it into the film. Zoe, the errant wife, recalls for her shrink: "I sat my drink down on the floor, took the cup of warm cheese sauce that came with the nachos, and poured half of it all over his [genitalia]. He flinched. 'Oops, my bad, let me get that for you.' I leaned over and . . ."
Zoe is so proficient at oral sex, and on her very first time, no one can believe she's not a pro. Hopefully, she's also not lactose intolerant. No wonder host Bevy Smith of Bravo's Fashion Queens opened the event with: "Forget 50 Shades of Grey. We're going to be talking about 100 Hues of Black."
After adding that Zane's erotica has caused more than a few women to miss their subway stops, she introduced the cast. When a brouhaha accompanied Levy's introduction, Kodjoe warned, "I got a mancrush on William. Stay away from William, okay. He's all mine."
Beckford, who was chowing down on super-sized strawberry Twizzlers, countered, "No, baby, he's mine."
Clips from the film were then shown, displaying the gents in various states of undress with actress Sharon Leal.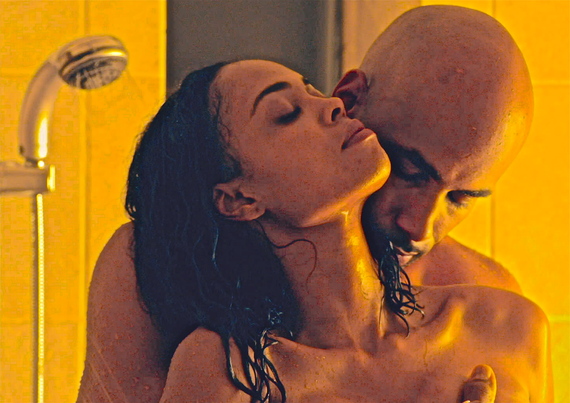 This caused Smith to ask Zane, "Do you believe every woman wants a bad boy?"
"Oh, yeah," she replied. "We all do. Some of us go for it. Other ones lives their lives vicariously through the women in books." She later added that her books are about "women's empowerment, Sexuality is the area where they feel the least comfortable. And if they can feel empowered and liberated in that area, there's a trickle down effect into other aspects of their lives. You can tell when women are having great sex. You can tell when they're not.Their skin is dry. Their hair is brittle. When they are having a good sex life, they come to my house bringing red velvet cupcakes."
Kodjoe wondered where his wife's cupcakes were.
Then I changed the subject slightly to the guys' gay following. Semi-nude shots of them all are on hundreds of gay websites. What do they feel about their fevered male admirers?
"I feel great about it," Kodjoe responded with a healthy smile.
"I don't mind," Beckford admitted as chomped down on more candy while Instagramming. "I got naked pictures out there anyway."
Kodjoe added, "I don't differentiate or discriminate. Love is love. Whatever floats your boat is all good."
As for Levy, whose early underwear ads are still quite popular Google attractions, "They're great. I love them all. Women. Gays. I have an uncle who is gay, and I saw him going through a lot of stuff back in Cuba when I wasn't well known. A sad scene. I'm sorry. My English isn't very goodlooking. So I respect them. They're all really very nice people. Human beings. You got to give it to them."
(On October 9th, there will be a repeat of the Addicted panel, which will be broadcast live to 340 theatres nationwide from the AMC Magic Johnson Theater in New York, and audiences will have the opportunity to ask questions via Twitter. For more information, contact Fathom Events.)
Calling all HuffPost superfans!
Sign up for membership to become a founding member and help shape HuffPost's next chapter