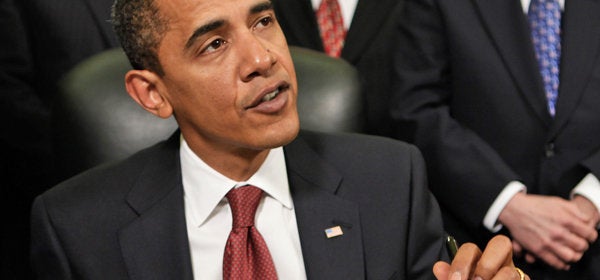 With reporting by Stuart Whatley
The nomination of William Lynn as Deputy Secretary of Defense has placed Barack Obama under the burn of political heat just days into the presidency.
Having lobbied the government on behalf of the defense industry giant Raytheon, Lynn's appointment violates the newly-instituted ethics guidelines that the president applied to his staff shortly after taking office. Questioned about the transgression, the White House said Lynn was being granted a waiver.
But there is a second layer to the Lynn issue that also is leaving a bad taste in the mouths of Democrats, good government groups and Republicans eager to cry hypocrisy. Raytheon is no mom-and-pop defense contractor shop. It is the type of industry behemoth that protesters of the Iraq invasion bemoaned for profiting off of the war and encouraging militarization. And as the man who led "the company's strategic planning and [oversaw] the government relations activity," Lynn was intimately involved.
A former employee of DFI International -- a D.C. consulting firm -- Lynn joined Raytheon in August 2002 and was elected an officer in May 2005. The firm and its subsidiaries are a major force on Capitol Hill, having spent more than $14.5 million on federal lobbying activities during the six years Lynn was working there, according to a review of lobbying records. Raytheon worked to lobby the House, Senate, DARPA, Defense Department, Energy Department, Treasury Department, State Department, and others on issues ranging from long-range guided munitions, sea based missile defense and joint standoff weapon systems.
The government outreach efforts seemed to pay dividends. Raytheon Company received more than $54 billion in contracts from the federal government during that time period, according to fedspending.org, a project of OMB Watch. This doesn't include the potentially billions more that the company was awarded as a subcontractor or part of a group contract.
During the time period, Raytheon provided a myriad of important services in US war zones. However, it was not immune to its share of controversy, some of it involving allegations of improper billing practices, some focused on the work the company did for foreign governments. The Project on Government Oversight has documented at least 17 instances of fraud on Raytheon's part that cost the company more than $475 million in settlements.
Lynn, who on Friday pledged to drop his stock holdings in the company should he end up at Defense, was an advocate for more transparency when it came to accounting practices. He told the Defense News in January 2003 that putting defense contracts online would allow the Pentagon to provide "a measure of your quality of information."
"It is an internal test of your information system and reassurance to the public that taxpayer dollars are being spent well," he said.
And yet, for Democrats and good government groups alike, his nomination represents the very pitfall that Obama's ethics policy was meant to avoid. Moreover, they ask, if Obama were going to make an exception, why choose such a high-powered lobbyist whose government work overlaps significantly with the interests of his former firm.
"If that is the policy you are going to announce you have to actually live with it," said one incredulous Democrat, "and for your first exception to be a defense contractor from Raytheon?"
Added Melanie Sloan, executive director of Citizens For Responsibility and Ethics In Washington: "I feel this is inconsistent and inappropriate and I think they need to pull Bill Lynn. And, again, it is not personal thing. It is the standard being set. Hold yourself to the standard. If you can't live with it than change it."
Already some have begun questioning whether the Lynn nomination will survive congressional scrutiny, and wondering why Obama chose him in the first place. Raytheon, according to the Center for Responsive Politics, donated slightly more than $100,000 to the president's campaign and the DNC -- a pittance both for the company and the campaign.
Lynn was not, prior to this week, a widely known political figure. But his background, outside of Raytheon, is extensive and impressive. He served for four years as the Under Secretary of Defense, was the director of program analysis in the Office of the Secretary of Defense and was awarded three DoD medals for distinguished public service. In addition, he has extensive history on Capitol Hill, having served for six years under Sen. Ted Kennedy.
On Thursday, Press Secretary Robert Gibbs called him a "uniquely qualified" individual who shouldn't be precluded from serving "the public interest in these critical times." On Friday, Gibbs added that the waivers like the one granted to Lynn to serve in the Obama White House would be "limited" in their number.
Popular in the Community