A former police officer shown on a dashcam video beating an unarmed black driver during a traffic stop early this year will face trial on Oct. 5, despite his attorney's protests.
The police department in the Detroit suburb of Inkster, Michigan, fired officer William Melendez in April, and he faces felony charges for his use of force while arresting motorist Floyd Dent. At a final conference hearing on Friday, Wayne County Circuit Judge Vonda Evans refused to delay the trial at defense attorney James Thomas' request.
"Now, I know you all practice in federal court and different places, but here, six months is long enough," Evans said. "If you want to withdraw, then we can withdraw, but I'm going on [October] fifth."
Melendez has been charged with misconduct in office, assault with intent to do great bodily harm less than murder, and assault by strangulation.
In January, Melendez and other officers pulled over Dent, an auto worker, while he was driving. Dashcam video footage shows Melendez approaching Dent's car and immediately beginning to beat him. The former officer hit Dent in the head more than a dozen times, while other officers kicked him and hit him with a stun gun. He was later hospitalized for his injuries.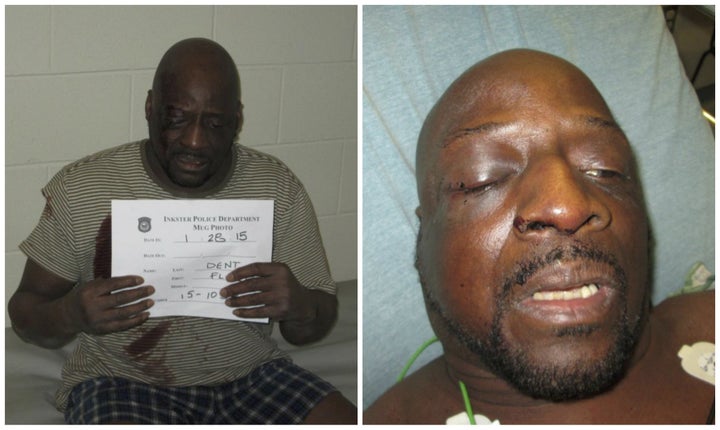 Authorities initially charged Dent with possession of cocaine and resisting and obstructing police. Melendez has said he acted in self-defense and testified that Dent bit him, threatened to kill him and appeared to be intoxicated.  
The charges against Dent were later dropped, and Dent accused Melendez of planting drugs in his car.
On Friday, Evans ruled on several other motions related to the incident. She allowed evidence that Dent may have been using drugs on the night of his arrest to be addressed at trial, but decided to exclude any potential evidence of his prior drug use.
"Mr. Dent vehemently denies any cocaine use, and then we find it ... in his urine," the judge said. "His credibility is kind of important here."
Prosecutors have said "a metabolite that was present in his urine ... could be there for any number of reasons, including a false positive." Dent also underwent a blood test that found no evidence of cocaine use. 
Thomas said he should be allowed to bring up Dent's prior arrests for driving with a suspended license at trial. He said those arrests would explain Dent's knowledge of traffic stop procedures and why he "threw his door open violently."
"Either, one -- he was angry because he was being stopped and knew he was going to be arrested," Thomas said. "Or number two, it was because he had cocaine in his car, he was holding, he knew he was dirty, and he was going to try and escape."
Evans ruled to allow a line of questioning about Dent's previous arrests.
Nicholas Bennett, one of Dent's attorneys, disputed the allegation that his client opened his car door "violently," saying his client hadn't wanted his newly washed car to get streaks by rolling the window down.
Bennett also said he didn't believe it was relevant that Dent was driving on a suspended license, which is the only thing he has on his record. 
"It seems like Melendez is kind of grasping at any straw that he can, because the vide0 that implicates him shows clearly that what he did was wrong," Bennett told The Huffington Post. "For the past 15 years, he's gotten away with this brutality and now, finally, the dashcam video shows what he's capable of."  
Melendez is a former Detroit police officer with a history of misconduct allegations. He is named in a pending lawsuit by Inkster resident Deshawn Acklin, who contends that officers choked and beat him until he lost consciousness. The prosecutors in Melendez' case want Acklin to testify; Evans refrained from making a decision about that on Friday.
The Inkster Police Department's initial internal investigation found that Melendez used an appropriate amount of force in Dent's arrest.
Calling all HuffPost superfans!
Sign up for membership to become a founding member and help shape HuffPost's next chapter