In one frame, a beastly gorilla hovers above a partially nude woman, saliva dripping from its jowls. In another, a gaunt man is shown forcing his fingers deep into his eye sockets, with no signs of pain. In yet another, a naked figure floats on a broom, flying above rooftops in a perplexing yet innately erotic manner. These are but a few of the scenes that have sprung from the mind of William Mortensen, a photographer and artist known for his barbarically surreal take on image making.
The early 20th century icon was everything figures like Ansel Adams and Edward Weston were not. He was no purist -- he manipulated bodies and objects into oblivion, forming landscapes and creatures never seen in real life. He was a pictorialist, meaning he created photographs rather than captured them, but others preferred to call him the "Antichrist." That's probably because he veered into the malformed and mangled aspects of human and non-human life more often than not. It makes the new publication devoted to his life and art, Larry Lytle and Michael Moynihan's American Grotesque, ever the more fitting.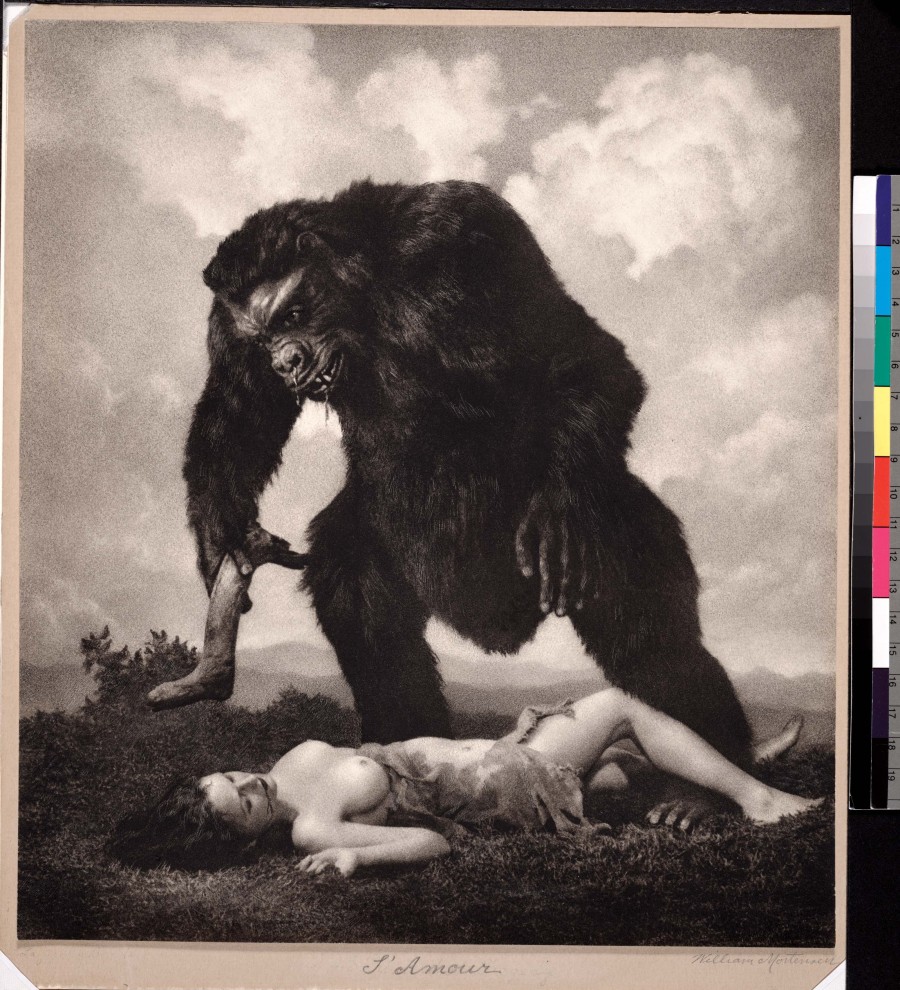 L'Amour
The new book, published by Feral House, explores an art historical hero not well known to the masses. So here's a primer: Mortensen began as a Hollywood artist; a contemporary of Cecil B. DeMille who worked in everything from set decoration to costumery. He was a photographer too, and as the jack-of-all-trades grew more popular in the film industry, he was able to photograph the likes of Jean Harlow and Peter Lorre, the resulting images ending up in glamorous magazines and bestselling books. Except Mortensen was no typical portrait artist.
Influenced by the burgeoning genre of horror film growing inside studios like Universal in the 1920s and '30s, he produced portraits that were more nightmare than reality. Manipulating his images with printmaking techniques and rather primitive collage-like practices, his artworks looked like paintings rather than photographs. Given the subject matter -- monster primates, transfixing nudes and anything occult -- it was just easier to assume the former. His non-celebrity imagery had no limits, as he obsessed over torture, death and unbridled sexuality.
"In Mortensen's mind, the grotesque had essential value for 'the escape it provides from cramping realism,'" Moynihan writes in the first few pages of American Grotesque. Split into five parts, the book outlines not only the biography of one of American art's most complex and mystifying characters, but also the evolution and perception of Mortensen's "ends-justify-the-means" way of photographing people and places. ("He was willing to use any and all techniques of photographic manipulation to obtain the picture he desired.")
His methods drew ire from Adams' f/64 group, consisting of seven 20th-century San Francisco photographers who devoted themselves to sharp, realistic imagery. But while they villainized him, Mortensen sought to build a cult of his own through his efforts beyond the visual. "He openly courted controversy with his devilish ideas, and he used books and articles as a platform to disseminate the 'Mortensen Methods,'" Lytle writes in an introductory essay to Mortensen and co-author George Dunham's The Command to Look: A Master Photographer's Method for Controlling the Human Gaze.
Nearly a century after his birth, the general public is catching up to Mortensen's myth making. This year alone marks the first retrospective of his work -- American Grotesque, the issuing of The Command to Look, and a touring exhibition of the artists' original photographs in cities like New York, Seattle and Los Angeles. While we wait for Mortensen mania to descend upon us, check out a preview of his art here.
Calling all HuffPost superfans!
Sign up for membership to become a founding member and help shape HuffPost's next chapter
BEFORE YOU GO
PHOTO GALLERY
Art History's Most Erotic Artworks