BALTIMORE -- A majority black jury will ultimately decide if William Porter can be found guilty in the death of 25-year-old Freddie Gray, a black man who died after a "rough ride" in a police van in April.
A lot is hinging on the outcome of the case. Legal experts claim an acquittal could set the tone for the other five trials. Prosecutors also seek to use Porter as a material witness against at least two other officers.
The jury is representative of the racial makeup of the city. Sixty-three percent of Baltimoreans are black and nearly 32 percent are white, according to the most recent census data, though only 300,000 of the city's 622,104 residents are eligible for jury duty
When jury selection for Porter began on Monday, over half of the 75 potential jurors informed Judge Barry Williams, who is presiding over Porter's trial, that they or someone in their family had been a victim of, investigated for, charged with or incarcerated for a crime.
Black residents are more likely to be arrested than white Baltimoreans. And they are more likely to be victims of crimes, considering that most black residents of the city live in high poverty areas with few employment opportunities.
Everyone in the jury pool also said they knew about Gray's death, the protests that followed and the citywide curfew. Only one person said they were unaware of the $6.4 million settlement paid to Gray's family.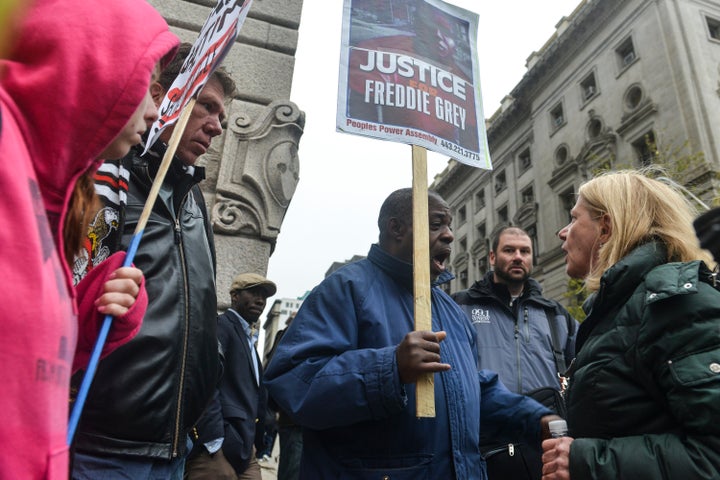 In May, all six officers involved in the incident were charged and indicted. They face a range of charges. Caesar Goodson, the officer who drove the van, is charged with second-degree "depraved-heart" murder, as well as manslaughter, two counts of vehicular manslaughter and second-degree assault.
Sgt. Alicia White and Lt. Brian Rice are charged with involuntary manslaughter and second-degree assault. Officers Edward Nero and Garrett Miller also face charges of second-degree assault. In addition, all six are charged with misconduct in office and reckless endangerment.
Each of the officers has pleaded not guilty.
Popular in the Community