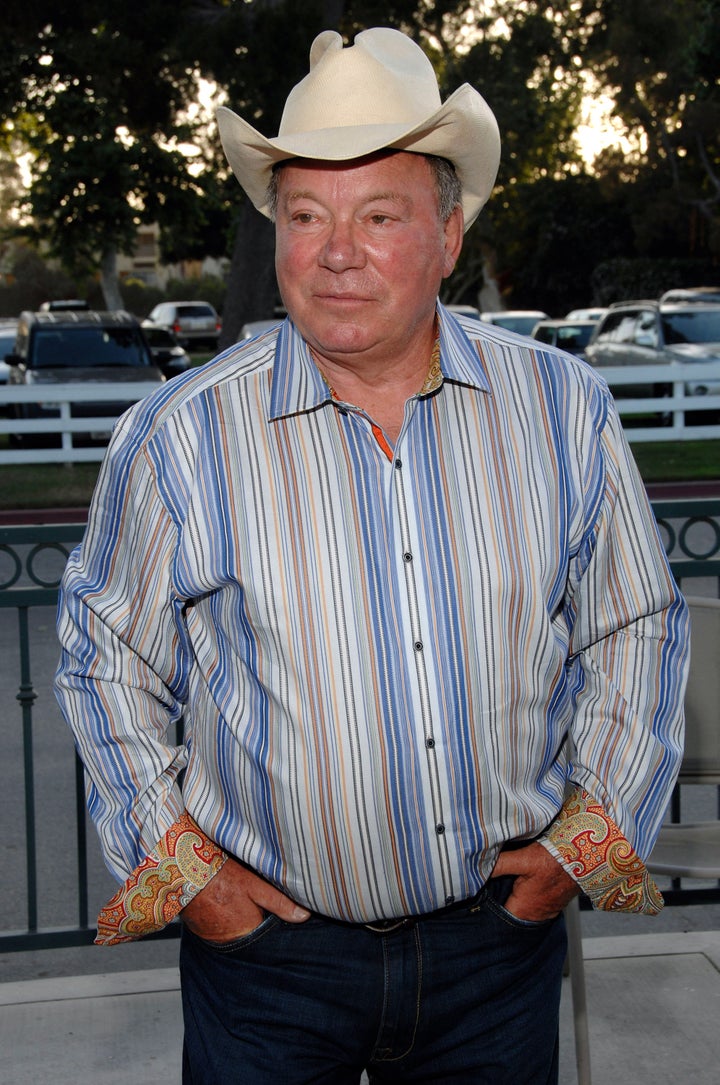 Captain Kirk is headed back to space.
William Shatner, the Emmy winning TV icon, announced the track listing and details for his new space-inspired cover album, Searching For Major Tom. The album will feature a large number of heavy metal covers, as well as songs by U2, Frank Sinatra, Queen and Pink Floyd.
Shatner has had a storied music career, producing confusing, parodied yet somehow enlightening song covers and original bits over the past 40+ years. His first album, The Transformed Man, raised eyebrows with its bizarre covers, which, in what would become his trademark style, boasted dramatic readings of lyrics over music. HIs best known track was a recording of Sonny & Cher's "Mr. Tambourine Man." Check out Urlesque's ranking of his ten best cover songs here.
Space Trucking Originally By Deep Purple - Deep Purple Drummer Ian Paice Has Performed The Drum Part. Johnny Winter Is On Guest Guitar.

She Blinded Me With Science Originally By Thomas Dolby - Bootsy Collins Is On As The Guest Bassist. Patrick Moraz (Ex Yes And Moody Blues) Is Guesting On Keyboards/Synth.

In A Little While Originally By U2 - Manuel Gottsching From Ash Ra Tempel Has Added Guitar.

Empty Glass Originally By The Tea Party - Michael Schenker (UFO/Scorpions) Has Added Guest Guitar.

Lost In The Stars As Done By Frank Sinatra - Jazz Legend Ernie Watts Is On Guest Saxophone.

Twilight Zone Originally By Golden Earring - Warren Haynes (Gov't Mule/Allman Brothers) Is On Guest Guitar.

Space Cowboy Originally By Steve Miller - Country Artist Brad Paisley Has Added Guitar And Vocals.

Rocket Man Originally By Elton John - Guitarist Steve Hillage (Ex Gong Member And Current Member Of Techno Rock Duo System 7) Has Added Guest Guitar

Space Oddity Originally By David Bowie - Ritchie Blackmore (Ex-Deep Purple) Has Added Guest Guitar. Alan Parsons Is Adding Guest Keyboards.

Spirit In The Sky Originally By Norman Greenbaum - Peter Frampton Has Played Guitar On This Track.

Bohemian Rhapsody Originally By Queen - John Wetton From Asia Has Played Bass And Done A Vocal.

Silver Machine Originally By Hawkwind - Wayne Kramer From The MC5 Is Adding Guitar And Carmine Appice (Vanilla Fudge/Rod Stewart) Is Adding A Guest Drum Part.

Major Tom Originally By Peter Shilling - Nick Valensi, The Guitarist From The Strokes Has Added Guest Guitar To This This Track. Also Zakk Wylde (Ozzy Osbourn, Black Label Society) And Mike Inez (Alice In Chains)Have Contributed To This Track.

Learning To Fly Originally By Pink Floyd - Edgar Froese From Tangerine Dream Has Played Guitar And Keyboards On This Track.

Mr. Spaceman Originally By The Byrds - Dave Davies From The Kinks Has Added Guest Guitar On This Track.

Iron Man Originally By Black Sabbath - Zakk Wylde (Ex Ozzy Guitarist) Played Guitar And Did A Vocal On This Track.

Planet Earth Originally By Duran Duran - Steve Howe, Guitarist With Yes, Played Guitar On This Track.

Walking On The Moon Originally By The Police - Toots Of Toots & The Maytals Has Added A Guest Vocal.

Mrs. Major Tom - Female Singer To Add A Track -To Be Announced
Popular in the Community