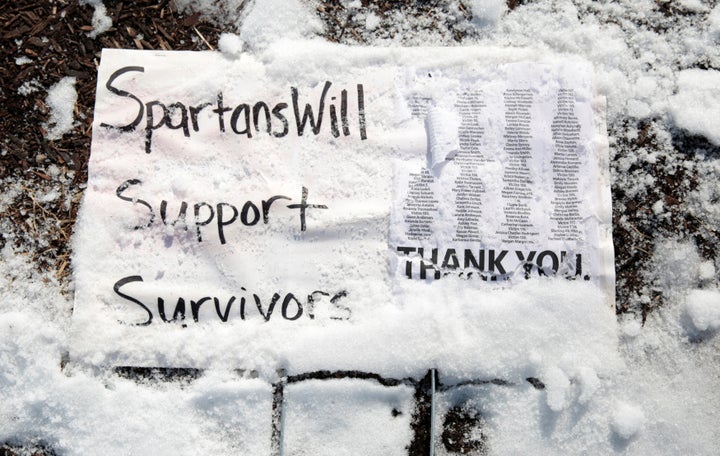 William Strampel, former dean of Michigan State University's College of Osteopathic Medicine and longtime boss of convicted child molester Larry Nassar, was arrested Monday in relation to accusations of sexual misconduct during his tenure at the university.
Strampel, 70, "used his office to harass, discriminate, demean, sexually proposition, and sexually assault female students," according to an affidavit filed by the Michigan Attorney General's Office.
He was arrested Monday night and held at the Ingham County Jail, HuffPost confirmed. Michigan District Court Judge Richard Ball of East Lansing authorized a criminal complaint and warrant against Strampel on Tuesday morning detailing four criminal charges, including misconduct of a public official, which is a felony punishable by five years in prison and a $10,000 fine. He was also charged with fourth-degree criminal sexual misconduct and two misdemeanor counts of willful neglect of duty.
The two counts of willful neglect of duty relate directly to the way Strampel handled a 2014 Title IX investigation into sexual abuse accusations against Nassar. Strampel allowed Nassar to continue working throughout the investigation, during which time the former doctor abused at least a dozen athletes.
Four female MSU medical students are accusing Strampel of sexual misconduct dating back to 2010. The former dean allegedly groped multiple female students, solicited them for nude photos and sexual acts in exchange for favorable treatment, and repeatedly made sexually charged comments. Investigators also found pornographic images and videos on Strampel's work computer.
Michigan State Police Lt. Ryan Pennell said in the affidavit that among the videos on Strampel's computer was one of Nassar sexually abusing a young female athlete during one of his "treatment sessions."
One of Strampel's accusers alleges that in 2011 he asked her to come to his office after she fell asleep in his class. During the meeting, he allegedly asked her to turn around in a circle twice "so that he could observe her body" and proceeded to berate her about her appearance, telling her she was "never going to make it in the profession if she did not dress sexier."
The same woman said Strampel repeated his behavior during a 2013 meeting about her surgical residency, during which he advised her to learn her place in life and asked, "What do I have to do to teach you to be submissive and subordinate to men?"
Another woman told investigators that Strampel once declared that "it was good when women were drunk, because then it was easy to have sex with them." She said that Strampel also grabbed her butt during a College of Osteopathic Medicine ball in 2010.
One woman told police that she "was not surprised Nassar had been able to victimize so many women under the supervision of Strampel."
Strampel's lawyer did not immediately answer HuffPost's request for comment.
MSU's interim president, former Michigan Gov. John Engler, responded to Strampel's arrest in a statement to HuffPost:
One of the first actions I took upon my appointment as interim president of Michigan State University in early February was to pursue revocation of tenure and removal of former Dean William Strampel. As explained then, it was plainly evident he had not acted with the level of professionalism expected of an MSU employee, particularly one holding an office that involves student and patient safety.

MSU will continue to cooperate with all official investigations related to sexual assault or other misconduct. But we have and will do more. With our action to revoke tenure, we are sending an unmistakable message that employees who do not treat students, faculty, or anyone else appropriately are subject to administrative discipline up to and including firing. Allegations about Strampel's own behavior as well as lack of attention to the conduct of Larry Nassar now have resulted in criminal charges against him from the Michigan Attorney General. Some of the allegations about his personal conduct, especially conduct toward students, are disturbing. Today's charges confirm our belief that he has fallen short of what is expected and required from academic leadership. They are not in alignment with this university's values and they never have been.

His failings are unacceptable and that is why our work to change procedures, strengthen accountability and prevent sexual misconduct is so important. While the crimes of one doctor and the misconduct of his dean do not represent our university, they do demand the scrutiny of everyone in order to assure individuals like these can never be in a position again to harm others.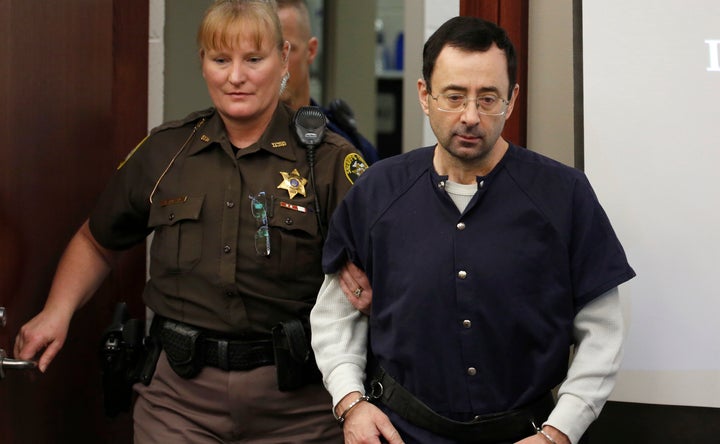 Attorney Jamie White, who represents several Nassar survivors, told HuffPost that he was not surprised by Strampel's arrest.
"The University has been grossly negligent in its investigation of these matters," White said, adding, "We will never know how much evidence has been lost, tampered with, and destroyed over the course of the last several years. But, based on the complaint issued against Dr. Strampel, it appears that attempts to conceal and/or delete evidence continued up until very recently."
Strampel supervised Nassar, then MSU's team doctor, for almost 15 years, during which time Nassar sexually abused hundreds of athletes. He stepped down as dean last year, officially due to medical reasons but under pressure for how he handled complaints about Nassar. Strampel is still an MSU employee and is named as a defendant in several civil lawsuits against MSU.
Engler began the process of terminating Strampel's employment in February, although a spokeswoman for MSU told HuffPost earlier this month that the termination process could take up to a year.
Last week, The Wall Street Journal reported that Strampel said during a 2016 university meeting that he thought some of the athletes then accusing Nassar of sexual abuse were lying.
The Michigan Attorney General's Office launched an investigation into MSU after news broke that a number of Nassar's victims had told school authorities about the abuse. The Detroit News reported that 14 school officials, including Strampel, were warned of the doctor's behavior over the course of two decades.
Lou Anna K. Simon, also named in the investigation, resigned as MSU president days after Nassar's conviction in January. The NCAA and the U.S. Department of Education have launched their own investigations into how MSU handled reports of sexual abuse.
This story has been updated with comments from MSU interim President John Engler and Aly Raisman.
Popular in the Community