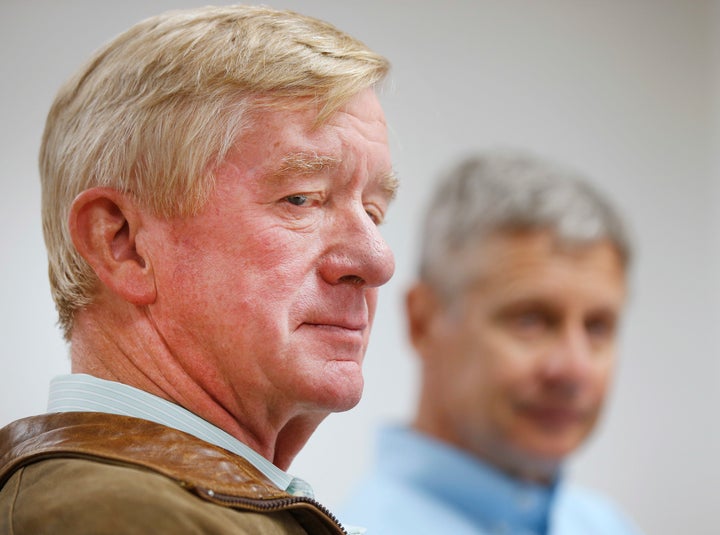 William Weld, who is technically the Libertarian Party's vice presidential nominee, said this week that his primary focus for the next five weeks is stopping Donald Trump from winning the presidency. 
"I think Mr. Trump's proposals in the foreign policy area, including nuclear proliferation, tariffs, and free trade, would be so hurtful, domestically and in the world, that he has my full attention," Weld told The Boston Globe on Tuesday. 
Weld, who was once the Republican governor of Massachusetts, told the Globe that he doesn't agree with Hillary Clinton on fiscal and military issues either. But he's focusing on Trump because the GOP nominee's political agenda is "in a class by itself."
Weld's comments come on the heels of a bad few weeks for his running mate, Gary Johnson, as well as Weld's own admission last Friday that Clinton is likely the most qualified candidate in the 2016 presidential race. Johnson, another former Republican governor (of New Mexico), has committed several embarrassing gaffes related to foreign policy, including when he tried to turn his ignorance into an asset. 
Weld, on the other hand, has frequently been cast as the more experienced and knowledgable candidate on the Libertarian ticket, prompting some to wonder aloud why he isn't the one running for president. 
For now, Weld told the Globe that he and Johnson remain "happy warriors," but he hinted he'd be interested in rejoining a new and improved Republican Party after this election.  
Weld tweeted Tuesday night both to share the Globe article and to reassert his loyalty to the Libertarian Party, saying his "'L' hat remains firmly in place." 
He also took to social media that night to comment on the vice presidential debate. Weld gave points to both sides, but highlighted the "gaping ideological void left between two candidates representing polarizing tickets." 
The current system, he said, leaves "tens of millions of nonpartisan Americans without a comfortable voice on the stage." 
Johnson is currently polling at 8.1 percent, compared to Clinton's 43.8 percent and Trump's 38.5 percent. 
REAL LIFE. REAL NEWS. REAL VOICES.
Help us tell more of the stories that matter from voices that too often remain unheard.
BEFORE YOU GO
PHOTO GALLERY
Election 2016