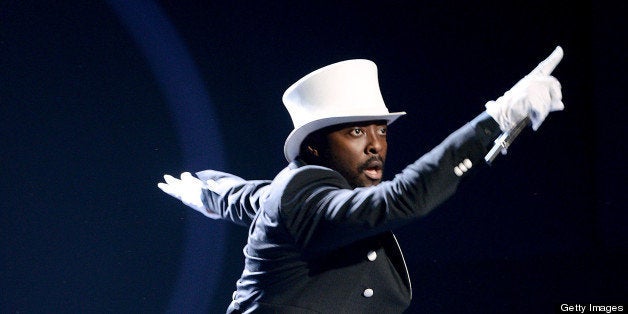 BY RYAN PEARSON, ASSOCIATED PRESS
WEST HOLLYWOOD, Calif. -- Will.i.am wants to be known as a maker – not just of music, but things, from cars to headphones.
The Black Eyed Peas frontman is computer chip-maker Intel's "director of creative innovation." He's also partnered with Coca-Cola to create a new brand of products from recycled bottles and cans, including headphones and clothes.
Not that the seven-time Grammy winner – who produces, writes, sings and raps – has lost his ear for hits. Three songs from his new album, "(hash)willpower" – featuring Justin Bieber, Britney Spears and Miley Cyrus – are now in the Billboard Hot 100. It's his fourth solo album but the first in six years and the first since the Peas became global megastars with hits like "Boom Boom Pow" and "I Gotta Feeling." As a solo artist, he has yet to match the Peas' success in album sales; his latest debuted at No. 9 on the Billboard Top 200 albums chart this week with 29,000 copies sold, according to Nielsen SoundScan.
But will.i.am is looking well beyond pop charts to measure future success. The 38-year-old Los Angeles native sat down with The Associated Press in a recording studio for a conversation that touched on topics ranging from the Notorious B.I.G. to his late grandmother.
AP: In one song on the new album, you quote a Notorious B.I.G. line about being on the cover of Fortune magazine. But you actually did it recently. Does that make you reflect on how far hip-hop has come?
will.i.am: The line is, `Willy be flossing/Geeking on the cover of Fortune/Five double-oh sending flows to Martians.' The fact that I sent a song to Mars is like `Whoaaaa!' And then being on the cover of Fortune magazine and Biggie Smalls saying that in a rhyme never having been on the cover of Fortune was just like `Whoa!' Just `whoa' moments. ... My music career had nothing to do with that. The cover of Fortune came from recent disciplines and sacrifices and dreams I've been having in the other part of my career. That's philanthropy, being an entrepreneur and thinking outside the box.
AP: Can you envision yourself doing that and not making music anymore?
will.i.am: I'll still make music. You've still got to promote the (stuff) you make. So I'll use my music to bring awareness to the things I make. ... It's the original use of music. It's just that the people making music never participated in the things that were sold around it. For example, before there was a music industry, people played music in speakeasies and juke joints. ... Music still sells alcohol in bars. ... And music sold radios and turntables and CD players. But the musicians never participated in that business. And if they dared sell anything outside of that circle of products, they were sellouts. ... Now, Dr. Dre has Beats. And his music and everything it stood for sells other products: headphones. ... So hopefully musicians get hip to the fact that we should be selling the things that we want to make. Making us makers. And our music sells the stuff that we bring to market.
AP: The Black Eyed Peas announced their hiatus two years ago. When did you start working on the album?
will.i.am: I started working on `(hash)willpower' for about two, two-and-a-half years. And when you're in a group like The Black Eyed Peas and you're successful, a lot of times the company that you're with wants you to do just that. And they don't see that you can be successful outside of that. So I had to do `(hash)willpower' all by myself – fund it, pay for it. ... There's a lot at stake. You don't succeed, you mess up your group. ... Very few people succeed outside their group when their group is successful. So it's been a hurdle.
AP: You dedicated the album to your late grandmother Sarah Ann Cain (who died last Thanksgiving). How did she influence you?
will.i.am: We're from the projects – East L.A. On welfare the majority of our lives. A lot of my friends are dead and in prison. Just like any urban person that comes from areas like I'm from. But my grandma was supergrandma. Ain't nobody mess with our family in my neighborhood because everybody loved my grandma. She was the one that prayed for everybody. ... We were one of the first families in the projects. And I moved them out. Music allowed me, helped me move my family out of the projects. ... If there was anybody who sculpted me, who molded me – my mind, my perspective, my heart: my grandma. ... She's not here anymore. But she's still here.
The above was provided by the AP. What follows is by Kia Makarechi of The Huffington Post.
One Of The Singer's Problems Won't Go Away
will.i.am has been accused of stealing Arty and Mat Zo's song "Rebound" for use on his album. While will.i.am has acknowledged that he used the sample in "Let's Go," the singer says he's in the clear. Anjunabeats, the electronic dance music label that released "Rebound," begs to differ. In a statement sent Thursday, the label blasted will.i.am's attempt at reconciliation and noted that putting an artist in liner notes doesn't constitute clearing a sample:
"Anjunabeats is the record label behind Arty and Mat Zo and owns the master recording rights to their collaboration "Rebound." Mat Zo and Arty have been important members of the Anjunabeats family for a number of years and "Rebound" was one of the label's most popular releases in 2011.

As has been widely reported, a large section of "Rebound" was sampled on Will.i.am's track "Let's Go featuring Chris Brown" and this took place without the permission of Anjunabeats or Arty & Mat Zo.

Although Arty (but not Mat Zo) was credited in the sleeve notes, this is not the same as obtaining permission. To present someone else's work as your own, you need to seek permission, agree terms and file paperwork, which has not happened in this case.

We've remained silent on this issue until now but as a record label it is our obligation to protect our artists' interests and we felt it was necessary to respond to some of the inaccuracies that have been reported following Will.i.am's recent comments to Associated Press."
RELATED: Here's a look at 10 prominent artists who've battled accusations of musical fraud.
PHOTO GALLERY
Songs Allegedly Stolen From Other Artists
Calling all HuffPost superfans!
Sign up for membership to become a founding member and help shape HuffPost's next chapter
BEFORE YOU GO