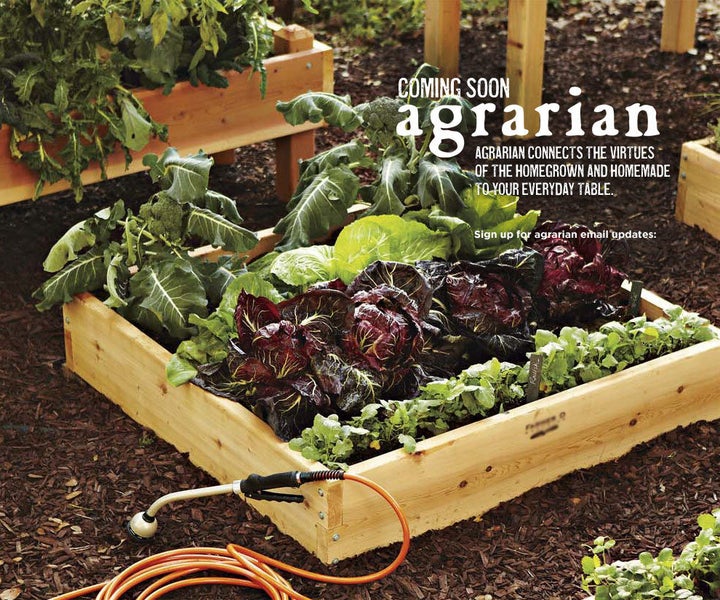 Good news for green thumbs everywhere: On Thursday Williams-Sonoma launches an agrarian line on its website and in six stores nationwide on April 9th.
Among the 257 offerings, intended to help customers coax food from seed to table, there are a few that read like parody or a sketch from "Portlandia." There's organic soil and fertilizer, cedar garden beds and window boxes, heirloom seeds, copper gardening tools, a shittake mushroom log, kits for making cheese and kombucha, and even a beehive and portable chicken coop for the backyard.
"There's a wide range of people who live in the suburbs or in the city who maybe aren't growing their own herbs or food and here's a way for them to get started," she said. "We've got a DIY cheese kit that only takes a gallon of milk and one hour and you'll have your own mozzarella and ricotta cheese."
While fascination with home growing has in recent years spiked -- especially in urban areas -- not everyone is 100 percent on board with its Williams-Sonoma-ification, a company known for its high price point.
I'm all for backyard agriculture. But if you're spending hundreds of dollars (I'm guessing at the price point here) on a chicken coop that's then shipped across the country, you should probably assume you're doing more to shore up the powerful forces of consumerism than to help the local food movement or the planet.
A Dow Jones Newswire report seemed to echo the sentiment that the line is not for casual farmers, but rather for rich hobbyists. "I think you'd be surprised how many of those with second homes would be open to bee-keeping," Canaccord Genuity Securities analyst Laura Champine told the wire.
Come April 9, Williams-Sonoma stores in Palo Alto, Calif.; Bellvue, Wash.; Austin, Tex.; Birkdale Village, N.C.; Chicago, Ill.; and Short Hills, N.J. will offer the line.
Related