A federal judge ruled Thursday that a Connecticut man's profanity-laced message on a speeding ticket is protected speech under the First Amendment.
Judge Cathy Seibel said that prosecutors and police in Liberty, New York, violated Willian Barboza's civil rights when they arrested and prosecuted him for writing "Fuck your shitty town bitches" on a ticket he received in 2012.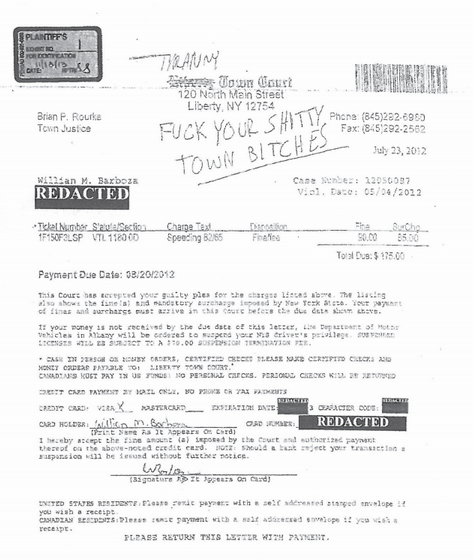 Barboza's arrest "violated his clearly established constitutional right to engage in and be free from arrests because of protected speech," Seibel said in an oral decision at the U.S. District Court for the Southern District of New York in White Plains, adding that Barboza "suffered a deprivation of his First Amendment rights when he was arrested under color of law."
On May 4, 2012, Barboza, then 22, was driving through the small, scenic town of Liberty when he was given a speeding ticket.
Clearly sore about the incident, Barboza crossed out "Liberty" on the payment form and replaced it with "Tyranny." He then scrawled the offending phrase across the top, pleaded guilty to speeding and put the form in the mail.
Justice Brian P. Rourke informed Barboza in September of that year that his payment had been rejected and he'd have to make the two-hour trek from Connecticut to appear in court.
There, Rourke lectured Barboza over his use of foul language, before prosecutors from the Sullivan County district attorney's office instructed police officers to arrest Barboza on a charge of aggravated harassment. Barboza was taken to the Liberty police station, where he was booked, fingerprinted and handcuffed to a bench. After being shuffled between courts, he was eventually released when he paid a $200 bail.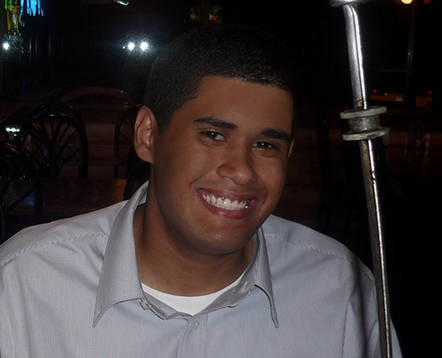 Another judge dismissed the charges against Barboza the following year, stating that "[n]o citation is necessary for this Court to determine that the language under the circumstances here, offensive as it is, is protected."
Shortly after that, Barboza, with the help of the New York Civil Liberties Union and attorney Stephen Bergstein, filed a lawsuit against the town of Liberty, assistant district attorney Robert Zangla and the two officers who arrested Barboza. The suit alleged that the arrest had violated Barboza's First Amendment right to free speech.
Barboza's attorneys argued that officials in Liberty had seriously misinterpreted New York's aggravated harassment statute. The statute says it's against the law for a person to "harass, annoy, threaten or alarm" someone "by telephone, by telegraph, or by mail, or by transmitting or delivering any other form of written communication."
But Seibel said Thursday that what Barboza wrote, "though crude and offensive to some, did not convey an imminent threat and was made in the context of complaining about government activity," and therefore did not violate the statute.
"The words here are not inherently likely to provoke violent reaction, they were not directed at anyone in particular, and could not be interpreted as threatening any particular action," Seibel said.
The judge stated that Zangla is liable for damages because he violated Barboza's clearly established constitutional rights, but that the two police officers are not liable because Zangla instructed them to make the arrest.
Seibel also ruled that Liberty will have to stand trial for failing to train police officers regarding the First Amendment.
"Instead of protecting freedom of speech, government officers in Liberty handcuffed me, arrested me for a crime and almost sent me to jail because I harmlessly expressed my frustration with a speeding ticket," Barboza said Tuesday, responding to the decision. "The people I trusted to uphold the law violated my most basic rights. I hope that by standing up for myself, other Americans will not be treated like criminals for complaining about their government with a few harmless words."
"We are delighted that the Court has ruled in Barboza's favor," Bergstein said in a statement. "Freedom of speech protects everyone, even if they say something offensive."
And Mariko Hirose, an NYCLU staff attorney who also represented Barboza in court, said, "New Yorkers should not be afraid to protest or complain about a speeding ticket -- or any other government action -- because they might be dragged to jail for using a few harmless words. The First Amendment protects people's right to express their opinions about the government, and our government is better for it."
Sullivan County District Attorney James Farrell, who oversees prosecutions in Liberty, did not immediately return a request for comment Tuesday.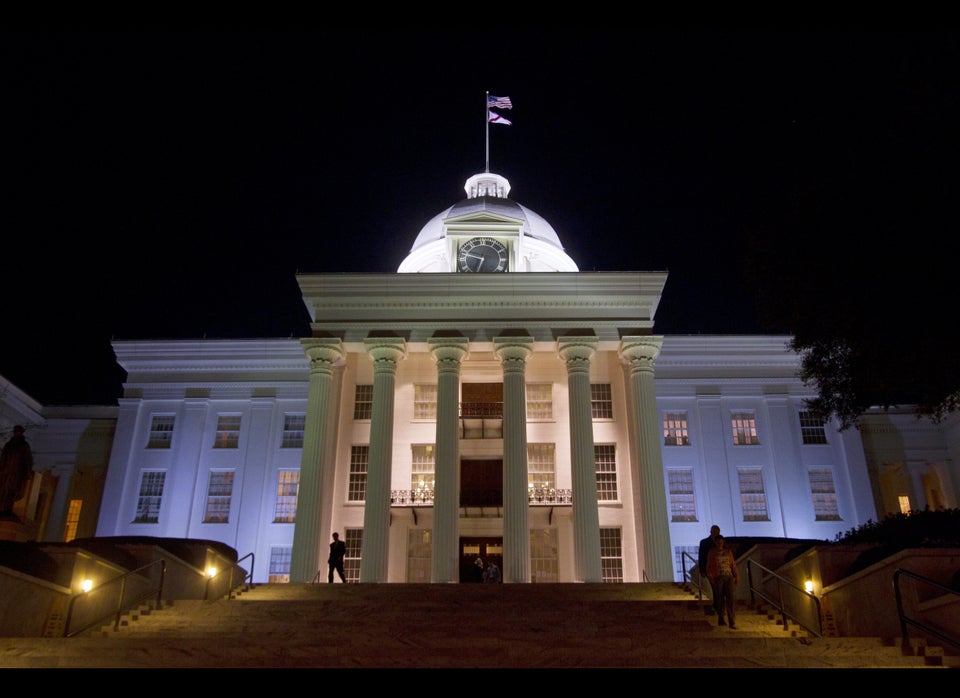 U.S. State Capitol Buildings
Popular in the Community