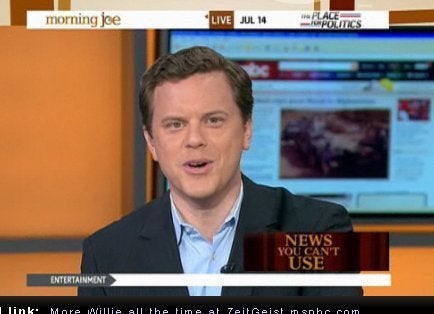 "Way Too Early with Willie Geist" will air at 5:30 AM on MSNBC beginning on July 27, the network announced Wednesday.
Geist, who will remain a co-host on "Morning Joe," will anchor the half hour leading into MSNBC's signature morning program in what network president Phil Griffin called a "pre-game show." His program will offer viewers "everything they need to know to start the morning - from news and politics to sports and pop culture," the network said in a release.
Geist, who recently welcomed new baby George, has come to be known for his humorous features on "Morning Joe," such as "News You Can't Use" and his "Week in Review," as well as his satirical video blog Zeitgeist.
"In 30 fast minutes, we'll set the agenda and tee up the debates for the day," he said in the announcement. "Whether you're waking up on the East Coast, passing out in the West, or suffering from an untreatable sleep disorder somewhere in between, 'Way Too Early' will be a one-stop, A-to-Z crash course for your day."
Popular in the Community