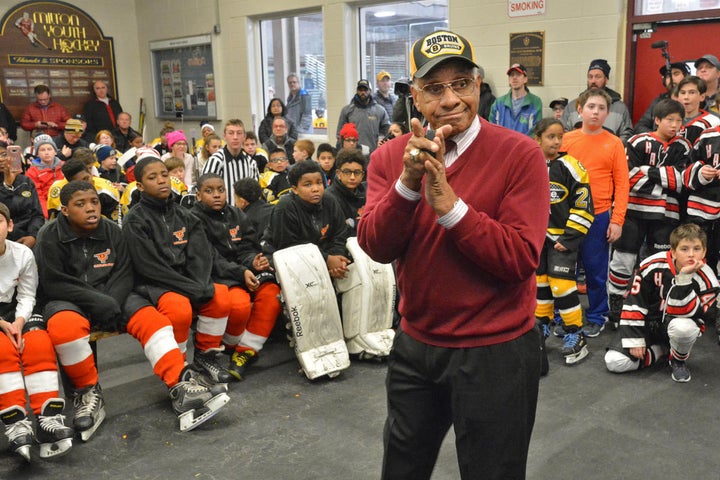 Willie O'Ree, the National Hockey League's first player of African descent, helped to launch a week-long celebration marking the 60th anniversary of his history-making debut.
Appearing over the weekend at the Willie O'Ree Invitational Tournament, hosted by SCORE Boston Youth Hockey at Ulin Memorial Rink in a suburb of Boston, the Boston Bruin legend was greeted warmly by girls and boys of four youth teams from Massachusetts and Pennsylvania.
Commemorating one of the NHL's diversity and inclusion milestones throughout the tournament weekend named in his honor, O'Ree told the young players "You can do anything that you set your mind to."
"If you feel strongly within your heart and within your mind, don't let anyone tell you that you can't attain your goals," said O'Ree.
This week 60 years ago, the unassuming yet regal O'Ree made his NHL debut, bringing an end to the league's racial segregation practices, playing with the Boston Bruins on January 18, 1958.
Referred to as the "Jackie Robinson of ice hockey," O'Ree embraced the recognition from the student-athletes and parents who wanted photos, autographed trading cards, and a chance to chat with the legend.
"He's like a role model to me because I want to do great things like him and play professional hockey," said Dallas Jackson, a SCORE Boston student-athlete.
"Playing in this tournament, it's like I'm doing something bigger than I am, making a difference. It's an honor to play in it because he's done so much for our sport."
Thrilled to finally encounter O'Ree, for the past two years Jayden Lysius of Snider Youth Hockey has wanted to meet the legend.
"He's an inspiration," said Lysius.
One of the many boys and girls impacted by Snider Youth Hockey, Lysius is a beneficiary of how the foundation uses the sport of hockey to help educate young people on how to succeed in the game of life. O'Ree has been a longtime supporter of the organization that serves youth residing in Philadelphia, Pennsylvania and Camden, New Jersey.
"The way he did things, the way he met challenges," explained Snider Youth Hockey student-athlete, Major Jones.
"The way he faced hard challenges himself and made something of himself," are reasons why Jones claims O'Ree as a role model.
Conquering adversity with grace and dignity, O'Ree's legend continues to reverberate strongly.
"To see someone that's been such a positive pioneer, the things he went through to diversify the sport only made him stronger," said Wendell Taylor, SCORE Boston President.
"Our kids, as they get on the ice, we still have some very unfortunate experiences playing hockey in Boston. What Willie shows them is the key to perseverance, never give up, no matter what someone says to you doesn't matter, just keep on doing your best. To me, that's the key to the program," said Taylor.
Touting several success stories over the years, including former NFL player Mike Cox, many of SCORE Boston student-athletes are contributors to a host of the most prestigious prep schools and hockey programs in the country. Connecting academics and athletics to the O'Ree Invitational experience, SCORE Boston and Snider Hockey Youth student-athletes toured Boston College and watched the men's hockey team take on the University of New Hampshire.
"These boys and girls are the age that they can set goals for themselves and they can be anybody they want to be and there's no limitation," said O'Ree, who also serves as the NHL's Director of Youth Development.
"I obviously tell them to set goals for yourselves."
Born in the city of Fredericton, the capital of New Brunswick province in eastern Canada, William Eldon O'Ree was left blind in his right eye due to being hit by an errant puck.
"Uncle Willie's determination resonated with me when I first heard his story. I laughed a little because I can't fully see clearly out of my left eye," said Snider Youth Hockey Alum, Kashiem Jones.
"Having sight in only one eye forced me to focus and approach the game from a different perspective, physically and psychologically," said Jones, known for "one of the best snap shots" during his time with Snider.
"My life was enriched for having played hockey. Mr. O'Ree was not only a role model on the ice, but as a humanitarian for his commitment to creating life transforming opportunities through a non-traditional sport for youth growing up in the city like I did," said Jones.
Managing to keep the injury secret, O'Ree went on to make his historical NHL debut, appearing in a few games going on to score four goals and 10 assists in his NHL career, all in 1961.
Currently a California resident, O'Ree won two scoring titles in the Western Hockey League having played with several teams including the Los Angeles Blades, San Diego Gulls, Quebec Aces and the American Hockey League's New Haven Nighthawks and Springfield Indians.
"Everybody knows he was the first black hockey player and what he stands for," Nashville Predators' P.K. Subban said, revering O'Ree "as one of the great human beings to come to the NHL in league history."
San Jose Sharks forward Joel Ward believes the NHL should retire O'Ree's No. 22, much like Major League Baseball did with Jackie Robinson's No. 42.
"I definitely think Willie should be recognized for sure," Ward told ESPN's Joe McDonald last year.
"It's a no-brainer. Without Willie, it would be tough for me to be sitting here today."
O'Ree will be honored this week with a rink dedication in his name and unveiling of a mural supported by Boston Mayor Marty Walsh, NHL Commissioner Gary Bettman, and Bruins CEO Charlie Jacobs. Fredericton's Mayor Mike O'Brien and City Council will host a free skate at Willie O'Ree Place as part of several festivities acknowledging the native son's historic accomplishment.
Popular in the Community