On June 2nd, singer P!nk announced the birth of her first child, tweeting, "We are ecstatic to welcome our new beautiful healthy happy baby girl, Willow Sage Hart. She's gorgeous, just like her daddy. #beyondblessed" Daddy, of course, is motocross champion and entrepreneur, Carey Hart.
I couldn't help but think that baby Willow was waltzing into this world with a powerful gene pool. Given her parents' careers and histories, this little one should be fearless. But as a hardcore genealogist, I had to take a deeper look. I've never explored the ancestry of one so young, so truly grasped how time marches on when I had to research back as far as five generations in some branches to find anyone born before 1900. Once I did, here's what I discovered:
Willow's parents both have considerable Pennsylvania roots, as well as Irish and German heritage. In fact, their surnames -- Hart, and in Pink's case, Moore -- both lead back to the Emerald Isle.
If you were to take a map and sketch lines linking Jersey City to Atlantic City, then on to the Philadelphia area, and finally back to Jersey City, you would have a rough triangle that encompasses almost all of Pink's American family history -- though New York and Connecticut can also claim a dash.
By contrast, the front-runners in Carey's case are Pennsylvania and California, but Arkansas, Delaware, Iowa, Massachusetts, Missouri, Nebraska, New Hampshire, New York, Oklahoma, Tennessee, Vermont, Virginia and Wisconsin also get into the act. And there may well be additional states if I were to continue to meander back in time.
Pink comes by her outspokenness naturally. One of her Philadelphia forebears helped organize his fellow lathers to demand an increase in pay. As this article shows, he was the money man.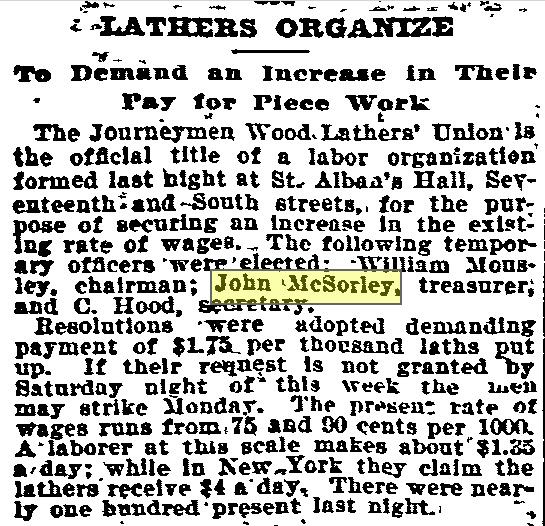 (courtesy of GenealogyBank.com)
You might be related to Willow if your family tree includes any of the following surnames: Barger, Blumberg, Brion, Harris, Kugel, Luby, Martin, Max, McSorley, Poplaski, Ramseier, Santo, Shum, Sokoll and Wise.
The maternal quarter of Pink's family tree is entirely Jewish tracing back to Russia and Germany, so based on the concept of matrilineal descent, many would consider both Pink and her daughter to be Jewish.
Carey's ancestry is more diverse with elements of Italian, Swedish, and Polish. If the family would like to explore their roots abroad, Corigliano Calabro, Italy and Vilnius, Lithuania (which was Wilno, Poland at the time of emigration) should be on the itinerary.
Carey's Italian branch almost didn't come to America. They tried Argentina on for size before re-emigrating to California.
Pick an occupation and Willow's ancestors have pursued it. Among their many jobs were bartender, boilermaker, carpenter, engineer, glass manufacturer, janitor, lather, painter and paper hanger, realtor, repairman in a steel mill, shoe maker, shoe shiner, soap maker and spinner in a silk mill.
One pair of Pink's great-grandparents testified on opposite sides of a court case involving other relatives, resulting in one of the more unusual headlines I've encountered.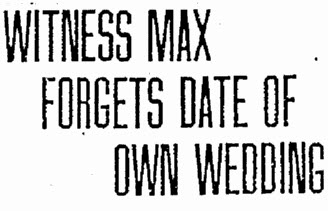 (courtesy of GenealogyBank.com)
This refers to the wife mocking her husband for forgetting their wedding date. He claimed that they married on January 2, 1902, but she corrected him, stating it was January 4, 1903 (for the record, I checked and she was right). Asked whether she and her husband still lived under one roof, she replied, "Well, we did until - well, last night he didn't come home. That was the first time he stayed away. The door was unlocked all night, but he didn't come home. It will be unlocked tonight, too." Apparently, love is stronger than law, which is a good thing, because Pink's grandmother was born after the reconciliation!
Popular in the Community