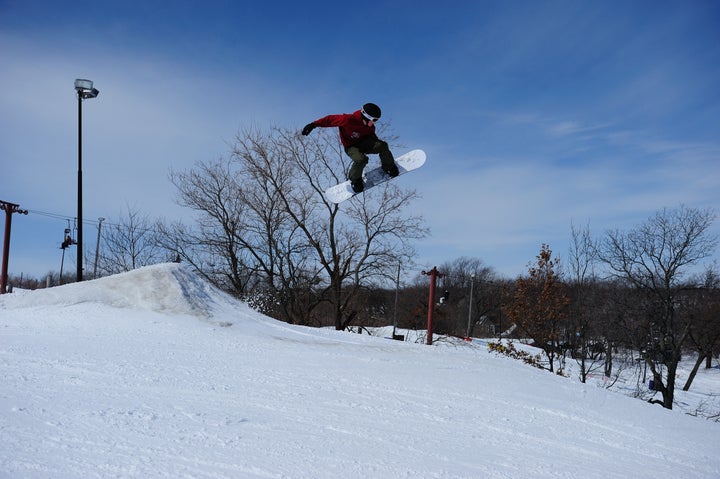 Wilmot Mountain in Wisconsin is a popular destination for skiers and snowboarders. As part of a series on ski resorts, Huffington Post Travel offers our guide to Wilmot Mountain, featuring all the key information snow lovers need to know before they hit the slopes.
The Basics
in southeastern Wilmot, Wisconsin, has been thrilling skiers since 1938. Since the mountain sits close to both state lines, it draws a local crowd from Illinois and
. A one-hour drive north of Chicago and 60 miles northwest of O'Hare Airport, the family-owned ski area has retained its vintage ski lifts; huge, open lodge fireplace; and family atmosphere. The resort's ski season typically runs December through March, with trails for all skiing and snowboarding levels and night skiing until 11 p.m.
The Mountain
With unpredictable Midwest winters, snowmaking is 100 percent and constant at Wilmot Mountain. About 70 inches of snow falls annually on the
, which has a 1,030-foot summit, a 230-foot vertical drop and an 800-foot base. Well-groomed yet icy runs make up much of the 120 skiable acres. The longest run at Wilmot, topping 2,500 feet, parallels the Illinois/Wisconsin border.
Trails And Lifts
Wilmot Mountain's 25 wide-open runs show few trees or barriers, so a skier or boarder can traverse several runs while heading downhill. Advanced skiers and riders often gravitate to the Snow Bowl, Competition and Sidewinder trails. Packed-powder runs are serviced by 11 lifts, including one quad chair, four double chairs, three triple chairs and three surface lifts. Thirty percent of the terrain is for beginners, 30 percent is for intermediate skiers and 40 percent is for experts. The mountain has six
areas, with some focusing on children's ski activities and lessons. The resort also features 16 tubing lanes.
In The News
JT Robinson, a local professional Telemark skier, hosts an annual
at Wilmot Mountain. He grew up skiing on the mountain, and his family history goes back to the days his grandfather stretched upholstery on the chairlifts. Robinson's movie premiere typically celebrates one of his latest ski movie projects, with the locals coming out in droves for their homegrown celebrity. Guests are also used to seeing the resort's Freddi the Yeti mascot in different areas of the ski area throughout the year.
Cost
Lift ticket
at Wilmot Mountain cost $43 for adults, $30 for kids and $22 for seniors on weekends and holidays. Prices dip during the week and vary for day and night skiing. The mountain opens at 10 a.m. weekdays and 9:30 a.m. on weekends; it closes at 11 p.m.
ski gear packages are $21 to $28 and snowboard packages are $33 to $39, with helmets $10 extra. Ski and snowboard lessons are available for groups or individuals (two people) from $15 to $65.
Apres-Ski
The Wilmot Mountain
presents live music Friday through Sunday during ski season. Local bands play rock, blues, country and top 40 hits until the crowd goes home. The bar opens every day at noon and serves pizza, shrimp, fish and sandwiches, among other dishes. Special hot drinks are available for warming up after a cold day on the slopes along with the usual bar refreshments. The resort's Iron Kettle Bar and Dining area is open weekends and holidays during ski season and is available to rent for special events.
WATCH: Wilmot Mountain
A group of friends spends a Saturday night showing off their board tricks at Wilmot Mountain.
Related