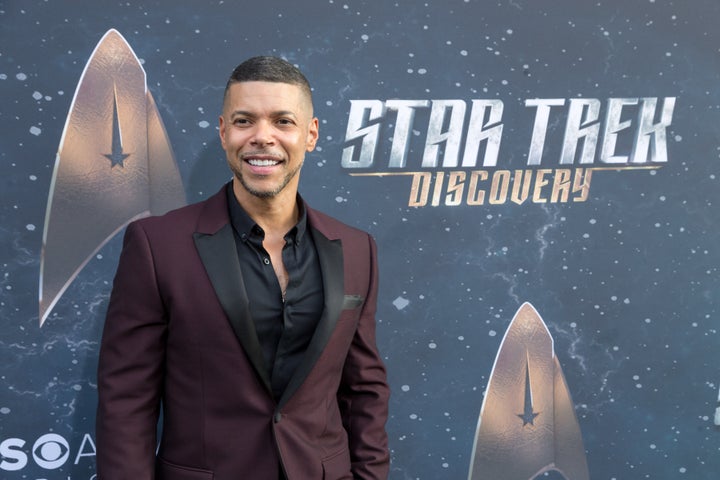 Star Trek, from its very inception, has always told us that representation matters. In 1966, creator Gene Rodenberry vaulted audiences at warp speed into a multicultural future where Captain Kirk teamed with the likes of Uhura, Sulu, Chekov and Spock, a cast more diverse than any of its time – but it's taken more than 50 years for the franchise to introduce its first gay characters to the small screen.
In last week's episode five of Star Trek: Discovery, "Choose Your Pain," that moment finally came – as the closing scene showed science officer Lt. Paul Stamets (Anthony Rapp) brushing his teeth next to his partner, the ship's resident physician, Lt. Commander Hugh Culber (Wilson Cruz). It was a subtle moment long overdue to the franchise – Rodenberry first mentioned gay characters would be introduced on Star Trek: The Next Generation in a 1987 interview – that its importance was deeply felt by Cruz himself.
"As a fan of the franchise, I count myself among the countless LGBTQ fans who have longed to see themselves and our relationships depicted on Star Trek," Cruz told me. "The fact is that we have always been here, but finally seeing ourselves and our stories included in this, truly, American mythology confirms what we've always known to be true – which is that we are an integral part of this culture and we always will be."
A fitting statement from an actor first noticed as Rickie, the gay best friend of Claire Danes' Angela Chase on the iconic 90's coming of age ABC show, My So-Called Life. Cruz would go on after Life's 1995 cancellation to star with his current Discovery co-star Rapp, in the 1998 Broadway production of Rent – a fact that has given a rousing chemistry to their on-screen bickering – and momentary reprieve amidst Discovery's consistently serious tone.
"One of the many advantages of working with a friend of over 20 years, as I do with Anthony [Rapp] on Discovery, is that you bring an immediate sense of comfort and ease to the work. What I love about this relationship is that Stamets and Culber are both committed to their work as they are both geniuses in their fields and it's their relationship with each other that allows them to excel. They know that no matter what happens on that ship they have each other and while it's not always easy, they can count on the love they have for each other to ground them."
Original Discovery showrunners Bryan Fuller and Alex Kurtzman were clear from its inception that Discovery would continue Star Trek's longtime premise of inclusion – and do so with a series of firsts. Not only are Stamets and Culber introduced as the steady relationship on the show, Fuller was intent on casting a black woman as the lead character, and Sonequa Martin-Green flourishes as Michael Burnham, a disgraced former commander fighting to find her ground after a monumental mistake. Her character is a direct reference to Nichelle Nichol's Uhura, still the most visible black woman in science fiction today, yet relegated to a supporting role on the original series – and Majel Barret's "Number One," the original first officer from Rodenberry's never-released Star Trek pilot, "The Cage." NBC refused the idea of a female first officer in 1966 – and instead, Spock was chosen for that role. Discovery is making every attempt to right the wrongs of previously marginalized character types – and it's a fact not lost on Cruz.
"I hope that people walk away from the series more willing to see themselves in other people. In this political and cultural climate in which some people want to divide us, I hope Discovery will help to remind us that at the cellular level, there is no separation between us and in fact, we all long for the same things."
After six episodes, Discovery looks to be finding its ground as today's Trek – and if Culber, Stamets and Burnham see their characters fully realized – Discovery could boldly go, indeed.
REAL LIFE. REAL NEWS. REAL VOICES.
Help us tell more of the stories that matter from voices that too often remain unheard.