The family of a 7-year-old boy has filed a lawsuit against the NYPD after they say the boy was handcuffed for nearly ten hours, all over a measly few bucks.
Rather than leaving the minor altercation to school officials, police promptly arrived at the scene, arrested Reyes and "interrogated" him for a total of ten hours-- four hours in a room at P.S. X114 and six inside the police precinct.
Now his family is suing the city for $250 million. Court documents say Reyes was "handcuffed and verbally, physically and emotionally abused, intimidated, humiliated, embarrassed and defamed." Wilson's mother took a photo of her son while he was handcuffed: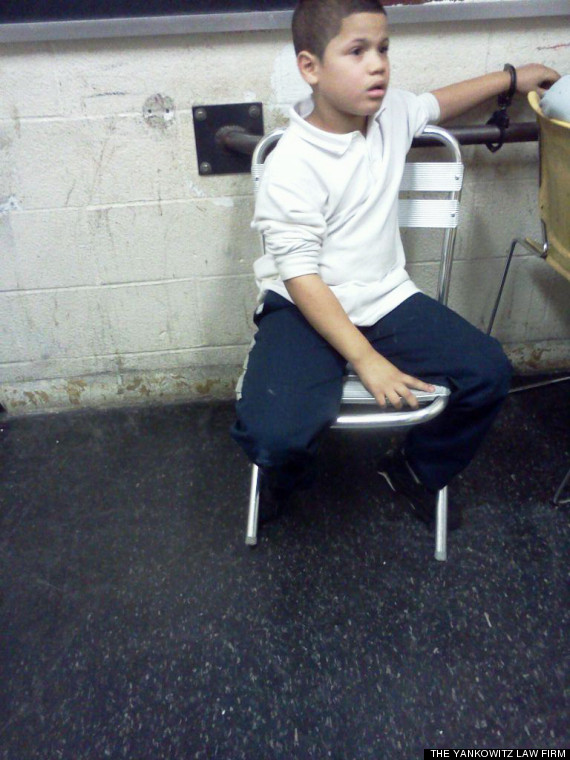 However, an unnamed police source defended NYPD action as standard protocol:
"We responded to a 911 call of a robbery and assault...Eventually, [Wilson] was taken back to the precinct and placed in the juvenile room...The kid came into the precinct a little bit after 3 p.m., and he was out by 7:45 p.m...That's standard for a juvenile arrest."
And another source, speaking to the Daily News, said Reyes had allegedly been bullying the victim for a long time. "This kid is no angel, even though he may look like it," the source said. "We made the arrest based on the complainant aggressively complaining about what the defendant did to him. This wasn't something where one kid runs off with another kid's basketball. This 7-year-old attacked someone and took his money. There's a little more to this story than it appears."
In the past, the department has opted for the use of Velcro handcuffs, as opposed to metal ones, when there's a need to restrain a child.
But the NYCLU said any handcuffing of a minor was condemnable and that "handcuffing by any other name is still handcuffing."
Related
Popular in the Community