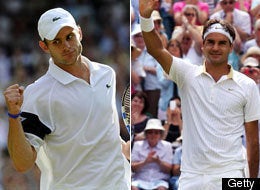 Andy Roddick will win the 2009 Wimbledon final 7-6 6-7 7-6 6-7 9-7, defeating Roger Federer in his bid to reclaim his All England Club crown and surpass Pete Sampras' record of 14 Grand Slam titles. You heard it here first!
Actually, my predicted score line is the only chance Roddick has of taking Federer down this year. Fed is playing very, very well on the vaunted grass courts of England. His serve has been stupendous: When Roger Federer gets his first serve percentage into the low 80s, he's virtually impossible to beat--or even take sets off of.
But Roddick is no slouch in the serve department, either. Among active pros, he owns one of the biggest first and second serves in the game, a deadly combination of terrifying velocity and insane spin. Since losing two Wimbledon finals to Federer, he's modified his game and started to play up to his abilities on grass.
Still, he'll struggle tomorrow to break Federer's serve, as Fed will struggle to break his. So an effective strategy for Roddick would be to guard his own serve fanatically, ignore Federer's, and save his best returns for tiebreakers. Tiebreakers are unpredictable, but Roddick is on a good tiebreak run. If he manages 3-4 aces and focuses on going after 2-3 returns, he can sprint to a quick lead and then try to hold on, edging out tiebreaks by scores of 8-6, 9-7, 10-8. With luck, he'll then be able to eek out a single service break late on the tiebreaker-less fifth set.
Federer isn't ultimately that worried about Roddick because he long ago cracked the American's game. They've met three times in Slam finals (Fed also defeated Roddick to win the 2006 U.S. Open), and in each case, the Swiss has neutralized Roddick's main weapon. This has typically frustrated Roddick, who's accustomed to holding serve easily against most players. Roddick is intelligent and competitive, but against Federer he needs more metal toughness than usual.
He showed this in his semifinal victory against Andy Murray, the Scottish player who had become the best chance for a British Wimbledon champ since Fred Perry in 1936. When he needed the big serves, he came up with them. And when the match became a battle of who could overcome the tightness that a pressure-filled match induces, Roddick demonstrated that he could hit through the anxiety.
He probably has a game plan for Federer, so I don't expect him to take my advice. Playing for breakers isn't necessarily in the big server's playbook; 6-4 6-4 6-4 is how they generally want to beat opponents. However, Roddick doesn't have the game to break Fed's serve even once of twice. So he should push for the breakers and roll the dice. This year's All England final is a great chance for him to win a title he should probably have claimed at least once already. And he can do it if he does what he's currently doing best, which is win tiebreakers.
UPDATE: Pressure's on for Federer! Playing for history with Bjorn Borg, Rod Laver, Ilie Nastase--and Pete Sampras all in the house! In suits! This could be good.

ANOTHER UPDATE: OK, got the five setter, but Roddick lost both tiebreaks! So much his great tiebreak record. Better off trying to break Fed's serve.

Calling all HuffPost superfans!
Sign up for membership to become a founding member and help shape HuffPost's next chapter