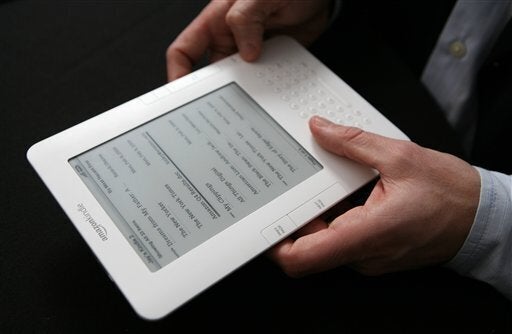 The National Republican Senatorial Committee wants your name, address and phone number in exchange for the chance to win an Amazon Kindle -- no donation required.
Of course, the NRSC wouldn't object to a boost for its July fundraising numbers here -- while there is no contribution required to enter the contest, Sen. John Cornyn (R-Texas), the NRSC chair, wrote in Thursday afternoon's fundraising e-mail, obtained by the Huffington Post, that anyone who contributes $20 will be entered in the Kindle giveaway. Entries must be submitted by the end of the month. But according to the contest rules, "Making a contribution will not improve your chances of winning."
This isn't the first time Republicans have offered to swap electronic devices for political support. In February, Newt Gingrich and the Conservative Political Action Committee tried to energize their fight against card check with the promise of a Nintendo Wii.
Kindle winners will also receive a $50 gift card "to stock your Kindle with conservative authors of your choice," Cornyn wrote. Fair warning: Winners may also receive a copy of Mitch McConnell's biography.
The drawing will be held Aug. 3, and winners notified Aug. 7, according to the contest rules.
"I've owned a Kindle for some time now, and enjoy that I can stay up-to-date on the latest news, or relax with a book on an airplane, all with one small device," Cornyn's sales pitch reads. The device has not, however, helped him to spell Newt Gingrich's name correctly.
The full fundraising letter appears below:
Dear Republican Friend,

Are you looking to enhance your summer reading?

How about books by such conservative luminaries as John Bolton, Newt Gingirch, Senator Orrin Hatch and Senate Republican Leader Mitch McConnell?

The NRSC wants to help you expand your summer library, while at the same time we look to grow the number of Republicans in the U.S. Senate.

As always, your contribution to the NRSC will help us rebuild our Republican majority in the Senate in 2010. As the past few months have shown, the stakes are high and we cannot afford to lose. From socialized health care to economically disastrous environmental policies, liberal control of Washington is destroying our economy in ways that cannot be quickly or easily undone.

From now until the end of July, if you contribute $20 to the NRSC, you will be entered for a chance to win a brand new Amazon Kindle - a ground-breaking wireless reading device that gives you instant access to over 300,000 books plus newspapers, magazines, and blogs. I've owned a Kindle for some time now, and enjoy that I can stay up-to-date on the latest news, or relax with a book on an airplane, all with one small device.

Additionally, we'll also give you a $50 gift card to stock your Kindle with conservative authors of your choice.

For the first 100 supporters who contribute at least $50 by the end of the month, you will not only be registered for the Kindle drawing and gift card, but you will also receive a copy of the book "Republican Leader: A Political Biography of Senator Mitch McConnell."

While many will be taking time this summer to relax and catch up on some reading, the NRSC will continue to work hard to achieve strong Republican victories in the 2010 elections.

Help support these efforts with your contribution of $20 or more by the end of July, and you could win your own Kindle! Or, be one of the first 100 people to contribute $50 or more and also receive your own copy of "Republican Leader: A Political Biography of Senator Mitch McConnell."

Thank you for your continued support.

Sincerely, Senator John Cornyn Chairman
Popular in the Community