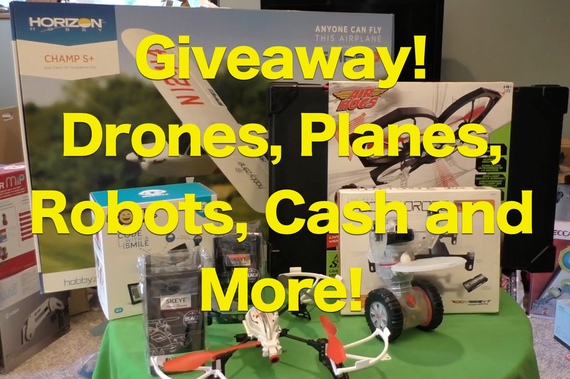 As regular readers of this column and viewers of our YouTube Channel know, we LOVE gadgets. Robots, drones, planes and anything that beeps, bops and makes us go, "cool" is something we just need to share with our readers.
Now We Are Not Just Sharing Reviews, We Are Sharing The Gadgets
We get it. It is a bit of a tease to see us review and play with cool drones, robots, gadgets and toys. Sure, you can go out and buy all this cool stuff, but money doesn't grow on trees. Well, technically it does...or the tree itself becomes paper money...but we digress.
Today we are giving you a chance to win over $1,500 in cool gadgets, drones, robots and more! Please watch this video to learn more -
How Do You Enter The Giveaway?
What Exactly Can You Win?
Here is the full rundown of all the cool gadgets we are giving away -
Prize #2 - Air Hogs Helix Sentinel Drone ($199)
This thing is AWESOME! Brand new, not even on the market yet. Obstacle avoidance, VR Headset, HD Video...Wow!
Prize #5 - Pocket Drone by Odyssey Toys ($99)
http://odysseytoys.com/
A drone, with an HD camera, that fits in your pocket. Super cool! Watch our full review -
Prize #6 - Coder MiP by WowWee ($99)
http://wowwee.com/coder-mip
MiP just got even cooler. Now you can program you favorite self balancing robot. See our full review -
Prize #7 - COJI Robot by WowWee ($59)
http://wowwee.com/coji
Learn to code with Emojis. A totally fun and cute way to learn programming!
Prizes #10, #11, #12 and #13 - $50 Gift Card
Yep, we are giving away a total of Four $50 gift cards. If you win, you tell us what gift card you want.
REAL LIFE. REAL NEWS. REAL VOICES.
Help us tell more of the stories that matter from voices that too often remain unheard.