This Week in Daily Giving we celebrate social entrepreneurs who are creating win-win solutions for their communities. From a project that creates viable work for formerly incarcerated women, to a youth farming initiative that cultivates nutritious fruit to sell, these grantees are bringing financial security to the most vulnerable people in their communities, while also creating businesses that support health and the environment. Congratulations to our grantees this week who will all receive grants of $1000 from The Pollination Project.
Women, Environment and Entrepreneurship in Uganda. Mrs. Mudondo Sharon is the co-founder of LUWODEA, a non-profit organization that fights for women's rights and economic emancipation in Uganda. In LUWODEA's newest project, the Production of Briquettes for Cooking Fuel and Clay Energy Saving Cooking Stoves, Mrs. Mudondo and her colleagues are training women from 100 families in 3 villages on the production and marketing of biomass briquettes made from household waste. Participants will also receive additional training on the construction of clean-burning cooking stoves designed to increase the efficiency of fuel sources while minimizing smoke and other health hazards.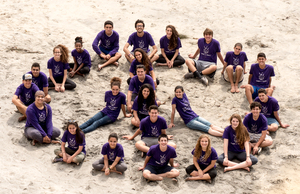 Cross Cultural Art in Vista, CA. Hands of Peace's Summer Program brings Israeli, Palestinian, and American youth together in order to promote inter-community dialogue and understanding. During this year's 18-day summer program in Vista, California Alyssa Martindale is facilitating thirty five Israeli, Palestinian, and American teens to participate in the production of a collaborative mural promoting global peace and justice. Youth will engage in facilitated interpersonal dialogue and their collective experiences will ultimately be incorporated into the mural. Alyssa hopes to display the mural at a variety of local and international locations, including in the West Bank of Palestine.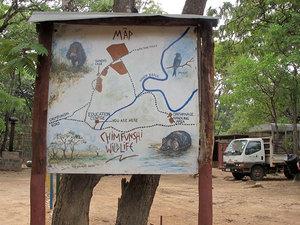 Chimpanzee Conservation in Zambia. Courtney Berne plans to pilot an English language program at the Chimfunshi Wildlife Orphanage in rural Zambia in order to enhance wildlife protection and advocacy efforts. Currently, sixty families live within the park caring for more than 130 endangered, orphaned chimpanzees. Unfortunately, very few of the residents speak fluent English and most are unable to communicate with the thousands of foreign tourists who flock to Chimfunshi annually. Courtney hopes to enable locals to more effectively advocate for chimpanzee conservation by providing them with instruction in conversational English, including basic reading, writing, and speaking skills.
Youth and Farming in Uganda. Patrick Etomet is the chairman of Koreng Youth Action for Development (KOYAD), a non-profit organization that aims to provide impoverished youth from the Koreng Parish of Bukedea, Uganda with job skills and employment opportunities. Through KOYAD's Passion Fruit Production project, Patrick is teaching local youth the most effective techniques for passion fruit cultivation with the hopes of helping them establish and manage their own commercial passion fruit farms. Throughout the summer of 2015, Patrick and his team of 14 volunteers will guide youth in the process of clearing land, planting seeds, creating manual irrigation systems, and constructing fences around the planting area.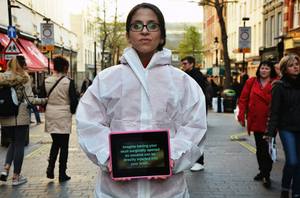 Animal Justice Activism in the U.K. Animal Justice Project is a U.K.-based international non-profit working for the eradication of speciesism and animal exploitation in laboratories. Over the past year, the organization has launched a number of successful campaigns to curb research involving animal exploitation and abuse, receiving international acclaim and making headlines in major European news media outlets. Currently, Animal Justice Project is in the process of forming a national network of university activists and regional coordinators that will allow for rapid and effective campaign mobilization. The organization ultimately plans to use their unique brand of academically-grounded street activism to bridge the gap between grassroots campaigning and professional lobbying.
Youth-Run Agricultural Businesses in Kenya. Judith Akoth is a successful Kenyan business woman and philanthropist working to make a difference in the lives of impoverished Kenyan youth. Through the Digi-Venture Opportunity project, Judith is offering education and training in sustainable agriculture and business management to youth in Busia County, Kenya. Judith will provide training in organic composting and pesticide preparation techniques, basic business planning and management, and marketing to over 100 youth from communities in the area. Upon completion of their training Judith plans to guide project participants in the establishment of their own agricultural businesses.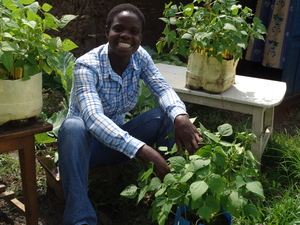 Youth-Centered Sustainable Urban Agriculture in Kenya. Sophy Oluoch is the creator of Growing Food, Knowledge, and Future Leaders (GFKFL), an organization that promotes healthy-living and food security for Kenyan youth by providing them with mentorship and hands-on education. GFKFL currently operates an urban farm in the Bungoma area of Nairobi, Kenya where Sophy and others offer garden-based youth development programs and food to community residents. Over the course of 2015, GFKFL aims train 25 youth from the community in the techniques of sustainable urban agriculture. Trainees will ultimately be tasked with the establishment of a community garden, as well as community outreach and education programs at local schools.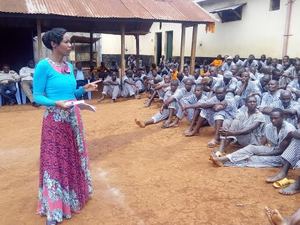 Breaking the Cycle of Poverty and Incarceration in Kenya. After serving a year in one of Kenya's maximum security prisons and being exonerated for a crime she didn't commit Teresa Njoroge founded Support Me in My Shoes (SMIMS), an organization dedicated to helping former inmates adjust to life outside of prison following their release. SMIMS' most recent project, Clean Start, provides former inmates with office cleaning jobs in order to reduce high rates of recidivism throughout the country. Over the past few months Teresa has already successfully trained ex-inmates in Nairobi and Kiambu, begun training programs in several correctional institutions, and lobbied both government and private organizations for cleaning contracts.
These grants were made by The Pollination Project's Daily Giving Community, a group of individuals and families who give $1 or more each day to support grantees all over the world.
Calling all HuffPost superfans!
Sign up for membership to become a founding member and help shape HuffPost's next chapter