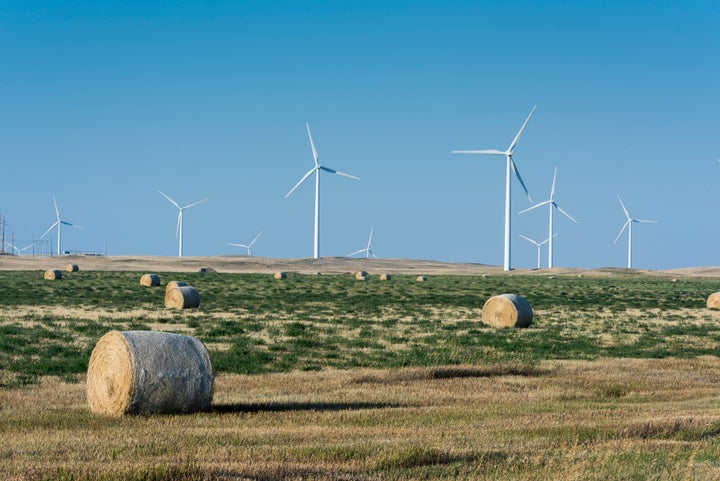 Wind power is forecast to surpass hydroelectricity for the first time as the nation's top source of renewable electricity sometime in the next year, the U.S. Energy Information Administration said Wednesday.
The sector is expected to produce 6.4 percent of utility-scale electricity in 2018, and 6.9 percent in 2019, propelled by a construction boom of new turbines across the country.
Few new hydropower plants are in the works, so new electricity generation depends on how much rainfall and water runoff pools in existing dams and reservoirs. Hydropower provided 7.4 percent of utility-scale generation in 2017 ― a particularly wet year ― but that figure is projected to fall to about 6.5 percent in 2018 and 6.6 percent in 2019.
"Although changes in weather patterns also affect wind generation, the forecast for wind power output is more dependent on the capacity and timing of new wind turbines coming online," Owen Comstock, the lead industry economist at the EIA, wrote in a press release.
The news marks a new milestone in wind's steady rise. Wind energy usurped hydropower's generating capacity for the first time in February 2017 as turbine installations tripled from 2008.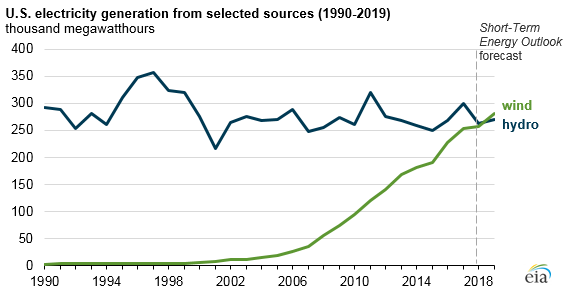 The latest announcement comes two days after President Donald Trump imposed new import fees on solar panels in a move analysts say will drive up costs and slow down a sector that has grown 17 times faster than the U.S. economy. The decision represented the most direct hit yet to the renewables industry from a White House that remains deeply skeptical of clean energy and the man-made climate change that necessitates it.
Yet, as solar deployments are now expected to slow by 11 percent over the next five years, wind turbines are on track to continue proliferating. The United States is projected to gain 37 gigawatts of new wind capacity between 2017 and 2020, according to Bloomberg New Energy Finance. The share of capacity increases each year, from 7 gigawatts in 2017 to a projected 11 gigawatts in 2020.
"What this means for generation is, basically, we're seeing greater, bigger wind turbines, and more turbines that are better situated for the environment that they're in," Alex Morgan, North America wind analyst at BNEF, told HuffPost by phone Wednesday morning. "So, more bang for your buck."
Part of what's driving the boom is a rush to build turbines to get the full benefits of the production tax credit. Congress extended the subsidy, which has been in place since the early 1990s, for five years in 2015. But the credit began phasing down by 20 percent in 2017, kick-starting a dash to build as many turbines as possible before the federal benefit expires.
"Wind power has increasingly been a key energy resource during extreme weather events, such as the recent 'bomb cyclone.'"
Yet states are expected to continue providing incentives for wind energy long after 2020. The offshore wind industry ― a popular form of energy in Europe, though currently limited in North America to five turbines off the coast of Block Island, Rhode Island ― is only expected to gain steam after 2021, according to BNEF. For example, in New York, where the state plans to get half its electricity from renewables in 12 years, a series of projects off the coast of Long Island are expected to provide 2.4 gigawatts of energy by 2030, enough to power 1.25 million homes.
"It's no surprise to see wind power gaining in generation nationally like this as it now competes on long-term contract price in many markets across the U.S.," Dylan Reed, head of congressional affairs at the trade group Advanced Energy Economy, told HuffPost by email.
After a year of powerful gusts from record-breaking storms, the energy source has proved itself more valuable than ever, he said. "Wind power has increasingly been a key energy resource during extreme weather events, such as the recent 'bomb cyclone.'"
However, effects of climate change are not necessarily a tailwind for turbines. Warming temperatures will significantly reduce the power of winds across north mid-latitudes, cutting wind strength across the central U.S. ― the nation's main wind-producing region ― by nearly a fifth, according to a provocative study published last year.
"We found some substantial changes in wind energy," Kristopher Karnauskas, an author of the study and researcher at the University of Colorado at Boulder, told The Guardian. "But it does not mean we should not invest in wind power."
Before You Go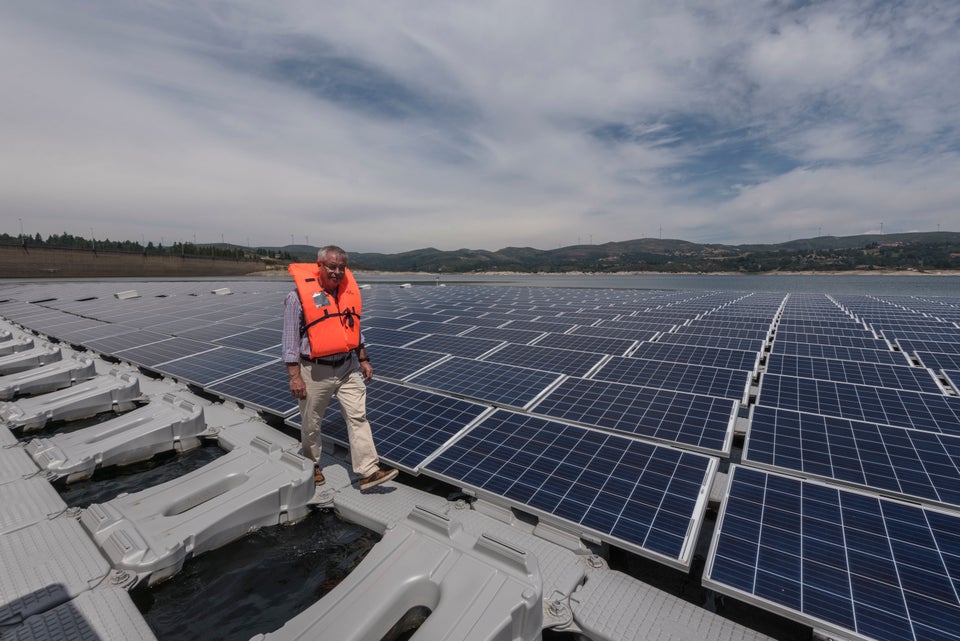 Solar Panels Of The Alto Rabagão Dam
Popular in the Community