Wind turbines kill roughly 300,000 birds each year. Compared to 6.8 million fatal collisions with cell and radio towers and the 3.7 billion slain by cats, that's a tiny fraction. Yet avian deaths remain a key point raised by renewable energy critics, including President Donald Trump, to dispute the benefits of wind power.
Now right-wing skeptics seek to tie the death of a humpback whale in Rhode Island earlier this month to the country's first offshore wind farm. The Daily Caller, the conservative news site founded by Fox News personality Tucker Carlson, last Friday published a story suggesting noise from the turbines caused the 32-foot juvenile male to beach itself and die.
The article spread to other sites via The Daily Caller News Foundation, a nonprofit arm of the website that distributes its content to publishers for free. To back up its claim, the story cited real dangers posed by noise from the pile drivers used to construct the bases that anchor offshore wind turbines.
But construction was completed nearly a year ago on the quintet of giant pinwheels five miles off the coast of Block Island. The operation started generating electricity last November, and shut down the island's diesel-fired power plant in May. The Block Island Wind Farm went through rigorous environmental testing, and monitored for migrating whales during initial construction, according to Jeffrey Grybowski, chief executive of Deepwater Wind, the developer behind the wind farm. Plus, the turbines produce low noise levels when the blades of structures, twice the height of the Statue of Liberty, spin.
"There's no construction activity happening at the wind farm, and nothing's happened since last year," Grybowski told HuffPost. "Compared to ferries and cargo ships and any other kind of vessel in the water, the wind farm creates a very, very low level of vibration and sound underwater."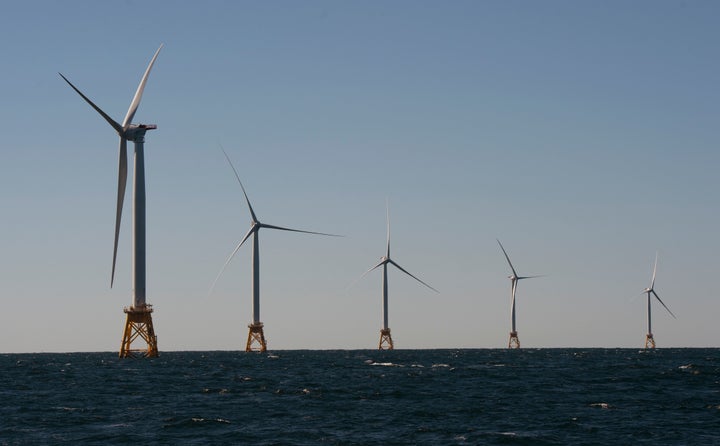 The Daily Caller quoted Bonnie Brady, a commercial fishing association director on Long Island, who suggested the necropsy ordered by the Mystic Aquarium & Institute for Exploration, which handled the carcass, could identify a connection between sound emitted by turbines and the death of a "perfectly healthy whale."
But Dale Wolbrink, director of public relations at the Mystic Aquarium, said post-mortem tests on beached sea mammals show whether the animal was sick or injured, not whether human activity garbled its ability to navigate by echolocation or communicate with other whales in its pod. (Humpbacks and other baleen whales don't use echolocation.)
"Quite frankly, with something like that, you wouldn't tell that from a necropsy," Wolbrink told HuffPost.
The turbines produce 120 decibels of sound, according to figures from Deepwater Wind that Brady cited. She told HuffPost that noise can be amplified underwater. If the necropsy shows no injury or sickness in the whale, she said the National Oceanic and Atmospheric Administration should at least investigate.
"If there is nothing that can be derived from the necropsy, they really need to take a look at the sound," she said by phone on Thursday. "The point being that these whales use low frequencies to communicate, and they can get stranded from the mother because they cannot hear."
The whale washed up the same week two other humpback whales died after stranding on Cape Cod in Massachusetts. The deaths are part of a larger trend. Since January 2016, 48 humpback whales have died along the East Coast, between North Carolina and Maine, according to NOAA. Earlier this year, the agency declared an "unusual mortality event" and launched an investigation.
"We are still looking at necropsy results and will keep you updated as we learn more," Jennifer Goebel, a spokeswoman for NOAA, told HuffPost. "It's too early for us to say what the cause of death may have been."
She added that a necropsy team collected samples and measurements from the whale in Rhode Island last Friday, at which point "the carcass was significantly decomposed, limiting some sampling."
Wind turbines could lead to higher levels of stress for migrating whales, according to Aaron Rice, a marine biologist at Cornell University's bioacoustics research program. But the low levels of noise would be just one part of the confusion animals suffer from warming oceans and the cacophony of commercial boats, cargo ships and gas barges, he said.
"There are examples across all organisms where exposure to noise does make an impact, but death is usually not the immediate outcome," Rice told HuffPost. "The challenge is you've got shipping noise, weird things happening in the ocean with respect to warm water, ocean acidification. There is a lot of different stressors at play that may be affecting breeding wildlife."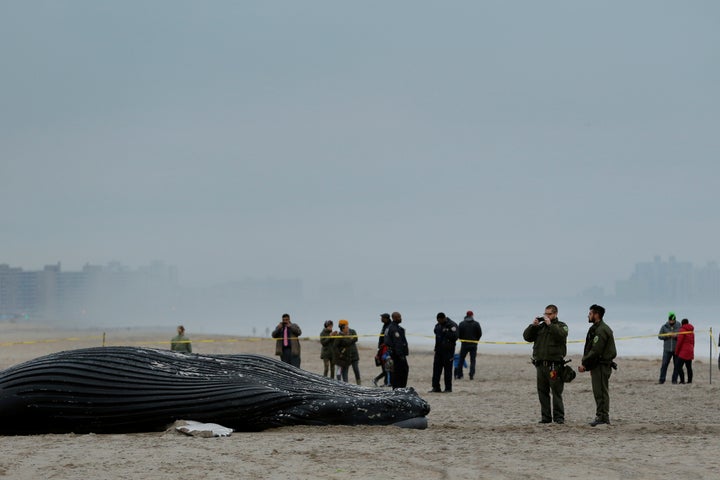 The Times of London, a Rupert Murdoch-owned newspaper, last month published a similar story fingering wind farms for the deaths of three minke whales off the southeast coast of England. The article was thinly sourced, citing only the chairman of a local volunteer coastal patrol group, who said: "My personal opinion is that it could be a consequence of wind farms and the amount of sand in the water." The Daily Caller aggregated the story the same day. Other conservative sites, such as Glenn Beck's TheBlaze, picked up it up earlier this month.
Wind energy made up 5.6 percent of U.S. electricity generation last year, produced largely in Texas, Iowa and Oklahoma. Offshore wind infrastructure is rapidly rising in Europe, particularly in Germany, the United Kingdom and the Netherlands. This sector added 338 new turbines in 2016 and grew by 39 percent from the year before, according to a report from the industry association WindEurope.
The completion of the Block Island Wind Farm, the first in North America, spurred a surge of investment in the nascent U.S. industry. In December, Norwegian oil giant Statoil won a bid to build a massive wind farm off the southern coast of Long Island. In January, Deepwater Wind secured approval to construct its second wind farm 30 miles southeast of Montauk, New York.
Offshore wind offers big potential. Winds off the coast of the U.S. could generate 4,223 gigawatts of power ― four times the amount of electricity that's currently produced from all sources in the country, according to a 2012 study by the National Renewable Energy Laboratory.
To be sure, seaward wind farms pose risks. Turbines could be "snapped into pieces like matchsticks" by powerful waves, a Norwegian researcher told Climate Central in 2013. Extreme noise from piledriving the base of offshore turbines disturbs fish and sea mammals, but the acoustics from completed turbines remain relatively low, according to a 2014 review of studies published in the journal Environmental Research Letters. Some seabirds collide with turbines, though 99 percent "steer clear," a 2014 Scottish government study found.
"It is troubling that folks take this opportunity to throw out a charge without any evidence or understanding of science, and we're in the position of having to prove a negative," Grybowski said. "For the average person, we can do a lot more in informing them so they make good decisions about what they're reading."
"We have to do more education work about offshore wind, about clean energy in general, and make sure the average person knows what the benefits are and what the risks are," he said.
This story has been updated with a comment from Brady.
Before You Go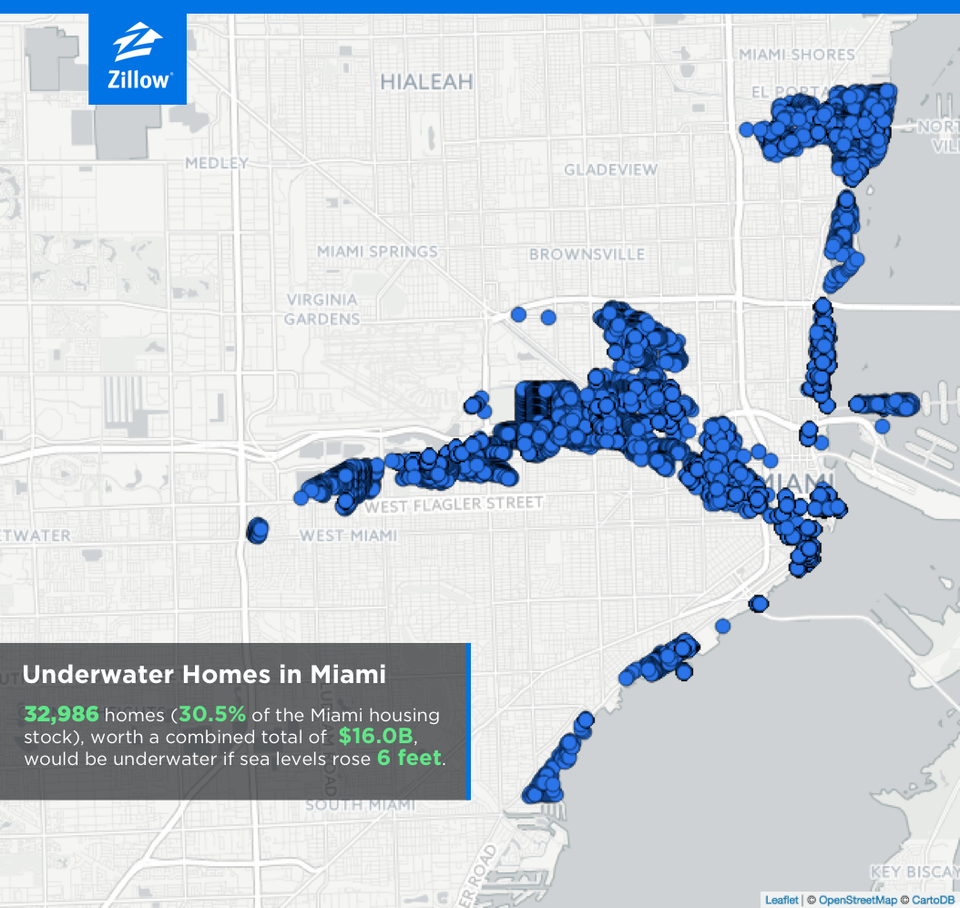 How Climate Change Could Affect The Housing Market
Popular in the Community