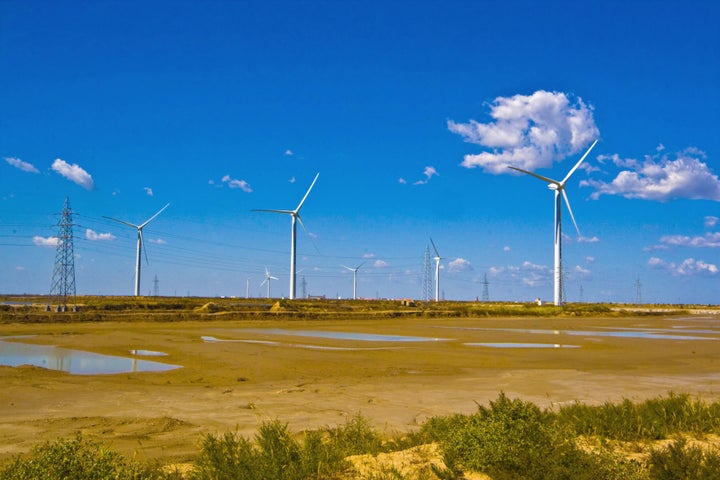 While debates about the economy, unemployment and the effectiveness of the stimulus plan continue to rage throughout the country, their appears to be a bright spot for proponents of clean energy stimulus spending.
According to Whitehouse.gov, the release of the American Wind Energy Association (AWEA) 4th Quarter 2009 industry assessment(PDF) indicates that stimulus spending is directly responsible for turning a potential 50% decline in growth in the wind power sector into a 39% increase in growth in the country's fleet of wind plants in 2009 alone.
"The U.S. wind industry shattered all installation records in 2009, and this was directly attributable to the lifeline that was provided by the stimulus package," Denise Bode, the trade association's chief executive told The New York Times Deal Book Blog. "The second half of the year was extraordinary. But manufacturers didn't see much growth because they had built up so much inventory."
The White House also points out the environmental benefits to this economic growth: "America's wind power fleet will avoid an estimated 62 million tons of greenhouse gases annually, equivalent to taking 10.5 million cars off the road. "
Rep. Edward J. Markey (D-Mass.) co-author of the Waxman-Markey clean energy bill, praised the results of the assessment: "In 2009, America's wind capacity grew by nearly 40 percent - blowing past the expectations that existed prior to the passage of the Recovery Act, These numbers show the potential for growth in clean energy, if only our country will make a commitment to these technologies."
The AWEA report also points out, however, that "The wind manufacturing sector has the potential to employ many more Americans in green jobs, but without a renewable electricity standard to provide a long-term market, the sector will be slow to grow."
Related
Popular in the Community