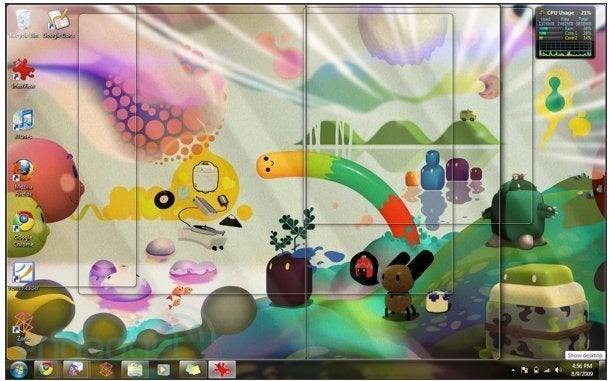 Windows 7 is out! But should we really be excited? Will the new Microsoft upgrade really be a step-up from the nightmare that was Vista?
We've got a complete review roundup below, with everything you need to know to decide for yourself whether to go Windows 7 or not.
Windows 7's biggest improvement, critics agree, is that it stays out of your face: there are new options for organizing your desktop, files, and windows; fewer non-essential applications, and fewer annoying alerts that get in your way.
Windows 7 is the biggest step forward in usability since Windows 95. In fact, over half of what makes it better than Vista boils down to user interface improvements and enhancements, not so much actual new features.
Part of what makes Windows 7 so much more user friendly is the makeover that the Taskbar and System Tray have gotten. Users also have far more options to help them multitask and organize their windows, including Aero Peek, Aero Shake, and Aero Snap.
See a screengrab of the new Taskbar, and what PC World has to say about it:
The new Taskbar replaces the old small icons and text labels for running apps with larger, unlabeled icons. If you can keep the icons straight, the new design painlessly reduces Taskbar clutter. If you don't like it, you can shrink the icons and/or bring the labels back.

EnGadget raves about the Aero Peek feature:
Everybody who's used a modern operating system for more than five minutes has been met with the hassle of juggling too many windows, and Aero Peek seeks to alleviate some of that. Available with any machine capable of "fancy mode" translucent window graphics, Aero Peek lets you hover over a "show desktop" field in the right of the task bar and show the outlines of every window currently open -- which usually amounts to chaos.
See a screengrab of the Aero Peek: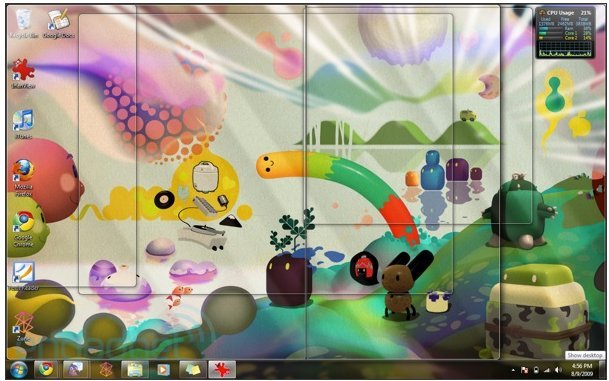 According to the Guardian, the new Windows 7 is faster than its predecessor, and performs well even on machines with less memory:
Where Vista really needed 2GB of memory, Windows 7 will run quite happily in 1GB on a slow dual-core Intel processor, though I'd still recommend 2GB or, for preference, 4GB with the speedy 64-bit version of Windows 7.

The reduced footprint and some optimisation means Windows 7 sleeps and wakes up faster (though it's still not in the same class as Mac OS X).


PC World notes that in addition to streamlining the interface, Microsoft has also removed some non-essential applications (which users have the option of downloading for free online):
Here's a startling indication of how different an upgrade Windows 7 is: Rather than larding it up with new applications, Microsoft eliminated three nonessential programs: Windows Mail (née Outlook Express), Windows Movie Maker (which premiered in Windows Me), and Windows Photo Gallery.

However, most Vista users threw a fit over the Microsoft Office "ribbon", which replaced shortcuts and shook up the menu. If you hated it, be forewarned that it's still there, writes Maximum PC:
The controversial Ribbon, which replaced traditional menus and shortcut bars in Office 2007, is prominently featured in Windows 7. In the applets that ship with the OS, you'll see the Ribbon featured prominently.
That all sounds pretty good, right? Check out the live Twitter feed below for real-time updates and reactions to the new Windows 7.
Decided that you want to give Windows 7 a try? CNET tells you how you can install the upgrade:
Microsoft is offering several paths to install Windows 7. People can buy a new computer with the operating system already installed, upgrade from Windows XP or Vista, or do a clean install on a computer the user already owns. The clean installation took us about 30 minutes, but that will vary depending on your computer.

The upgrade procedure is different depending on whether you're running Windows XP or Windows Vista. Vista users merely need to back up their data before choosing the Upgrade option from the install disc. Both XP Home and XP Pro users will have to back up their data, then choose Custom from the install disc. Custom will have the same effect as a clean install, although it'll save your old data in a folder called Windows.old. Once you choose Custom, you'll need to select the partition of your hard drive that contains Windows XP, and then follow the instructions to enter your product key and allow the computer to reboot as needed
Related
Popular in the Community