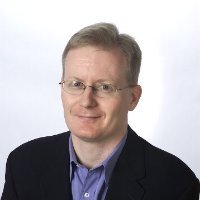 While wind power is an increasingly big deal in America, with three gigawatts of new capacity added last year, it still provides just five percent of all energy generated nationwide. One reason: up until now, we've looked inland to the vast plains to build our wind farms, ignoring the huge potential of offshore wind farms, which are tougher to construct. Contrast that with Britain and Northern Europe, where more geographically constrained countries such as Denmark have had no choice but to look to the sea to plant their turbines. It's worked out well for them; in 2014 Denmark got a record-breaking 39.1 percent of its overall electricity from wind.
But the winds of change are coming to our shores, and a glimpse of the future is now on view in tiny Rhode Island, where the nation's first experimental offshore wind farm is being built. Under consideration since 2008, Deepwater Wind's $300 million project is kicking off with five turbines with 30 megawatts of capacity located three miles off the coast of Block Island in state-controlled waters. Foundation steel has already been sunk to a depth of 90 feet (watch a video), and the turbines should rise this summer.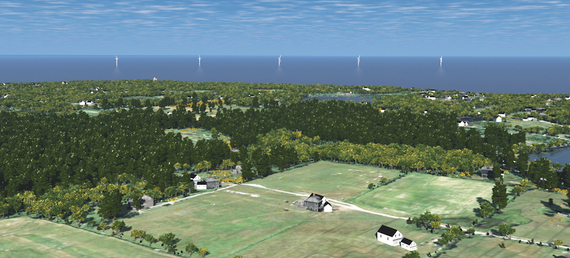 Deepwater Wind's project will be visible off the coast of Block Island. (Source: Deepwater Wind)
The economics are interesting. Today, Block Island has no electrical connection to the mainland, so its power comes from expensive and environmentally unfriendly diesel generation, which the Block Island Power Company bills at 24 cents per kilowatt-hour in peak season. The Deepwater Wind Project has an agreement to sell its excess power to mainland-based National Grid for at least that price for 20 years. Because Block Island doesn't need all the capacity, much of the power generated will travel to the mainland.
Opposition to the project has been muted, in great part because the location for the turbines was voted on by the state government -- and not imposed on unwilling islanders by developers. Illustrations suggest that the turbines, which will tower 600 feet high, will be visible from the Block Island shoreline. Construction has been relatively smooth, although regulations demand that activities such as pile driving be stopped whenever noise-sensitive humpback whales show up in the area.
Deepwater Wind is so confident of success that it's already floating the idea of building a wind farm of 200 turbines farther east in federally controlled water.
Meanwhile, on the Vineyard...
It's been a tougher path to offshore wind power next door in Massachusetts, where a celebrity-studded group of protesters (including the late Walter Cronkite) spent years pushing back against the proposed Cape Wind project, which would have put more than 100 turbines just five miles offshore in Nantucket Sound.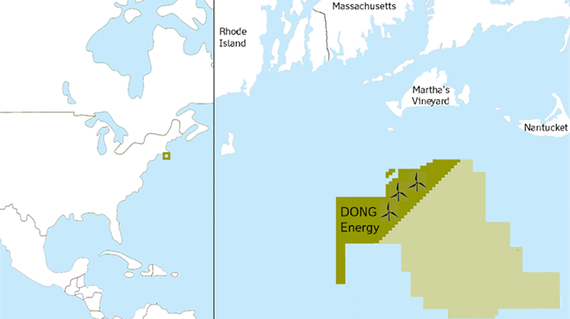 DONG Energy's proposed wind farm is farther out to sea than earlier proposed projects. (Source: DONG Energy)
Now, however, Denmark's DONG Energy, Europe's undisputed offshore wind leader, is backing a project called Bay State Wind that will be far larger than anything proposed by Cape Wind--but will also be farther out to sea and therefore less objectionable to lovers of a clear horizon. The Department of Interior is on board with leasing an area 15 miles off the Martha's Vineyard coast, and now feasibility studies are underway to see if a project featuring 100 turbines in waters 150 feet deep is viable. The goal: one gigawatt of generating power that could power half a million Massachusetts homes. DONG Energy says the environment and strong winds are quite similar to those of the areas of Europe's North Sea, where it has already had considerable success. The company says that construction would take about three years, with the first third of the project ready to come online early in the 2020s, and that the entire project can be self-financed. (Cape Wind had trouble keeping its finances intact.)
All these developments could add up to a future in which Deepwater Wind and Bay State Wind end up operating side by side, providing below-market-rate power to both Rhode Island and Massachusetts and offsetting the closure of obsolete onshore power plants such as the 680-megawatt Pilgrim Nuclear Power Station in Plymouth, Mass. From there, attention will likely move down the coast. In fact, Deepwater Wind has a site in mind 20 miles off the coast of southern New Jersey where it would like to put 200 turbines to generate another gigawatt of power.
XPRIZE contributor Don Willmott is a New York-based journalist who writes about technology, travel, and the environment for a wide variety of publications and websites.
Popular in the Community