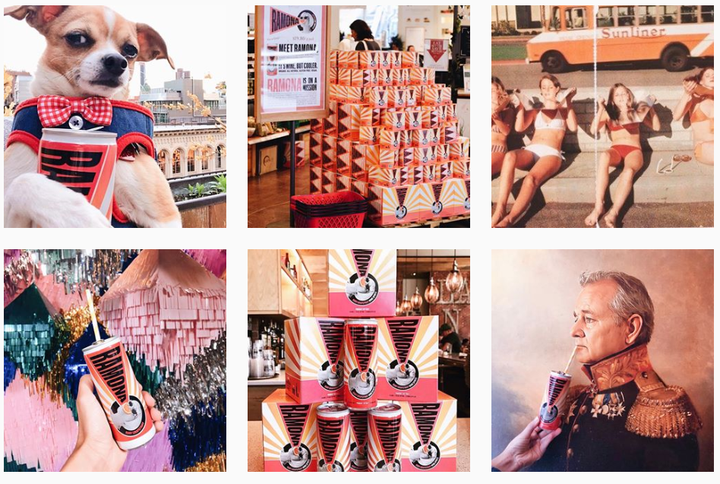 For most brands that want to attract millennials, Instagram is the modern field of dreams. Build a beautifully curated, regularly maintained feed of content, and they will come.
While it makes sense that brands like Outdoor Voices and Glossier have had great success using the platform to build buzz for their products ― serums make skin look impossibly dewy and pastel leggings are showcased in sunset colors ― it's much less predictable that wine coolers, once the butt of jokes for an entire generation, have also returned to liquor store shelves widely as a result of Instagram's popularity with millennials.
In the 1980s, many Americans made their own wine coolers by mixing white wine, soda and fruit juice. It was a trend that seemingly spoke to people of all ages, making Bartles & Jaymes, California Cooler, and Seagram's Golden Wine Cooler true summertime staples. The boom met a swift death in the early '90s after Congress increased the excise tax on wine, making coolers significantly more expensive.
But now, brands like Ramona, Hoxie and Underwood are back on liquor store shelves with one clear shared goal: to successfully target young people using eye-catching packaging that just begs to be 'grammed in shots of friends laughing on a beach or rooftop with hashtags like #drinkramona, #spritzareforfriends and #therefreshist.
"Instagram's been huge for us and, I think, everybody in this category," says Josh Rosenstein, founder of Hoxie Spritzer, a low-ABV option (just 5 percent) that pegs itself as "the dry wine spritzer" and comes in flavors like Lemon Linden Blanc and Lemon Ginger Rosé. "I wouldn't say it levels the playing field, but when we post something, we have just as much of a chance of reaching somebody as one of the bigger companies that has significantly more marketing dollars behind their stuff."
When it comes to big names in the spritzer space, one of those would be Ramona. Founded by industry icon Jordan Salcito, who served as beverage director at Momofuku and sommelier at Michelin three-starred Eleven Madison Park in New York City, Ramona has quickly found its way into celebrity parties and, most recently, Whole Foods stores across the country.
"Jordan is so well-respected in the wine community that [Ramona] gave validation to the whole category," Rosenstein says excitedly. "I'm a cook so I've been around wine my whole life, but I'm not a [sommelier]. Jordan comes from that world, so when someone like that is like, 'Well, I'm making a wine cooler,' it's great for the whole industry."
Ramona's success is in part due to the uniquely addicting combination of ruby red grapefruit and high-quality Italian wine, but it also has a lot to do with Salcito's keen eye for opportunities to put cans in hands that regularly make it into well-followed Instagram stories and posts.
For example, when Instagram launched its new office in New York City, Salcito's team recognized that Ramona's cooler bike (pictured below) ― along with the can's colorful packaging, which was inspired by the Russian constructivism movement ― would be the perfect prop to take selfies with all night long.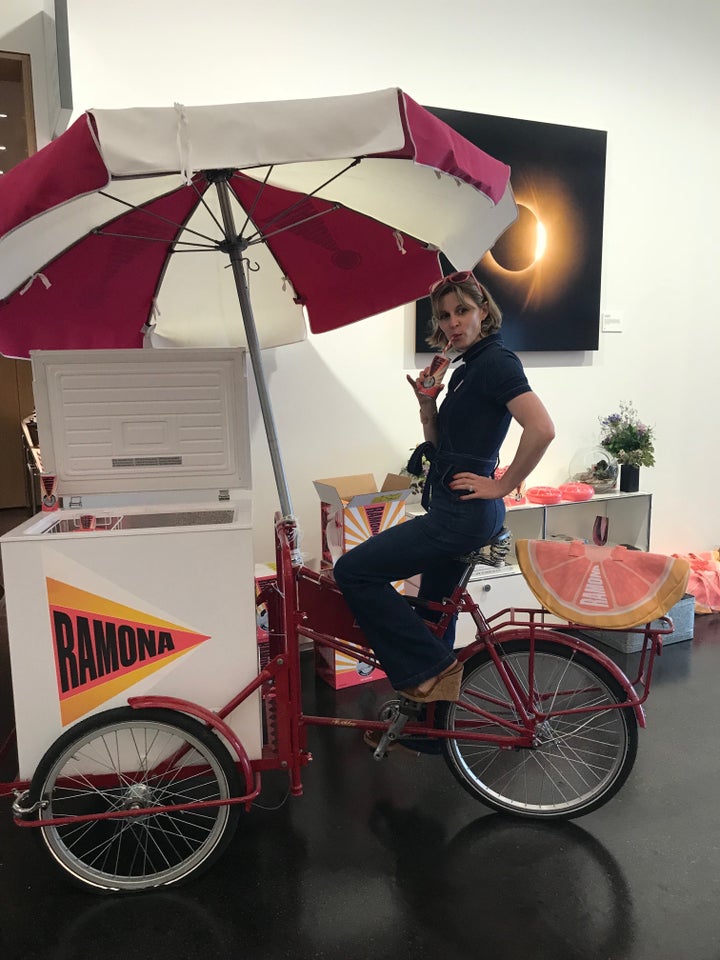 "Russian artists wanted to democratize art and reject the notion that great art belonged only in fancy museums or the homes of oligarchs," Salcito says, explaining the unexpected inspiration for the artwork on the brand's can. "That really aligned with our values for Ramona. Our goal was to create something that does not take itself too seriously but has integrity. We wanted to debunk the myth that accessibility is the same as poor quality."
At Boston's The Urban Grape, favored by wine enthusiasts for its unique body-based wine categorization system, TJ Douglas carries three wine cooler brands in addition to Ramona: Pampelonne; Underwood's Riesling Radler, which is a mix of Oregon riesling, grapefruit and hops; and Peak Organic Brewing Co.'s Day Drink Rosé. Douglas says the majority of customers who come into his store to purchase from the category are between the ages of 25 and 40. That jibes with the general customer profiles for Hoxie, Ramona and Underwood: active, open-minded and prone to sharing attractive branding on social media.
Beyond the simple photogenic appeal of modern wine coolers, the decision to use cans instead of bottles is another important way to connect with younger consumers.
"The Riesling Radler is for adventurous and easygoing wine and beer drinkers ... [it] is a wild idea for the wild at heart," said Ryan Harms, founder and owner of Union Wine Co. (of which the Underwood brand is a part).
Wine cooler cans are portable and single-serve. And they're often "sessionable" ― a term commonly used to describe drinks that can be consumed in succession over a long period of time, usually with low alcohol by volume like Ramona's 7.5 percent or the Riesling Radler's 3 percent. All these attributes make them a good fit for a daytrip or a picnic ― social activities that often appear on Instagram.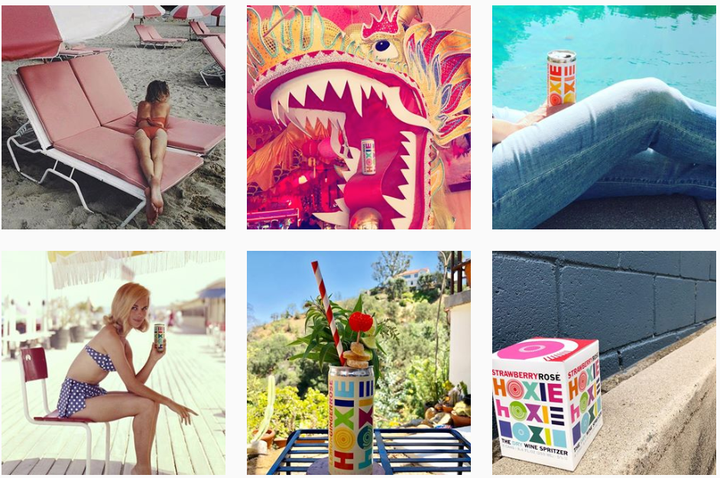 Kyna Williams, director of marketing for Union Wine Co., wrote in an email: "Consumers love to showcase where they take the cans ― we've seen Underwood cans on top of mountains, on chairlifts and even in the bathtub! These are definitely 'Instagram worthy' moments, and for us, it emphasizes the portability and efficiency of the cans. ... The cans truly allow consumers to cheers the everyday, whatever that moment is, and social media has served as the perfect platform to emphasize that."
For now, it's still the honeymoon period for both consumers and brands, with lots of smiling photos and chipper hashtags.
"We're at the point where there's a lot of super high-quality coolers out there, with people like Jordan making Ramona with really good ingredients," said Urban Grape's Douglas.
He expects to see more brands flooding into the canned wine and cooler space in the coming years. If the current trend is any indication, the cooler's comeback will be one of the beverage industry's best-documented.