A new cookbook by Wine Enthusiast Entertaining & Lifestyle editors Mike DeSimone and Jeff Jenssen, also known as the World Wine Guys, really gets the way we all cook at home, especially the way we want to cook in the hot summer months. The Fire Island Cookbook, with a foreword by Al Roker, will entertain you with its stories, help you entertain your friends and family, and give you great wine pairings with each recipe. What it won't do is make you sweat it out in the kitchen.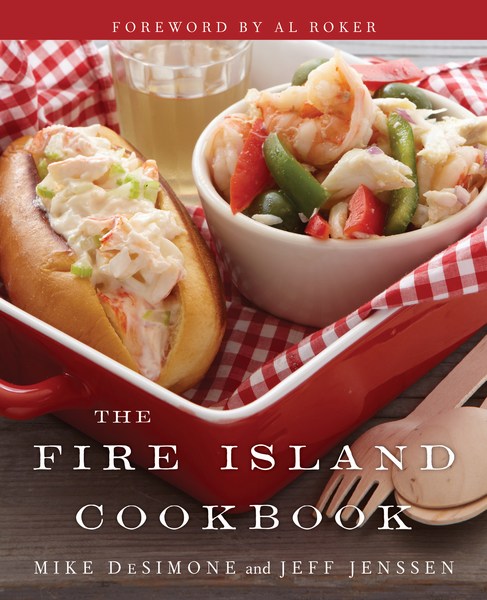 The Fire Island Cookbook
(Photo courtesy Mike DeSimone & Jeff Jenssen)
"Our recipes are designed to be prepped in the morning while you're having your coffee," said Jeff Jenssen. "Then you can leave everything and go to the beach all day..."
"...And when you walk back in the door," continued Mike DeSimone, "you just turn on the burner, light the grill, grab your shower. Then come out with your hair still wet, serve your guests some wine, and you'll have dinner on the table in 45 minutes."
Interviewing Mike and Jeff over a dinner they cooked me from The Fire Island Cookbook was great fun. Hugely entertaining and liberal with the wine, this couple constantly finishes each other's sentences and seamlessly splits kitchen and hosting duties. And the food they made from the cookbook, complete with dessert, was simply delicious, and deliciously simple.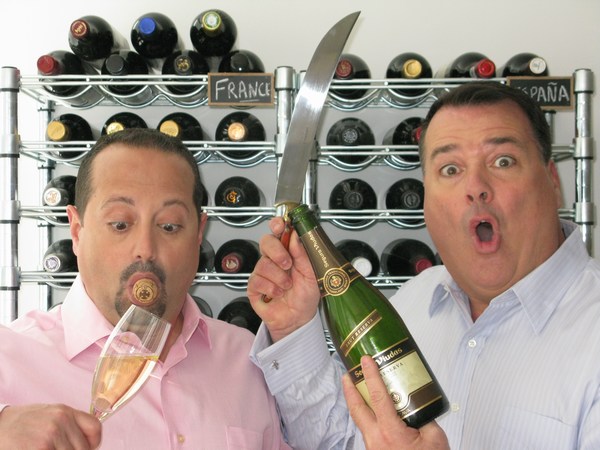 Mike DeSimone (left) and Jeff Jenssen (right) goofing around at home
(Photo courtesy Mike DeSimone & Jeff Jenssen)
Mike explained, "Though we've both worked in professional kitchens, our recipes come from the point of view of home cooks, and they're made for home cooks..."
Jeff interjected with, "But home cooks with style!" Mike laughed and added, "As editors at Wine Enthusiast we get professional chefs' recipes all the time to work with, and we just stare at them, thinking... Um, nobody's going to cook this at home!"
That's what I love about The Fire Island Cookbook -- you can make every recipe in there. Organized with weekend menus from Memorial Day through Labor Day, inclusive of desserts and affordable wine pairings, the recipes are casual and quick enough to make on a weeknight too. Plus, as Jeff said, "There's no crazy equipment you need..." to which Mike added, "...Or ingredients you can't find at any good market like Whole Foods."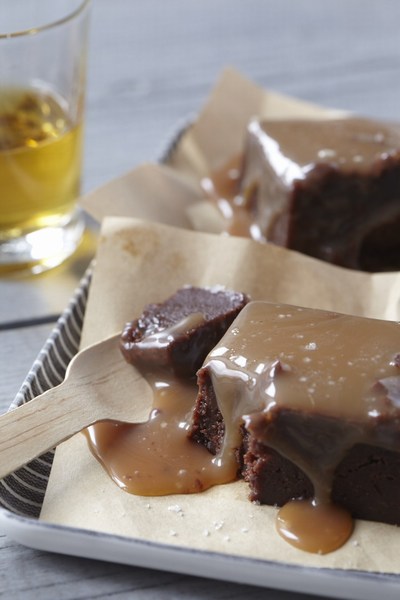 Salted Chocolate Caramel Brownies from America the Bountiful menu
(Photo courtesy Mike DeSimone & Jeff Jenssen)
While their cookbook references Fire Island off the coast of New York City, because it's where they've been doing summer weekends for more than 10 years, it's not limited geographically. "It could easily have been called The Summer Share Cookbook or The Beach House Cookbook," said Jeff. "It really has to do with getting together with family and friends, and it evokes the mood that wherever you are, you're on vacation."
It's a very international vacation book, with dishes that they fell in love with on their world travels. The menus include a Spanish dinner (they have a house in Spain), a French Menu, a Villa in Tuscany, Portside in Puerto Vallarta, as well as Mikonos by Torchlight and a Labor Day Caribbean Barbeque, all paired with wine and spirits that are native to the locations of the menus.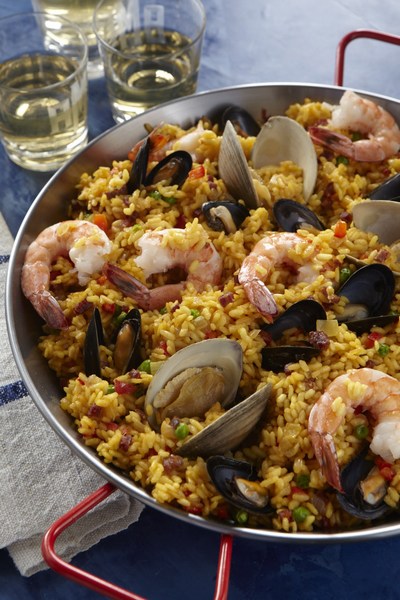 Paella with Shellfish & Chorizo from Paella Beach Party menu
(Photo courtesy Mike DeSimone & Jeff Jenssen)
To me, two of their most interesting pairings are with the Mykonos, Greece menu and the Caribbean menu.
In America, we don't often look to Greece when we think of wine, but, the lovely white Gerovassiliou Malagousia and the red Biblia Chora are perfect not just for their cookbook's menu, but for any dish of similar flavors and body.
"We really believe that if it grows together, it goes together," said Mike. "So all of the dishes in the book are paired with wines from that country. The Greek wines are exactly what the Greek menu needed. We've gone to Greece both as tourists and as journalists, touring the vineyards and writing about the wine. They've been making wine in Greece for thousands of years, and they're really quite good at it!"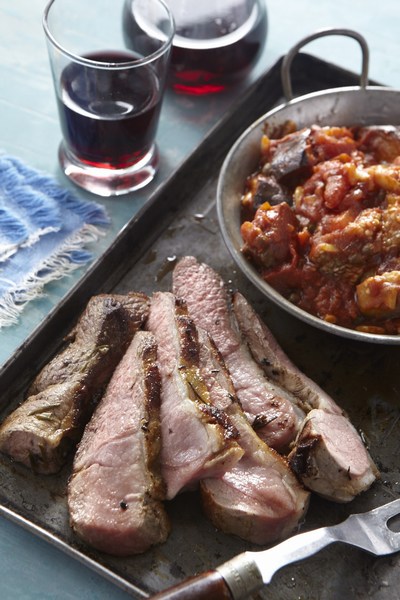 Rosemary-Rubbed Boneless Leg of Lamb with Tomato-Eggplant Caponata from Mykonos by Torchlight menu
(Photo courtesy Mike DeSimone & Jeff Jenssen)
With the Caribbean menu, the boys paired the food with cocktails and sipping rum. They prefer Mount Gay Silver for mixing cocktails, and Mount Gay 1703 for sipping rum with dessert or after dinner.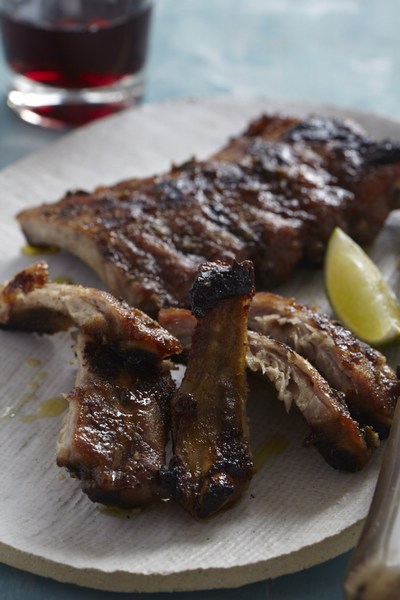 Mike's Caribbean Spiced Ribs from Labor Day Caribbean Barbeque menu
(Photo courtesy Mike DeSimone & Jeff Jenssen)
Jeff explained, "In respecting the terroir in the Caribbean, you can't just use some wine from anywhere, they don't grow wine in the Caribbean. But Mount Gay, who invented rum, uses local Caribbean sugar cane, and it goes perfectly with that spicy Caribbean cuisine. We think a rum of the quality of Mount Gay 1703 can be sipped like a fine Cognac or whiskey, straight out of a snifter..."
Then Mike butted in with, "But you can chill it or add an ice cube because it's hot down in the Caribbean in summer!"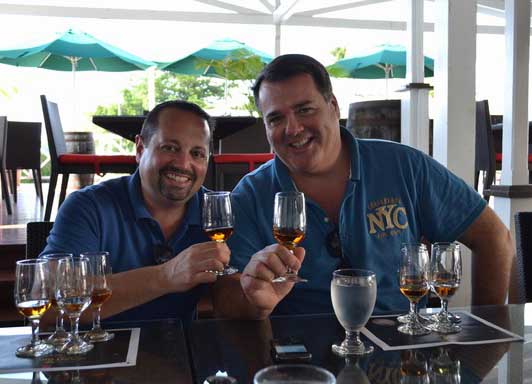 Mike DeSimone and Jeff Jenssen sipping Mount Gay Rum in Barbados (Regina Varolli)
Having been writing and traveling together for so long, I asked Mike and Jeff what it was that made them want to write The Fire Island Cookbook. Mike told me the idea to write a book wasn't something new to them, but that this specific idea actually came from a friend on Fire Island, where Mike and Jeff's dinners are quite famous.
Mike told me, "We were taking a long stroll on the beach with a friend who said to us, 'When you guys cook dinner, everybody loves to come to the house'..."
Then Jeff interrupted. "Actually, he said 'When you cook dinner, people are fighting for a place at the table!'" They laughed. "That's true," said Mike, "and then he told us, 'You guys should write the Fire Island cookbook!'"
Again Jeff interjected, "Steven's the guy who told us this!"
The idea got planted, and then the boys got to work. All of the recipes were developed in home kitchens, either in their apartment in Manhattan, their house in Spain, their vacation rentals around Europe, and, of course, their summer share house on Fire Island.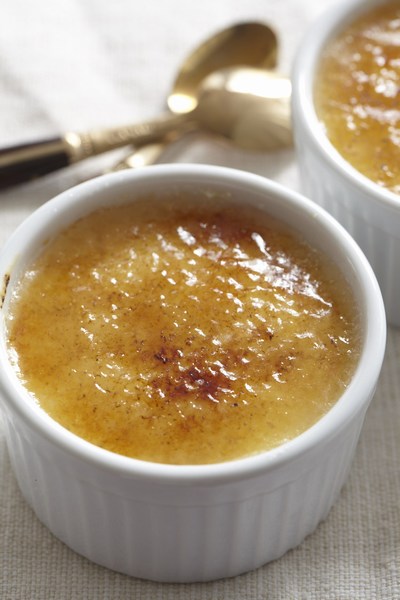 Baked Crème Brûlée from Rainy Day French Menu
(Photo courtesy Mike DeSimone & Jeff Jenssen)
This summer, with being so busy launching this successful cookbook, preparing to launch their second book, Wines of the Southern Hemisphere: The Complete Guide, all while still maintaining their work as Entertaining & Lifestyle Editors at Wine Enthusiast, I asked them just how much time they'd have to make it out to Fire Island.
"Well we're not doing a full season time share this year," explained Mike. "But we'll still go. We have a lot of friends out there, and really, if we called you and said we we're going to show up this weekend and bring food and wine, would you turn us down?"
Simple answer: No, I wouldn't. And if you're cooking and pouring wines from this beautiful and easy cookbook, nobody will turn you down either!
REAL LIFE. REAL NEWS. REAL VOICES.
Help us tell more of the stories that matter from voices that too often remain unheard.