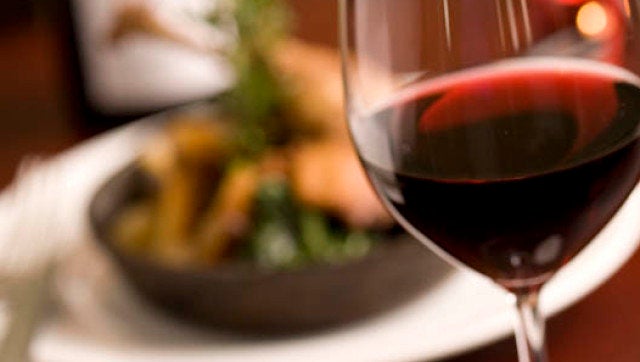 Wine events can be as loud as a college party or cozy as an intimate gathering of friends but no matter the style, knowing basic event etiquette ahead of time will enhance the pleasure, entertainment, and education of all who attend. Here's what you need to know before raising your glass.
Before you buy tickets, sniff around for free events in your area. You'll be surprised to discover mini-events - where a few bottles are tasted - at local retailers and restaurants. Casual and intimate, these can be among the best venues to try wines with no obligation to purchase. Certain states restrict in-store tastings, but - if you live where they're allowed - small samples for visiting customers may be permitted. If you're lucky and live in a state like Washington, a visiting winemaker may be pouring and sharing details about her wines. While there's no obligation to purchase, it's good form to support the shops - and the visiting winemakers if one is present - when sampling free tastes. If you don't like what you try, file it away as a reference point. Your merchant can steer you to something more to your liking.
When you're finally ready for a more formal night out, call ahead for the event overview. Get the direct scoop from wine shop or restaurant managers. Ask about wines to be featured, if it's a casual or formal affair, if snacks are included, and about any other particulars, ahead of the fete. If the entry fee seems high, remind yourself that you'll easily recoup the price of admission sampling wines you'd otherwise be purchasing. Once you've booked the night on your calendar, it's time to get ready to taste.
And taste is just what you'll do if you're smart about it. Remember, this is a wine tasting, not an all-you-can-drink wine buffet.
To begin, arrive early; you'll have a chance to try all the wines which really interest you. Eat a small meal before you go; don't expect to feel your best if you arrive without eating something.
Pace is a virtue at every wine event. One of the most common mistakes made by attendees is to consume too much alcohol, before and during the event. It's tempting to have a straight-up, icy cold martini or a couple of pints before the event. But avoid drinking before the event as the night can quickly become a blur. Learning about wine includes drinking and experiencing the pleasure it brings with food, but senses become dulled in an event setting. Buckets for pouring and spitting out wine are part of the landscape; use them and don't be shy. It's part of the experience. There's no one correct way to pour out or spit wine; just be careful of your white formal wear.
Before you dive in, take a few moments to assess the program. Focus on what's most interesting to you, and avoid the fluff. It's not uncommon for a large event to feature fifty to one hundred different wines. Picture a room lined with tables; attractive stations filled with an array of tempting bottles. While it's common for groups of tasters to begin at one end and to work around an entire room, a better approach is to pick out the ten most intriguing wines in the room, and try those first, while senses are fresh. If you've never been to a tasting, and a designated driver is in your group, you could try tasting with no holds barred as an experiment. Chances are good, however, that by the second table you won't be assessing or remembering much, and that any subsequent wine will seem like the best thing you've tasted, or - more likely - will be indistinguishable from the previous pour. There's likely to be so much available that - unless you're choosey - your mouth and senses will quickly become overwhelmed.
Participants often ask for the best order to taste wines. Taste whites first, followed by dry roses, then reds, and finally, sweet wine and port. It may seem too rule-bound, but there's a reason for this sequence. Whites first because red and sweet wines tend to a more lasting palate impact not easy to wash away. Tannin and the more intense flavor profile of red wine can obscure some of the nuances of more delicate whites if consumed first in order. Sweet wines can really coat the palate and should be saved for last. Avoid categories which offend, but remember, this is the best chance to learn and to challenge notions you've brought to the event. Those who feel overly constrained by rules can taste in any order desired. Most pourers, if asked, will recommend - but not insist upon - a specific tasting order at individual tables.
While cruising the event, keep in mind a few other niceties. Do not request three or four tastes of the same wine; that's more gourmand than gourmet at wine functions. Refrain from requesting a larger pour from the person staffing the table; experienced staffers know how much it really takes to assess a wine, and it doesn't take much. Never grab the bottle and attempt to pour your own glass. As in taverns, it's illegal - and boorish - to self serve.
Drink a little water during the evening. And save the best for last. Pour and spit out most wine until night's end; enjoy a taste of a favorite before leaving, and grab a bottle or two for home. Come back later - in the days after the event - to make your larger purchases. Wait until you have a clear head, and then make the call on stocking your cellar. Gather plenty of information about the wines; some of the best people in the wine industry pour at these events and it's a great time to get answers and information.
The best wine events convey this: raised awareness and glowing enthusiasm about new wines, and a longing to attend more tastings. And the adage the less drunk, the more learned.