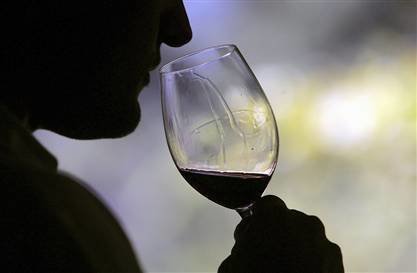 I live in Philadelphia, and BYOBs are very popular here. Problem is, I never know what my date is going to order! What wines are versatile enough to be predictably tasty when eating unpredictably?
-Never knowing what to expect in Philadelphia
There is no one magic wine that would suit if your date is picking at the house salad while you carve up a lamb shank, and that's a fact. Your fondness for each other might bridge the gap, but no wine could do it. But there's hope! White Burgundies and unoaked reds have light weight and bright acidity in their favor, and should serve unless you plan on going to a restaurant that specializes in spicy cuisine. In which case, bring beer.
White Burgundies are steely and racy, with subtle toast notes, whiffs of gravel and agreeable, fresh fruit. There are few foods (and few dates!) that couldn't succumb to its charms. To paraphrase Sarah Palin, they grow good grapes in the small villages of Burgundy, though unlike Palin's small-town people, Burgundian wines can be unapologetically elitist, fetching universal admiration and high prices. If you're careful to buy from a wine store with a commitment to quality, you can find good ones for under $20. Look for wines from Chablis, Mâconnais, Pouilly Fuisse or simple Bourgogne Blanc. While they're awesome with seafood, vegetables, and light meats, these wines would be rotten with a steak. You need to consider red wine if your date is a committed carnivore.
Freshness distinguishes a food-friendly red, and by "freshness" I mean tingly acidity and vibrant fruit flavors. For wines in the under-$20 range, this quality can reliably be found in unoaked reds. Aging wine in oak can add complexity and toasty, spicy flavors to wine, as well as additional tannins and texture. It can make a wine taste bigger, but big wines tend to be harder to pair. Unoaked reds aren't be as great with a steak as a big California cabernet or Bordeaux blend, they'd do the trick if you're also planning on eating vegetables or lighter meats.
Some unoaked or lightly oaked wines I've enjoyed recently are Marielle et Frédérique from La Tour Boisée, in Minervois, France, and a wine made from the Agiorgitiko grape from Domaine Harlaftis of the Nemea region in Greece. Since it isn't possible to know the wine making process by looking at a bottle label, you have to ask your trusted wine seller.
Have a burning question about wine & wine drinking, perhaps in ways that relate to your love life? Post it in the comments!