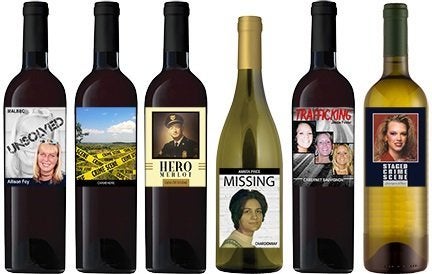 A band of volunteer crime fighters is hoping that wine drinkers can help them solve a number of cold cases.
"It's powerful, because eyes and ears are key to unraveling mysteries," Sheryl McCollum, director of the institute, told The Huffington Post. "The more people that come into contact with a case, the greater the potential of solving it."
McCollum said that the label of each bottle will carry the name, photograph and description of a missing person or unsolved homicide. She said the photos will be changed on a regular basis.
It's a fresh new take on an old idea: the milk carton campaign of the 1980s that featured missing children. That initiative, which began in 1985, lasted roughly two years until milk companies yielded to critics who claimed the photos unnecessarily frightened kids.
But the new twist on the old tactic, McCollum said, is necessary to raise awareness in a tech-saturated world where the average person is oblivious to a flier on a cork board.
"The goal was to reinvent the missing person poster so people actually stop and take a look at it," she said. "Most people don't stop to read them anymore because they get their information so rapidly on social media. We want people to go, 'Hey, what is that? That's interesting.'"
Currently, six types of wine carry the cold case labels. The bottles of merlot, cabernet sauvignon, chardonnay, malbec, carmenere and sauvignon blanc are imported from La Fortuna Vineyards in Chile's Lontue Valley and can be purchased on BenefitWines.com for $19.99 a bottle or in a collector's package.
"Crack open a bottle and start working on a case," reads an advertisement on the website.
For every wine bottle sold, $6 of the purchase price goes to the Cold Case Investigative Research Institute to cover research expenses for the case that's featured on that particular bottle, McCollum said.
The nonprofit organization is made up of detectives, prosecutors and crime scene investigators. "Criminal justice students also help work on our cases," McCollum explained. "Our experts guide them and train them as they go. On any given case, you can be talking about 1,000 people working 20 hours a week. That's a lot of man hours."
McCollum said there has been a "tremendously positive" reception to the new endeavor.
"The victims' families are overwhelmingly pleased and the law enforcement community loves the idea," she said.
It's not yet clear how successful the venture will be, but McCollum said her organization is already exploring similar ideas.
"We're actively looking for a brewery that will put photos of fugitives on beer labels," she said. "Our thought process is to use their own devil against them. Imagine a perp walking into a bar or restaurant and their face is all over the beer bottles."