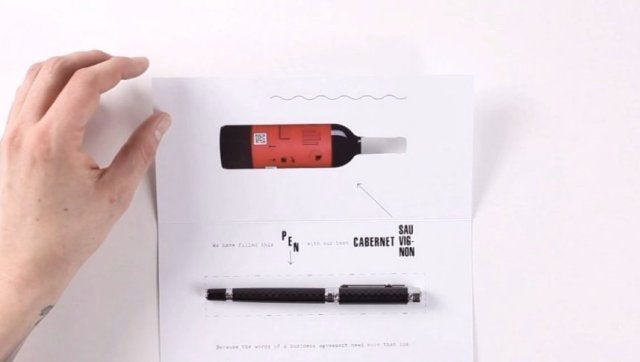 Casa Mariol, a family-owned winery in Spain, may have found one of the strangest wine marketing gimmicks we've ever seen. Wine pens. We do not mean pens made out of wine glasses or bottles. We mean pens filled with wine.
To attract new business partners, Casa Mariol sent out order forms, complete with a pen filled with ink based on their very own Cabernet Sauvignon with which to place your order. This is either insane or genius, we can't decide which. However, if you are a poet inclined toward writing about wine, we may have found your preferred writing instrument.
We don't know about you guys, but we know a lot of people who would take a promise signed in wine a lot more seriously than they'd take a promise signed in blood. Do you guys think this is an incredible marketing innovation, or just kind of a waste of wine? Let us know in the comments!