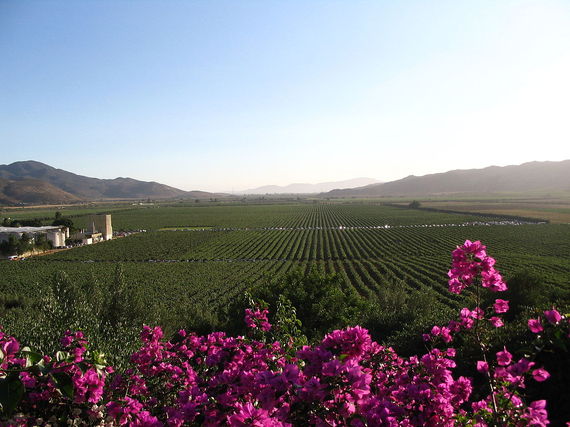 The Valle de Guadalupe, Mexico's center of fine wine production.
The Mexican wine industry is simultaneously the birthplace of North American wine and its newest frontier. It boasts the oldest winery in the New World and it is one of the largest growers of grapes in the Americas, but paradoxically makes only a tiny 20 million liters of wine a year. By comparison, the United States produces three billion liters. Mexico has over 100,000 acres of vineyards, but most of these are devoted to brandy production. Mexico, incidentally, is the third largest producer of brandy in the world.
The origins of Mexico's wine industry go back to 1521 and the Spanish conquest of the Aztec empire. Legend has it that one of Hernán Cortéz's first orders in 1524, as governor of New Spain, was that each colonist was to plant 1,000 grapevines, for each 100 native employees, each year for five years. This was several decades before the planting of grapes in Chile (1548) and Argentina (1551).
Early attempts to grow grapes in the more tropical areas of Mexico failed. Grapes were planted in the Parras Valley of Coahuila in 1593, followed by Puebla and Zacatecas. Lorenzo Garcia founded Casa Madero, the first Mexican winery, in Santa Maria de las Parras in Coahuila in 1597. It is today one of Mexico's largest wine producers and the oldest winery in the Americas. Ironically, vines from the Parras Valley were later exported to California's Napa Valley, as well as to Chile and Argentina.
Generally speaking, grapes in the northern hemisphere are grown between 30 degrees and 50 degrees of latitude. Mexico is unusual in that most of the country lies south of the 30th parallel. The combination of high altitude vineyards and the cooling effects of winds and fogs from the Pacific, however, have allowed grapes to thrive.
Initially, the Mexican wine industry flourished. Grapevines adapted readily to Mexico's Mediterranean climate. The Spanish emperor, Charles I, even ordered that all ships traveling to New Spain bring a quota of grapevines for cultivation. The first grape variety grown was the ubiquitous Mission grape of California known locally as Listan Prieto; the same variety is called Criolla in Argentina and Pais in Chile.
The situation took a turn for the worse at the end of the 17th century, however. Rising French wine production began to cut in on European demand for Spanish wines. In an effort to protect the domestic wine industry, Charles II banned the production of wine in Spain's foreign colonies in 1699, and required them to import Spanish wine instead.
The Catholic missions were exempt from the ban and allowed to make small quantities of wine for religious purposes. It was a Jesuit priest, Juan Jugarte, who established, in 1701, the first vineyards in Baja California at Loreto Mission. Jugarte, along with Father Juan Maria Salvatierra, were moving north to California, establishing missions along the way. The Santo Tomas Mission, founded by Jesuits in 1791, became Mexico's largest wine producer.
The Dominicans followed in 1843, and established the first vineyards in Baja's Nuestra Senora de Guadalupe del Norte Valley. Today the Guadalupe Valley is the center of Mexico's fine wine production and the region boasts over 50 wineries.
Despite being restricted to making only small quantities of wine for sacramental purposes, the Catholic missions became significant wine producers. Between 1699 and 1857, the various Catholic missions produced virtually all wine in Mexico. The industry remained small, but otherwise healthy.
The Mexican government, following the War of Reform in 1857, seized all the land holdings of the Catholic Church. Some of the vineyards, like San Tomaso, were sold to Mexican investors. That winery has continued to operate to this day. Many of the mission vineyards, however, were simply abandoned.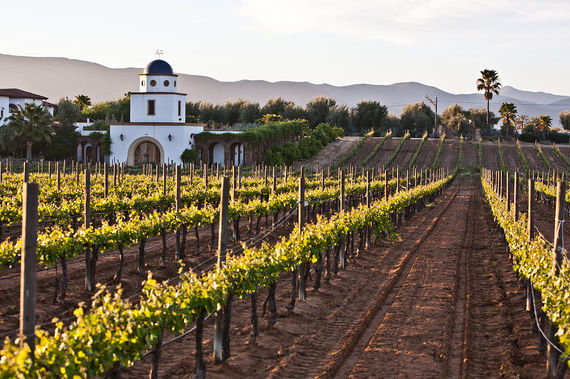 A winery in Mexico's Guadalupe Valley
The arrival of the Molokans, pacifist Russian Christian refugees, in the late 19th century to the Guadalupe Valley, gave the Mexican wine industry a fresh start. The Molokans were farmers who were escaping persecution at the hands of the Czar's army. They purchased 100 acres of land and began growing wine grapes. They also introduced modern farming and winemaking practices to the region.
The wine industry lost a huge part of its vineyards to Phylloxera at the turn of the century. The industry was further disrupted by the violence and domestic turmoil that accompanied the Mexican revolution of 1910. Many wine estates were destroyed or abandoned by their owners. The growth of the Mexican beer industry following the revolution also slowed the recovery of the wine industry as beer became more popular than wine. Mexicans also have the distinction of having the highest per capita consumption of Coca Cola.
The wine industry recovered somewhat in the 1920s. In 1949 the National Association of Wine Producers was created with an initial membership of fifteen wineries. Fourteen more producers joined during the 1950s. During the 1970s production tripled through a combination of expanded vineyards and an increase in wine production capacity.
High-end wine production in Mexico began in the 1970s. Casa Pedro Domecq began operations in the Guadalupe valley in 1972. Shortly after, Hugo D'Acosta organized La Escuelita to teach local growers modern methods for processing their grapes into wine. The school also functioned as a cooperative, providing the necessary equipment to growers for wine production. By the end of the decade, Mexican wine producers were selling four million cases a year. The decision of the Mexican government to open up its wine market to foreign producers, however, resulted in a significant drop in domestic production.
Today Baja California, which is the epicenter of Mexico's fine wine industry, and responsible for 90 percent of production, only sells 1.6 million cases of wine a year. It is widely accepted, however, that the quality of Mexican wine has increased significantly over the last 40 years. There are approximately 100 wineries in Mexico, with over 50 of them headquartered in the Guadalupe Valley. Mexico is the 25th largest wine producer in the world, but ranks only 66th in wine consumption.
In 2015, Mexican wine consumption was about four million cases. Roughly a third was from domestic production and the balance was from foreign imports. About two-thirds of those imports were from Europe and the balance from other wine producing regions, especially Chile, Argentina and Australia. Per capita wine consumption in Mexico is about .4 gallons per year compared to two gallons in the United States and 15 gallons in France. Per capita wine consumption has doubled in the last decade and has become the aspirational beverage of Mexico's growing middle class.
Today, Mexico boasts two major grape growing areas. The northern area includes Baja and Sonora, as well as the Parras Valley in the La Laguna area astride Coahuila and Durango. These are the principal production zones for fine wines, with the overwhelming majority in Baja. Much of Sonora's wine production is slated for distillation into brandy. Aguascalientes, Zacatecas and Queretaro in central Mexico mostly produce grapes for brandy and sherry production, although there is also significant production of sparkling wines.
Generally speaking these regions have climates ranging from Mediterranean to desert-like. Annual precipitation ranges from 10 to 12 inches to as little as three to four. Irrigation is unavoidable and relies on a combination of natural springs and ground water.
Sparkling wine production at Cavas Freixenet in Quertaro
Baja's vineyards have humid winters, dry warm summers, and cooling morning fogs and sea breezes. Average summer temperatures are 86 degrees Fahrenheit and winter temperatures are 42 degrees Fahrenheit. The climate and many of the varietals grown are similar to California's Napa Valley, a similarity that has led many to label the region the next Napa Valley. Similarities notwithstanding, it is generally warmer and drier than Napa.
This region produces around 90 percent of Mexico's fine wines from four principal areas in the San Antonio de las Minas zone around the port city of Ensenada: Valley of Guadalupe, Calafia Valley, San Vicente Valley, Santo Tomas Valley and, to a lesser extent, the San Rafael Valley. These valleys have a complex soil geology consisting of areas of decomposed granitic soils and others that are predominantly alluvial sands, gravels, sandy loam and some red clay.
The principal wine producers here are L.A. Cetto, Vinos Pedro Domecq and Bodega de Santo Tomas. All three produce wines that have medaled in international competitions. L. A. Cetto and Pedro Domecq account for 80 percent of Mexico's wine production. The Ruta del Vino (Wine Route) connects approximately 50 wineries in the area between Ensenada and Tecate. It runs from the U.S. border city of Tijuana, about two hours to the north.
The Parras Valley is the oldest wine making region of Mexico. The valley sits at an altitude of 4,500 feet in an otherwise desert area. Annual precipitation is between three and four inches a year. The low humidity inhibits fungal and insect damage, while the pronounced diurnal temperature variation, some 22 degrees Fahrenheit between day and night, promotes ripening while maintaining acidity. The valley produces Bordeaux blends as well as single varietals of Cabernet Sauvignon, Shiraz, Merlot and Tempranillo.
In central Mexico, most vineyards are at altitudes of 6,500 feet. In addition to sparkling wines, "vinos espumosos," the region also produces Sauvignon Blanc, Cabernet Sauvignon and surprisingly Pinot Noir. Much of the regions grape production, however, is earmarked for brandy production. The area's soils are mostly clay and loam and retain moisture well. Climate wise, both summers and winters tend to be cool, and the high altitude produces a pronounced diurnal variation in temperatures. Spain's Freixenet is the largest producer in this region.
Mexico grows a variety of grapes in the approximately 6,200 acres of vineyards earmarked for fine wine production. It lacks, however, a signature or defining grape variety or wine style. The principal grapes grown are the better-known international varieties. Whites include Chenin Blanc, Chardonnay, Palomino, Chasselas, Macabeo, Muscatel, Riesling, Semillon, Sauvignon Blanc and Viognier. Reds include the principal Bordeaux varieties, Grenache, Tempranillo, Dolcetto, Nebbiolo, Barbera, Zinfandel, Syrah and Petite Sirah. Some of these varieties, like Chasselas, typically grown in Switzerland, and Italian varieties like Nebbiolo, Dolcetto and Barbera, seem wholly unsuited for Mexico's arid wine country. The three most widely planted varieties are Cabernet Sauvignon, Tempranillo and Chardonnay.
Vertical shoot positioning is the most common trellis system. Vineyard spacing varies from 3 x 3 feet to 6 x 9 feet, with vine density ranging from a low of around 2,500 vines per acre to a high of around 4,000 vines. Yields vary from two to three tons per acre. Many growers have started to restrict yields by green pruning to no more than two clusters per shoot and limiting each vine to between six and eight shoots. Harvest is generally from late July to early October.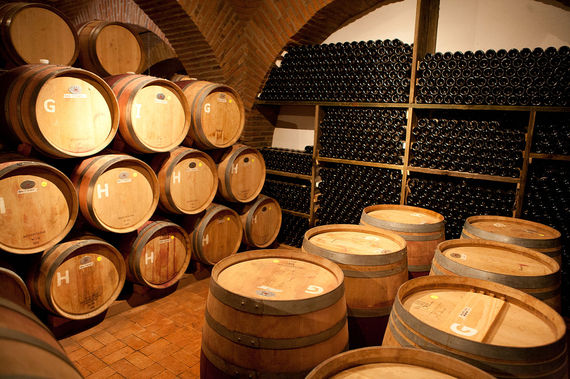 Cellar at the Adobe Quadalupe winery in Ensenada, Valle de Guadalupe
Most wines are fermented in stainless steel with the length of maceration and fermentation varying depending on a producer's style. Red wines are typically aged in either French or American oak for periods ranging from a few months to as much as 24 months. One of the interesting features of Mexican wine production is that the arid climate tends to produce grapes with unusually thick skins. Baja Nebbiolo, for example, produce a dark, inky wine that is unlike any other Nebbiolo in the world and has more in common with Petite Sirah or warm climate Cabernet Sauvignon's than it does with its Italian Piedmont cousins. The origins of Baja's Nebbiolo remains something of a mystery. The vines arrived after World War II and are believed to be a number of different Nebbiolo clones, but the identification tags were lost in transit and no one is certain what those varieties might be.
Specific wine appellations are only now beginning to be delineated. The first official Mexican wine appellation is the Parras Valley. Beyond imposing a 25 percent tax on wine sales, the Mexican government has given the wine industry a free rein.The result has been some unusual wines, including blends of vinifera and table grapes like Thompson, as well as blends consisting of Mexican and foreign grapes. The Casa di Piedra winery for example, produces a wine, Contraste, made from a blend of grape juice from the Valle de Guadalupe and juice imported from France. There are also some unusual blends like Cabernet Sauvignon blended with either Grenache or Nebbiolo.
Baja wines tend to be deeply colored and full bodied-these are big, powerful, heavily extracted wines with a substantial weight and mouth feel and a propensity to taste jammy. Grapes here tend to be thicker skinned than normal, creating more intense flavors and aromas. One particular feature of Baja wines is a tendency for wines that are irrigated with ground water to occasionally have a noticeable saline element.
This is sometimes described as minerality, stoniness or steeliness, as well as saltiness. Salinity is unusual but not unheard of in wines. Vineyards close to the sea often exhibit some saline notes. Soils or ground waters that have high levels of metallic salts, like Langhorne Creek in Australia, for example, can also impart a saline element to wines.
Mexico's growing reputation as a wine producer has been attracting international wine companies. In addition to Freixenet and Pedro Domecq, new foreign investors include Chuck Wagner of Napa's Caymus Vineyards and Henri Lurton of Bordeaux's Chateau Brane-Cantenac. The Chalone Group and Wente Vineyards are also becoming more involved in the Mexican wine industry.
Mexican wines are becoming more prevalent in the United States, especially in the larger urban wine markets. Below is a selection of Mexican wines worth trying.
A. L. Cetto, Private Reserve Nebbiolo, 2009, 13.8% ABV (Average price $18)
This is a deep ruby wine with hints of purple throughout. On the nose there are dried fruit aromas of dark cherry, prune and some indistinct tropical fruit elements, followed by notes of bittersweet chocolate and espresso. With a little time, some tobacco notes, followed by hints of wood smoke and old leather emerge.
On the palate there are flavors of cooked/jammy red and black fruit, with a distinct dark cherry flavor and even a bit of cranberry. There are hints of smoke, but none of the tar typical of Piedmont's powerful Barolos. There is a pronounced acidity with well-integrated fine tannins and moderate alcohol.
The body is medium weight with a supple, almost silky texture. The finish is mid-length with dried fruit flavors and notes of blood and red meat and a hint of a savory, saline note, at the end. This is an outstanding Nebbiolo, one unlike its Italian cousins. It tastes almost like a cross between the lighter Nebbiolo of the Valtellina and their more robust Piedmontese brethren; but one that combines very ripe fruit with moderate alcohol and fine well-integrated tannins, along with some uniquely Mexican characteristics.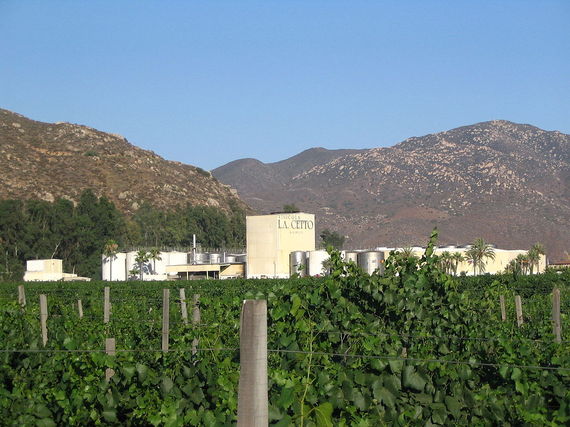 The L.A. Cetto winery in Ensenada in the Valle de Guadalupe
A.L. Cetto, Sauvignon Blanc, 2014, 12% ABV (Average price $12)
This wine received a commendation at the Decanter 2014 World Wine Awards. The color is a very pale lemon green; reminiscent of those almost clear and eminently forgettable, bulk produced Italian Pinot Grigios. On the nose, however, there is a veritable explosion of aromas. You can pick out citrus notes of lime, lemon zest and a bit of orange peel, followed by indistinct floral aromas and spicy fresh herbs like cilantro, lemon grass and ginger. As it warms up notes of stone fruit, tropical fruit and lychees emerge.
On the palate there is a pronounced lime zest note followed by sweet mandarins, more stone fruit and tropical melon. The acidity is bright and crisp and is a perfect counterpoint for highlighting the fruit. It imparts a sensation of sweetness to what is otherwise a dry wine. The finish is long, featuring tropical fruit notes and a hint of ginger pepperiness.
This is an interesting Sauvignon Blanc. It lacks the minerality and vegetal notes of its French counterparts but stops short of the over the top semi-dry, tropical fruit cocktail typical of many of New Zealand's Sauvignon Blanc's. Definitely worth a try, especially if you hanker for a drier version of Cloudy Bay's SBs while retaining their fruity complexity.
Bodega de San Tomas, Tempranillo-Cabernet Sauvignon, 2013, 14% ABV (Average price $18)
Cabernet Sauvignon-Tempranillo blends are unusual but not unheard of. The combination is becoming increasingly popular among Spanish winemakers and many consider it Spain's answer to France's ubiquitous Bordeaux blend. The color is a deep ruby, bordering on opaque, and is typical of Cabernet-Tempranillo blends for warm climates.
On the nose, there are pronounced ripe red and black fruit aromas of dark cherry, prune and cooked strawberry. There are hints of tobacco leaf, some dried herbs, some spice notes and a bit of bittersweet chocolate.
On the palate the fruit tastes more cooked and jammy, especially on the mid-palate where pronounced cooked strawberry notes emerge. There are notes of dark chocolate, some cola and just a hint of licorice. The alcohol is high, typical of warm climate Cabernet, with fine well-integrated tannins and medium acidity. This is a substantial wine, with a pronounced body and a smooth seamless texture that makes it eminently quaffable. The finish is long, with pronounced ripe red and black fruit notes highlighted by notes of spice and dry tobacco leaf.
Like most Cabernet Sauvignon blends, the Cab provides structure while the blending partner adds more complex aromas and tastes. Tempranillo, unlike Merlot and Shiraz, the other usual blending partners, adds more pronounced red fruit notes, a slight sensation of sweetness and adds a voluptuousness to what is otherwise an often dark, brooding, warm climate Cab.
A Mexican wine brand that is growing rapidly in the U.S. is Pavo Real. Produced by Pedro Domecq, a division of Pernod Ricard, for U.S. wine distributor Turquoise Life. Pavo Real offers an entry-level red and white wine. The red is an unusual blend of 50 percent Grenache, 20 percent Cabernet Sauvignon, 20 percent Ruby Cabernet and 10 percent Barbera. The white is a blend of 45 percent Sauvignon Blanc, 45 percent Chenin Blanc and 10 percent Chardonnay. Master Sommelier Ian Cauble blended both wines. Neither wine got any oak. (Average price $10.00)
The Pavo Real red shows a deep ruby color. On the nose, it offers distinctive dried red and black fruit notes of cherry, plum with a bit of strawberry and raspberry, and a hint of black current and prune. Surprisingly, the fruit is dry rather than having the jamminess one would expect from a warm climate offering. There is a noticeable herbal note in the background, more dry herbs than green.
On the palate, it is extremely smooth, with fine, well-integrated tannins and medium acidity. The alcohol is 13.6 percent. Dried fruit flavors dominate on the palate.
The finish is short but satisfying. This is an eminently quaffable wine.
The Pavo Real white shows a yellow color with a bit of a green tinge to it. On the nose, there is a pronounced green fruit aroma of apple and pear with hints of tropical fruit and dried grapefruit peel. There is a bit of a grassy/herbal note in the background reminiscent of cooler climate Sauvignon Blanc.
On the palate there is a distinct creaminess punctuated by green apple and slightly bitter citric notes as well as some melon and indistinct tropical fruits. There is a notable acidity that sets off the fruit notes quite nicely. The alcohol is 12.8 percent.
The finish is short with a slight bitter note. Properly chilled, on a hot summer day this is a very drinkable wine. Fajitas anyone?
Mexico's wine industry may be almost 500-years old, but it is still in its infancy. It offers an unusual combination of terrain and climate that, with the possible exception of certain parts of Argentina and South Africa, is unique and presents a fresh take on international wine varieties and their blends. Although hard to find, these are wines that are definitely worth pursuing and will in time become important and notable additions to the international wine lexicon.
Related