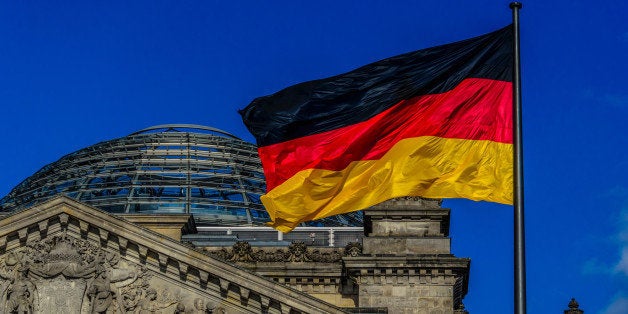 I was smack in the middle of wrapping up work, deciding on what to pack and squeezing in a few last-minute doctor appointments when it hit me: "I need a Rick Steves," I thought. Two minutes on Amazon, and it was done. Rick Steve's "Germany" would be delivered the day before I was flying out. But it wasn't until a week later, sitting in a café, that I actually opened the book. Oddly, Wiesbaden wasn't listed in the contents. I checked the index, flipped to page #536 and read: "Mainz, Wiesbaden and Rudesheim: These towns are all too big or too famous. They're not worth your time. Mainz's Gutenberg Museum is also a disappointment."
Well, I'm not going to get into it with Rick, but... really? That's the best you can come up with? So, in response, here is the second in a series of letters to Rick on some of the many delights of Mainz, Wiesbaden and Rudesheim. (And next time I'll double-check the index before I purchase the book.)
One of the delights of Rudesheim and the Rheingau is a walking wine-tasting tour. A guide familiar with the history of the region, often called "German Tuscany," can escort you to some of the top wine estates, hiking vineyard to vineyard.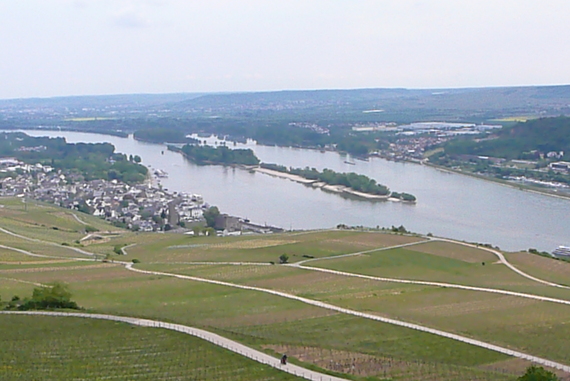 "I want my guests to really experience the wine-making process: to smell, touch and feel the grapes, the vines and the earth," explained Marion Schoenherr, who has been taking people on specialized tours for 13 years.
They talk with the vintners who make the wine, and whose families have often made the wine for generations as these are very historic vineyards, and they taste many different wines. And, as we walk , I share the history -- of the land, the towns, the people -- over the centuries.
Schoenherr also does personal tours by car or mini-bus for families and small groups, and has catered to the needs of older and disabled clients who want the experience but can't manage the hiking. Her goal is to create memorable experiences that match client preferences. Her "layover tours" (if you have a layover in Frankfurt airport and want to see some of the city or region) cram in a lot without feeling rushed... because, in Germany, one can always make time for pastry, coffee, wine or beer.
Or you can create your own wine-tasting tour by visiting a few of the larger vineyards that have tasting-shops. While an experienced guide will definitely enrich the experience, anyone can tour or hike on their own in the Rheingau.
Rudesheim, as a town, is touristy due to its location on the Rhine River, plus centuries of history and a "10" on the "quaint factor scale." (There are always reasons why a town or place is popular.) Souvenir shops (with some bargains as they compete with each other) mix with more serious wine, craft and clothing stores. There are oodles of restaurants -- mostly German cuisine -- and my favorites are the ones somewhat hidden from the streets, in courtyards and gardens. Get a free city guide from the Tourism Office on Rheinstrasse to select what appeals.
There are a few museums (yes on the wine museum in Neiderburg Castle and to Siegfried's Mechanical Music Cabinet... but no on the Medieval Torture Museum unless you want nightmares). Take the cable cars from the center of town up the mountain to the Niederwold for spectacular views of the Rhine. Some of the most fun is to be had in the evening, on Drosselgasse and Hollengasse, and late into the night, when the tour buses have departed.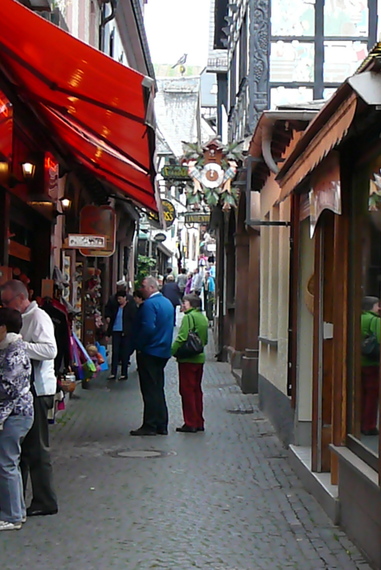 While Rudesheim itself can be inundated with tourists on a high-season weekend, there is always room to breathe on the many hiking trails that extend from the town. While only the seriously ambitious tackle the Rheinstag Trail (320 Km between Wiesbaden and Bonn), there are several short walking tours for the rest of us. Plus, taking a break from museums and culture for a few days to hike through vineyards and forest is a good way to clear the mind.

Here are five possibilities:
1)The Ostein Route: The easiest of the walks, this is a circuit of just under five km. high above the Rhine. What makes it easy is that you don't have to hike up the mountain to get started appreciating the views. You can drive up and park at the Niederwold Monument, or take the chair-lift from Assmannshausen or cable car from Rudesheim. Ostein is more 'level' than the other routes. In the late 1800's, Graf von Ostein created, at great expense, a romantic "fairy tale forest" with a temple, an enchanted cave, castle ruins, hunting lodge and more... which you pass along this trail. Fabulous views. A section of the walk is called Brahmsweg because Brahms is said to have been inspired for his symphony #3. A Baedecker (the Rick Steves of the 19th Century) named the Niederwaldpark as its most recommended German attraction.
You also see the Niederwald Monument (built 1877-1883), a figure of Germania (very well-endowed womanhood) symbolizing the German Empire after the Franco-Prussian War. Makes the Statue of Liberty look tame.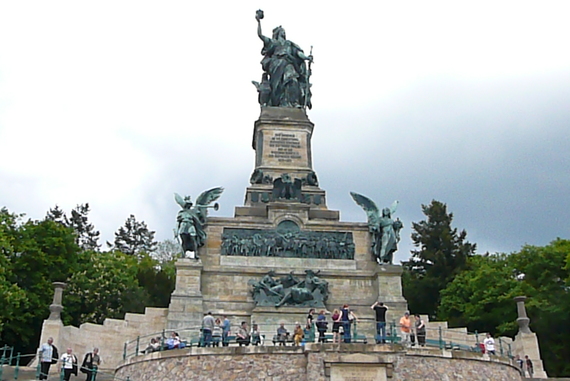 2)Rhine Romantic Route: Not for the out-of-shape (which includes me), this route is just under 12 km. but ascends about 1400 ft. Hikers can start in Rudesheim, Assmannshausen or Aulhausen and return to the same point. Lots of places to rest, soak in the vistas and picnic along the way. The route winds through vineyards, forest, and has the highest points of any of the other routes.
3)Monastery Route: About 8.5 km., ascending 800+ feet through Klosterberg and Bischofsberg vineyards, above the Abbey of St. Hildegard... and more.
4)Potter's Route: Just under 6 km., and ascending 700+ feet, the route begins in the Aulhausen, going over some hills and woods to the 'clay wood" where potters dug up the soil they needed. Can be rough going. Then comes a forest, and a kiln and the history of the production process. And a cold Pils.
5)Freiligrath Route: Hikers progress through several vineyards upwards from Assmannshausen, then a shorter flat area, then descend. A 5 km. circuit, with a rise of about 290 ft. Some very fine views. Ferdinand Freiligrath was a poet who discovered his own revolutionary voice in Assmannshausen in about 1844 but never achieved the name recognition of Marx or Engels.
There are also strenuous Nordic Walking Tours (get the poles out and work on those thighs first) on 'adventure trails.' Expert guides may be required, so check with the tourist information office.
Cycling is big, and there are bike rentals at multiple locations. (Rudesheim has two, Eltville one, and hotels often have their own bikes.) Tourist offices can provide up-to-date info. Detailed itineraries, from 30-40 km. half-day to 75 km. full day, are available. Bikes are allowed on trains for easy returns if and when you run out of steam.
So, that's just a taste of what you can expect and do in Rudesheim and the Rheingau.
Next missives are on Wiesbaden and Mainz, two very different cities, who sit across the Rhine from each other, just ten minutes apart by car, but worlds apart in history and personality.
Susan Kraus is a therapist, mediator and travel writer. She gets a little cranky when places she really enjoys and cares about are dismissed. To see some of her past work, and get a preview of two novels due out on Amazon this summer, go to www.susankraus.com.
Related