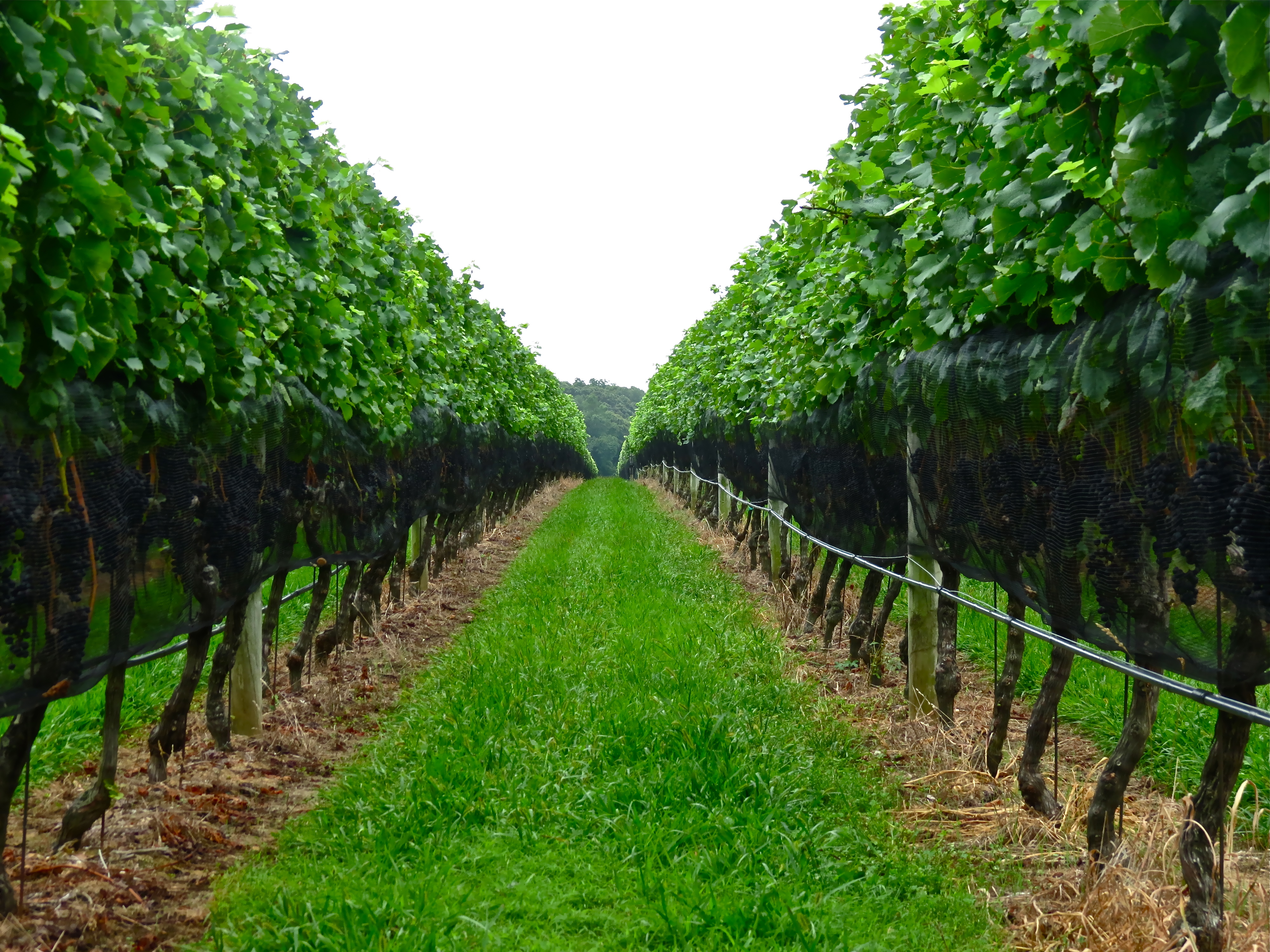 The 40 mile stretch of land from Riverhead to Orient, also called the North Fork, is decidedly the un-hamptons, as the locals will proudly tell you. This is Long Island wine country, which is currently witnessing a wine revolution of sorts. The winemakers and growers here don't seem to bother with comparisons to either California or France -- this area has neither the terroir nor the climate of either.
The "problem" here, as a winemaker tells us, is the opposite of California. In Napa or Sonoma, where the worry is too much sun, which also leads to the signature big high-alcohol California reds, in the North Fork, it's often not enough sun for the grapes to ripen fully. Add to that the increasingly vagrant climate and hurricanes battering the eastern seaboard, and you get a wine growing area that is not for the faint of heart.
"We got lucky last year and harvested just days short of Sandy," the owner and winemaker at Martebella vineyards tells us over a glass of his signature Old World Merlot blend, which got 90 points on Wine Spectator last year.
Leafing through the slightly yellowing pages of The Wines of Long Island (Edward Beltrami and Philip Palmedo), I come across this: "Clearly the region is in ferment (pun intended) and it is necessary to wait and see how this shifting scene will settle down." This was in the year 2000. Thirteen years later, it is clear that the "scene" here is neither in ferment nor has it settled down. Hopping from tasting room to vineyard to a Main St. Greenport restaurant owned by an ex-Manhattan celebrated chef, it is clear that the region has found its "voice" but refuses to sing a single tune.
Merlot and Cabernet Franc are the signature varietals. Winemakers do blends with Petit Verdot, Cabernet Sauvignon and Malbec to create interesting wines that are close to Bordeaux, but not quite. We found at least two wineries that felt compelled to name their blend to sound like Bordeaux (Boar Doe and Bordo). That the Merlot from Bedell Cellars was poured with the main course at the Presidential inauguration in 2013 is no longer a surprise as soon as you taste it.
There are some excellent Gewürztraminers and Rieslings, which will not remind you of Alsace for the most part. The Chardonnay here has range, thanks to ample experiments by winemakers to make wine with a slight hint of butter and oak, and not the other way round. The Sauvignon Blancs and Viogniers clearly reflect the maritime terroir.
Depending on what your chosen mode of transport to the North Fork is, you may (or may not?) want to skip the wineries that allow tour buses and large groups. We looked for signs saying "No tour buses, No limos, No groups of more than 8. No exceptions." That we also found the most interesting wines at these places didn't leave us all that puzzled!
Lists do not do justice here. But unless you have a week or more to spend in the North Fork sipping wine, you will need one. Here's our pick of the top seven wineries:
"Rosé on Purpose." The husband and wife team at Croteaux set out to do one thing - make rosé that evokes lazy summer afternoons in Provence. In the process, they also created an idyllic Provence-style courtyard overlooking their vineyard, all except the buzz of the cicadas. The six rosés on the tasting menu can make the afternoon slip by very quickly. Especially recommended is the 2012 Jolie with distinct aromas of red pepper and flavors of juniper, pine and truffles and a color so deeply rouge that for a moment, we thought we did hear the cicadas!
In owner and winemaker Mark Tobin's tasting room at Mattebella, just a few minutes drive from Croteaux, it was clear than the Tobin family was having as much fun as the wine drinkers who seemed to have gone from tasting to ordering bottles. Their non-vintage Famiglia Red (Merlot / Cabernet Franc blend) is an unpretentious wine that successfully does what it is meant to do - serve as a table wine with a range of foods. When asked about the music playing in the background, which included Edith Piaf, Jay Z and Jacques Brel, Mark blamed this wine for the playlist. Settle down with their well-balanced and sultry Old World Red blend - a Bordeaux style blend that we were asked to pair with fig preserve on blue cheese and baguette, or bacon jam on camembert, depending on the vintage. It makes the pairing all the more delicious to know that Mattebella only uses sustainable farming techniques and no herbicides.
3. One Woman Wines and Vineyards
From the wrap-around porch on Claudia Purita's austere tasting room that looks more like a relaxed beach shack than a wine tasting room, you can see two things - carefully tended vines laden with fruit almost ready for harvest, and Claudia on her tractor exercising her exacting touch. The wines are elegant and don't seem to be trying too hard. If you like your Gewürztraminers and Grüner Veltliners to have that perfumey floral quality that makes you want to drink them through the nose, go for the 2012 vintage of either. And if you're looking for a lush fruit aroma - peach, lychee and passionfruit - with that signature petroleum finish usually found in European wines from the same varietals, ask for a taste of the 2011 wines.
We don't have to talk about what happened to sales at Bedell when their Merlot was poured with the main course at the Obama inauguration in January 2013. We shouldn't really talk about the awards that are filling up the shelf in their high-ceilinged tasting room. We won't mention that when the very friendly Riva, in the tasting room, was pouring the 2010 Museé for us, she was doing it not as if it was the hundredth pour she was doing that day, but as if she was unveiling a recently acquired masterpiece at the Louvre. We won't talk about any of this, but here's a hint - when you visit Bedell (if you do, no pressure!) try ALL the wines. And then, settle down on their back patio with the 2011 Gewürztraminer (we won't tell you to look for that hint of lychee masked in citrus and rose petals aromas, but we trust you will find it).
If it's lunchtime and you're reading this, head to The Winemaker Studio, a three minute drive from Bedell. If it isn't (lunchtime), go there and have lunch anyway. A cooperative tasting room with a tastefully curated selection of wines from the region (and some from the Finger Lakes), this is your go to place if you like range in your tasting sessions. The delicious and hilariously named lunch sandwiches and picnic baskets made this the no-brainer lunch stop for us. Chris and Raymond in the tasting room know wine. They will tell you that the 2012 "Anomaly" white Pinor Noir is their most popular wine, with delicate white cherry and strawberry aromas. Did we believe them? Oh no! We had to try the off-dry 2012 "Influence" Riesling (our favorite aperitif wine right now), among other wines. The 2010 T'Jara vineyards Cabernet Franc brings to mind adjectives that will make us sound like wine snobs, so we will refrain.
If you need to be brave to grow grapes in the North Fork, you need to be crazy to grow the delicate and thin-skinned Pinot Noir here. McCall is doing just that. And boy, are they masters of their craft! Go there for the Pinot. They have been growing and selling the grapes since the 90s but didn't want to put their name on the bottle unless it was great. 2007 was when they made their first wine. Try their 2010 Reserve Pinot Noir and you will know why they were named "2013 Winery of the Year" by the NY Wine and Grape Foundation. And when you're done tasting, take a look at the majestic Charolais cows in their ranch.
If "anything but Chardonnay" is how you order your white, head to Coffee Pot Cellars for their Chardonnay, which is aged in neutral French oak and has great aromatic complexity and balance due to its "sur lie" aging (literally meaning "on yeast" in French, it lends bread dough and toasty aromas to the wine). Named after the lighthouse visible from land's end at the easternmost point on the North Fork, which looks like a French press percolator, Coffee Pot makes very few wines and makes them well. The airy and high-ceilinged tasting room has a small glass "bee aquarium" (and we were told that winemaker Adam Suprenant is engaged to be married to a beekeeper). Meritage (a Bordeaux blend, pronounced so it rhymes with heritage and not the French word ménage!) is one of the most structured and complex Bourdeaux-blends we have had outside of Bordeaux.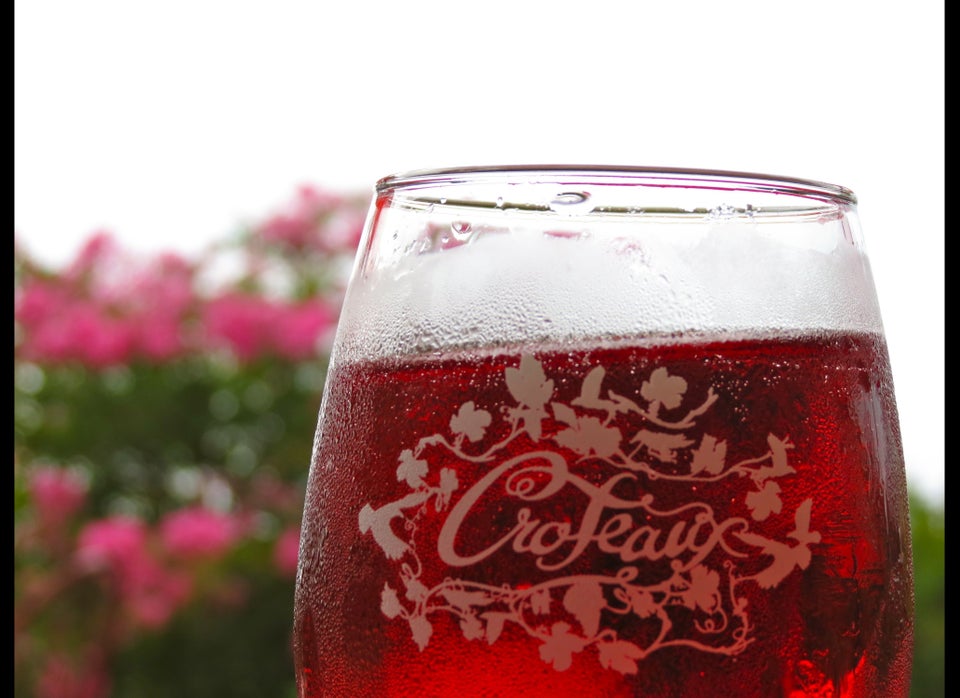 Wine Tasting in the North Fork