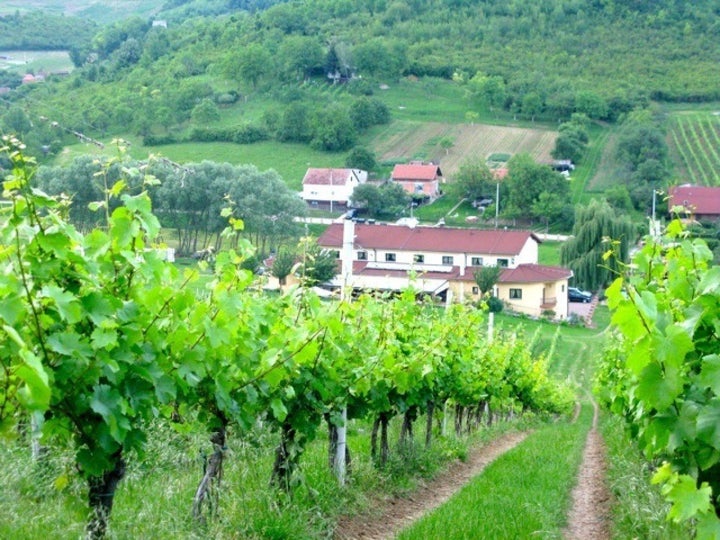 "Many of the families that abandoned their homes during the war have not yet returned... and many will never come back." Our guide was obviously watching our expressions in the rear view mirror. She continued, "My sister just bought a house, it was a very good price -- but finding the family members to sign the papers, some of them were in Bosnia, others in Serbia, that was the hard part."
Houses riddled with bullet marks were common sights on a recent drive through northern Croatia. Others had large holes presumably caused by exploded grenades, and we were shocked by rows of picture perfect village homes interspersed with piles of rubble and mortar-strewn facades where families once lived. Our careers as travel, food and wine writers rarely take us to war-torn areas, but this trip was very different for us. Like most travelers, we had previously visited Istria and Dalmatia -- the areas of the country that are on the Adriatic Sea -- but we recently returned to discover continental Croatia, the northern part of the country, which shares a border with Slovenia, Hungary, Serbia and Bosnia and Herzegovina. Fittingly, Croatia is shaped like a pork chop: Dalmatia is a long, thin bone, the Continental region is the meaty part and pork is present on every menu.
The war has been over for 17 years, and although intermittent remnants of destruction still remain, Croatia and its resilient people are more than ready to welcome lovers of fine food and great wine. From world-class hotels in historic yet modern cities to quaint cottages nestled among grapevines, tourism options abound. Croatia boasts some of Europe's oldest wine cellars and a gastronomic tradition that dates back centuries, with wide-ranging influences from the Ottoman Empire to the more recent Austro-Hungarian monarchy. While visiting rustic restaurants adorned with hunt trophies and agricultural implements, it becomes clear that the farm to table movement never left this country. If you're concerned about working off those extra calories, active travelers will find hiking, biking, kayaking and canoeing to challenge and delight the novice and expert alike.
Base yourself in Zagreb, get a car and driver -- Croatian law has .00 blood alcohol level tolerance while driving -- and you can tour a few wine growing areas in a day. If opulence is your thing, Zagreb's Palace Hotel will fit the bill, or if you like things a little simpler, the Hotel Dubrovnik, located on a pedestrian mall within walking distance of the city market and most sights, will do.
A short drive from the capital, wine lovers can visit the Plesivica region, where a tasting at Korak Winery will include delicious Chardonnays and fruity Pinot Noirs made in a decidedly French style, while nearby Drago Rezek Winery offers more modern versions of the same grape varieties. Your inner wine geek will forever thank you for stopping at Tomac Winery for rich lusty whites including Chardonnay and Riesling, aged underground in large terra cotta amphorae. In the opposite direction, a one-hour drive brings you to Vuglec Breg Winery perched on a scenic hilltop. Specializing in crisp white wines, Vuglec Breg has a beautiful covered wooden porch for sunny al fresco meals. Their rustic cottages are a great base for a few days of wine and horseback riding.
Driving towards the far north of Croatia, (about two hours from Zagreb) near the Slovenian and Hungarian borders, you find yourself in the delightful region of Medimurje. Here the cuisine leans Austro-Hungarian with hearty meat goulashes, fresh game and rich paprika sauces. Full-bodied reds are produced to match the delicious fare, and white wines are made from Pusipel or Furmint grapes, as well as Muscat, Traminer and Riesling. Excellent examples are produced by Kuncic, Jakopic, Dvanajscak and Stampar and are paired artfully with rich regional cuisine at Restaurant Dvorac Terbotz.
More than a daytrip but worth every minute, the Slavonian town of Kutjevo has been making excellent white wines from the Grasevina grape variety for hundreds of years. Make sure to visit the Kolijevka Grasevine -- the Cradle of Grasevina -- a newly-built town tasting room. Some of the best producers include Camak, Enjingi, Krauthaker, Galic, Mihalj and Markota. A few doors down, Restaurant Vinkomir features the specialties of the region, including enormous platters of mixed game meats, and several types of kulen, dried spicy pork and paprika sausage. The wood-beamed restaurant is divided into several rooms, so you don't realize how large it is until you go downstairs to use the bathroom -- and discover it is atop a two-lane bowling alley!
Driving south from Kutjevo, Slavonski Brod's Zdjelarević Hotel & Winery has comfortable rooms as well as an international restaurant with a large outdoor terrace set among the vines. Bicycles are available to ride through the picture perfect rolling hills, and nearby lakes are the source of freshwater fish which pair beautifully with the aromatic white wines of the region.
After all that drinking and eating, you will want to move around a bit, so head to Plitvice Lakes, Croatia's largest national park. Located just three hours south of Zagreb, serious hikers and casual walkers alike will be rewarded with amazing views of tiered lakes and stunning waterfalls.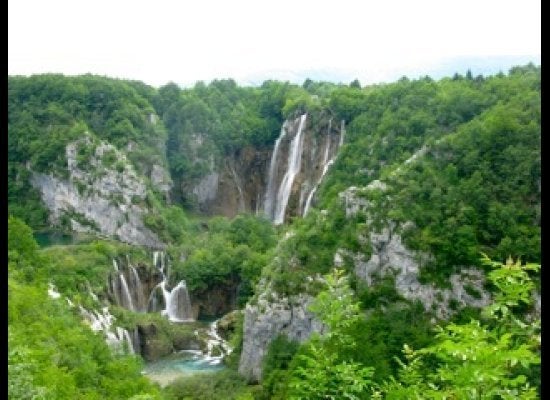 Wine Tourism in Continental Croatia