California is the forth largest producer of wine in the world, and yet, until Mike Desimone and Jeff Jenssen decided to tackle the great state, no book had come close to covering all of California's wine regions. From the authors of Wines of the Southern Hemisphere, we now have Wines of California: The Comprehensive Guide, and it goes way beyond the famed Napa and Sonoma counties.
"At first our publisher wanted us to focus mostly on Sonoma and Napa, and just get in and get out of the other, lesser known regions," said Mike Desimone. "But," added Jeff Jenssen, "California is a force to be reckoned with. We didn't want to do a disservice to people making great wine in places like Santa Barbara, Paso Robles...really all throughout the entire state."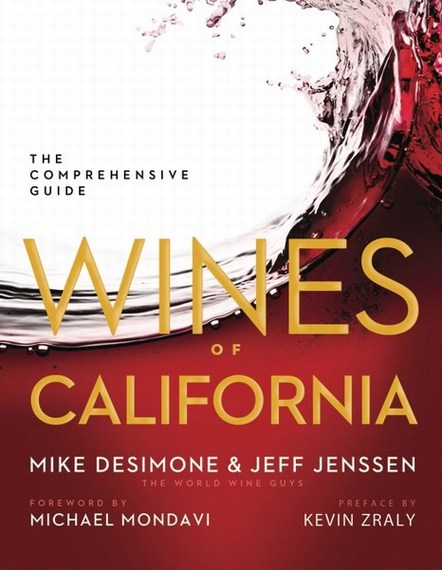 Just adore this cover, makes me want to catch a wine wave! (Courtesy Mike Desimone and Jeff Jenssen)
The World Wine Guys wanted Wines of California to be a big book, just like Wines of the Southern Hemisphere, and that's just what they produced. There are 700 vineyards covered in the book. "We actually visited about 1,000 wineries and tasted each and every wine in the book," explained Mike. Jeff chimed in, "We drank... Oh, pardon, we tasted 3,000 wines, easy!"
While any wine lover would be happy to taste 3,000 wines, it's "actually a lot of work." However, Mike and Jeff felt they just couldn't write a reliable reference book without all that tasting. What you read in the pages of Wines of California is the honest and highly-informed descriptions of two very passionate wine experts. In covering 700 of the roughly 3,800 wineries in California, they had the arduous task of narrowing down the wines they would present to two per winery. "We chose what we thought were the two best wines coming out of each," explained Jeff.
Having traveled every wine-making region on the planet, we talked about what they think makes California wines different. "For one," said Mike, "In California they have the freedom to do something like completely rip out old vines and plant totally different kinds of grapes than were planted previously. Unlike in Europe, you can plant whatever you want, wherever you want it." Jeff also talked about the Wild West attitude, the sense of adventure and rule-breaking. "Especially in places like Paso Robles."
Another thing the guys pointed out is that in California, the wine-makers "are farmers first." "Although," interjected Mike, "In Napa and Sonoma you definitely get the crowd of wine makers driving Ferraris and Lamborghinis, but in other regions it's way more pick-up trucks." Both Wine Guys agree though, "Wine is not just made by rich people, for rich people."
Mike elaborated, "Especially in California, these people are farmers. They also care a lot about the environment, about soil erosion... and they worry about the lack of rain and what it means for climate change and for their industry."
Like all of America, the history of California's wine growers is a history of immigrants. The Spanish missionaries first grew grapes so they could make wines to bless for religious services (and likely other reasons too), then there was a large influx of European wine-makers fleeing the Phylloxera Virus of the mid to late 1800s, and today's large Champagne houses simply have no more land to plant in the region so they come to produce "sparkling wines" in California.
Immigrant farm workers have also made their mark on the California wine landscape. Generations of immigrant grape growers and pickers have paved the way for the most passionate and driven to advance beyond the fields. With a keen knowledge of wine from grape to glass, individuals like Ulises Valdez of Valdez Family Winery and Rolando Herrera of Mi Sueño Winery have turned the dream of owning their own vineyard into a reality.
Of course I had to ask the Wine Guys their Cali faves. Being a SoCal native, I was very much interested to hear. Jeff "loves the Rhone varietal blends that come from Paso Robles, the GSMs (Grenache, Syrah, Mourvedre)." Mike replied, "The far west Russian River Valley for Pinot Noir. And, well, of course Napa for Cabernet Sauvignon."
There's a misconception that California wines can be quite pricey, so I also wanted to ask the guys about great California wines in the range of $16 - $20. The list they gave me...
• Kunde Family Estate Chardonnay
• Girard Winery Sauvignon Blanc
• Lang Twins "Caricature" Blend
• Josh Cellars Cabernet Sauvignon
• Chandon Brut
Of the Chandon Brut, they said "When we have a big party where we're just poppin' and pourin' bubbly all night, we always go with Chandon Brut."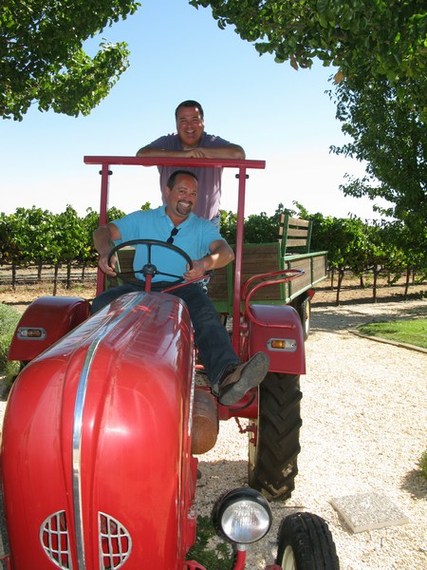 Mike loves winery tractors, and has hundreds of pics of them from all over the world. When he spotted this antique beauty at Michael Mondavi in Napa, he "just couldn't resist climbing in!" (Courtesy Mike Desimone and Jeff Jenssen)
Besides being encyclopedic in their knowledge of wine and serious about sharing that knowledge, Mike and Jeff are just a couple of fun and quirky dudes. They always have some crazy story to share so I asked them about their best adventure exploring California's vineyards. They were in Lodi at Ancient Peaks Winery, in the "newly minted Paso Robles AVA, Santa Margarita Ranch," when winery owner Karl Wittstrom invited them to go zip-lining. All fired up, the boys headed out, GoPros on their helmets...until Mike saw the actual harness and froze in his tracks. "It wasn't a full body harness like I'm used to, it was basically just some straps and I'd be just dangling by my arms! I turned and said No F'n way! Jeff must have seen the panic in my eyes because he stepped up and said 'I'll go!'"
As Jeff, who is a fair bit taller than Mike, zipped off into the tree tops, Karl Wittstrom laughed and looked at Mike, saying, "Well, he just load-tested that line for us. That's the first time anybody has used that!" After a jaw-dropping, heart-stopping moment, Mike braved-up and took the line.
Wines of California\ is a must-have book for anyone who wants to get serious about, and have fun with, California wines. Packed with easy-to-read facts and finished off with great recipes, the book also highlights some of the key players in Cali, "people who have really contributed to their region," with a section entitled "In Their Own Words." I love this book, not just because I'm a California girl stoked to see our wines getting even more respect, but because now I can finally get a good grasp on the vast frontier that is the wild west of wine.