Because I am a sommelier, I naturally pair life situations with wine. In no way does my pairing wine with my breast cancer journey mean that you should use wine in any way other than moderately. And if you are at risk of getting cancer or have had cancer, you should talk to your doctor to discuss whether you should be drinking any alcohol at all. After my own education about the connection between alcohol and cancer, I guarantee you that I am limiting my consumption.
As I sit topless in front of a complete stranger--a handsome, 40-something, Indian-from-India plastic surgeon--I have thoughts running through my mind:
These are pretty normal, right?
Not bad for a 50-year-old with three kids?
Could still get some Mardi Gras beads, eh?
Then, as he takes his fingers and lifts my breasts up, effectively taking them back to a time before I could get into R-rated movies alone, new thoughts run through my mind:
Ooooh ... apparently there may be a bit of a droop to them now.
That was a lot of milk for a lot of babies.
Maybe not the fancy beads.
The plastic surgeon says he'll be able to put me back together after the breast surgeon is finished removing all the cancerous tissue, "Just a bit higher than where you're used to now."
I needed some clarification:
Me: "So I should wait before buying any new bras to see how they'll fit with my new rack?"
Plastic surgeon: "You won't need a bra anymore."
Me: "Excuse me?"
Plastic surgeon: "Most women don't need bras after these implants."
Me: (Jaw drops. Speechless.)
My husband: "Takes ya back, honey?"
Ya, back to before I hit puberty because I've worn a bra since I was in fifth grade. And after having pulled my bra strap back onto the top of my shoulder some 37,889 times in my life, I'll relish tossing the suckers into the trash.

So I prepare for surgery by calling all my restaurant wine clients to give them my out-of-office info, cleaning the house, and buying wine. Lots of wine.
Since the doctors tell me that I should minimize movement during my month-long recovery, my friends will bring over meals for my family. Bless them. And since my friends love wine, I need a bountiful supply.
Basically, my rose-colored vision for recovery is a friend-fest party, with some surgical drains and gauze added for drama.
For the wine that will flow I decide to go with my party favorites: Sauvignon Blanc from California (a warm, sunny yet sassy white), and Pinot Noir from Oregon (a cool, poetry-quoting red).
Sauvignon Blanc is a medium-weight wine with mouth-watering acidity. When it comes from California it offers luscious tropical aromas of melon, pineapple, and red grapefruit, with a back bone of crisp lemon-lime and minerals. It is usually fermented in stainless steel so it has an extremely clean, fresh taste profile.
For the red, I'll serve Pinot Noir. A perfectly suave party wine. Not only is it silky in your mouth because it's low in tannins--the grippy, mouth-drying compound in red wine--it has good acidity, so it is refreshing. I always think of cranberries and red raspberries when I smell Oregon Pinot, along with the promising smell of wet earth after rain.
Bonus: Whether Gail brings her tortellini soup, Julie cooks her chicken and rice, or Tom hauls over his turkey gumbo, these wines are great partners with whatever friend and food walks through the front door.
My husband drives me to Huntsman Cancer Hospital. Pen in hand I sign form after form. A plastic bag soon holds my clothes and I'm in a hospital gown. My bra is in the trash.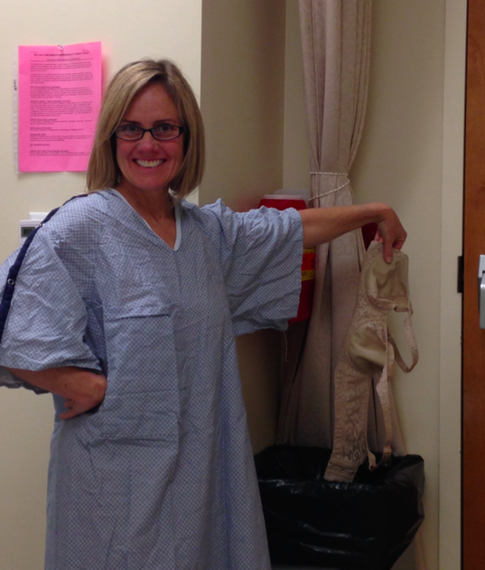 The pre-surgery circus of medical personnel swirls around me: "Put this in your mouth," "Take this and hold it tightly," "Left arm, please," "How long since you last ate?"
The plastic surgeon strides in smiling. The medical team quickly disperses. Off slips the top half of the hospital gown. "Well now, tell me again, how big are you interested in going?" he asks, tipping his head slightly left and right studying my breasts.
I answer simply, "As close to these as possible."
He pulls a Sharpie out of his pocket and I look down as the structural overhaul of my breasts begins with circles and grid marks.
He leaves. The breast surgeon slips into the room. She holds a shot filled with some radioactive dye that she shoots into my breast to help her see if the cancer has spread.
Now I'm glowing from the inside. What kind of Mardi Gras beads would that get me?
I conclude no one in my life really cares now. What they care about is me, so let's get this party started.
Related
Popular in the Community